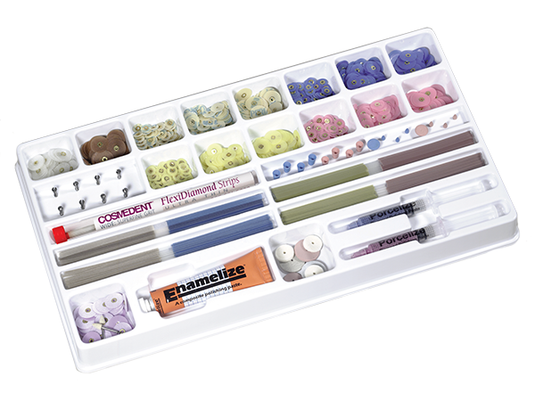 Product Details

Testimonials

Kit Contents

Resources
Top Finisher® is a fully integrated, completely colour-coded, all-inclusive finishing and polishing system from Cosmedent®. The system contains virtually every size and grit of discs, strips, cups, and points. Aluminum oxide polishing paste and mandrels are also included. Other features and benefits include:
All your polishing needs combined in one convenient kit
Integrated discs, strips, cups, points, buffs and polishing paste
Includes complete step-by-step polishing guide

Indications for Use
Use the Top Finisher System to polish microfills, nanofills and hybrid composites as well as porcelain, amalgam and gold.
"Proper finishing and polishing greatly increase esthetic results, maximize patients' oral health and increase the longevity of restorations. The Top Finisher Kit was designed to give dentists the tools necessary to achieve a beautiful, lasting polish on all restorations."
Bud Mopper DDS, MS, Developer of the Top Finisher System
*Top Finisher System (Item Number: 539000) includes:
*SPECIAL ORDER PRODUCT: Product is not stocked in our warehouse and is only requested when an order is placed for said product. This product is ineligible to be returned.