Ultradent Favourites from 7 CRD Specialists
Many dental professionals know Ultradent™, an international manufacturer and leading developer of high-tech dental materials, devices and instruments. Clinical Research Dental is proud to be an exclusive Canadian distributor of hundrends Ultradent products, including the industry-leading Opalescence Tooth Whitening System, the ground-breaking Opalescence Go take-home whitening system, the award-winning VALO LED curing light, UltraSeal XT hydro pit and fissure sealant, Enamelast Fluoride Varnish, Tissue Management solutions, Ultra-Etch etchant, and many more. Ultradent strives continuously to improve oral health globally, and CRD contributes to that goal, offering best in class Customer Service, continuosly learning and supporting dental continuing education, and providing knowledgable and experienced staff who helps clinicians achieve clinical excellence. Read what seven Ultradent products are among the favourites of the seven CRD specialists and learn why. If you haven't tried some of the products below, here are the seven reasons why other clinicians like you chose Ultradent.
Opalescence™ PF™ Teeth Whitening Treatment
"I recommend Opalescence PF gel because the results from patients using it are consistent. The sticky, viscous Opalescence PF gel is one of the reasons why this whitening is an effective solution. My customers feel better knowing they offer their patients a whitening gel that also provides beneficial results such as improving enamel health and increasing enamel microhardness with an optimum combination of potassium nitrate and fluoride. The high-water content prevents dehydration and shade relapse, making Opalescence gel the most reliable whitening gel available. For me, carbamide peroxide is also an advantage as it increases oral pH to above 7 and reduces plaque, as well as kills bacteria that cause tooth decay. I know I can rely on Opalescence PF's five different concentrations to help my customers achieve the best possible results and meet their patients' high expectations."
Opalescence Go™ Teeth Whitening Treatment
"Within the perfect product line of Ultradent™ Opalescence Teeth Whitening, lies my favourite product of ALL, Opalescence GO™! It is true to its name, one magical box to just take with you whether you decide to whiten after dental cleaning or use it on top of your braces. If you just want to touch up and find whitening expensive, long, and complicated, then GO is also your solution. Finally, if you are sensitive and have had troubles whitening in the past, and you want a product that stands behind its claim of superior ingredients to protect you and deliver lasting results, then use Opalescence GO."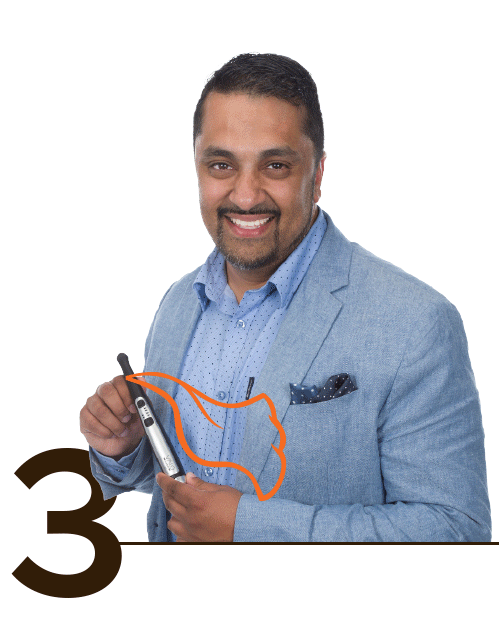 Harpreet Gahunia
Territory Account Manager | Kitchener/Cambridge/Waterloo/Guelph
"This curing light is so strong, it should wear a CAPE, because it truly is a Superhero. Its unibody is made of high-grade aerospace aluminium, and was thrown from space, only to be found in perfect working order! None of the other curing lights have this capability. Custom LEDs in three wavelengths polymerize all light-cured dental materials, and as we know today, some shades are harder to cure than others! VALO is engineering perfection!"
Opalescence™ Boost™ In-Office Power Whitener & Umbrella™ Tongue, Lip, and Cheek Retractor
"Saliva management, visibility and access are critical in many dental procedures. The Umbrella Lip, Tongue and Cheek retractor provides patients comfort while the clinician can have a stress-free appointment focussing on the task at hand. The combination of the gentle tongue and cheek retractor with a soft built-in spring-like design gives the perfect balance of needs for both patient and operator. For example, use Umbrella when whitening patients' teeth with Opalescence Boost. The red chemically activated whitening gel of Opalescence Boost makes chairside application efficient and comfortable, while Umbrella helps the patient hold their mouth open and keeps the tongue away from the working area! Try Opalescence Boost In-Office Whitening today, and let your patients leave your office with a boosted confidence!"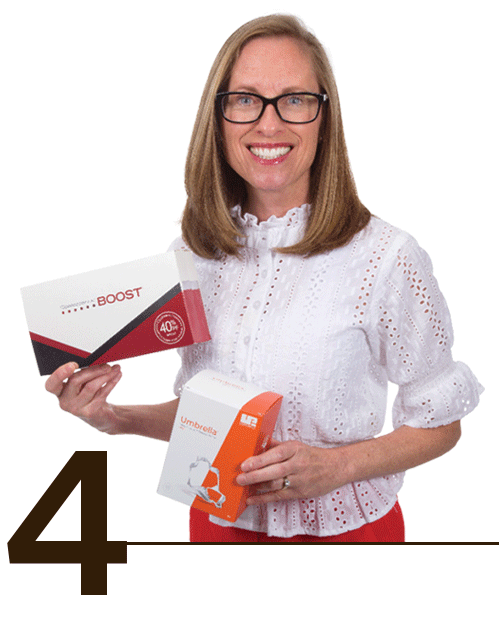 Amber Nikolakis, CDA
Territory Account Manager | Calgary North
UltraCal™ XS 30%–35% Calcium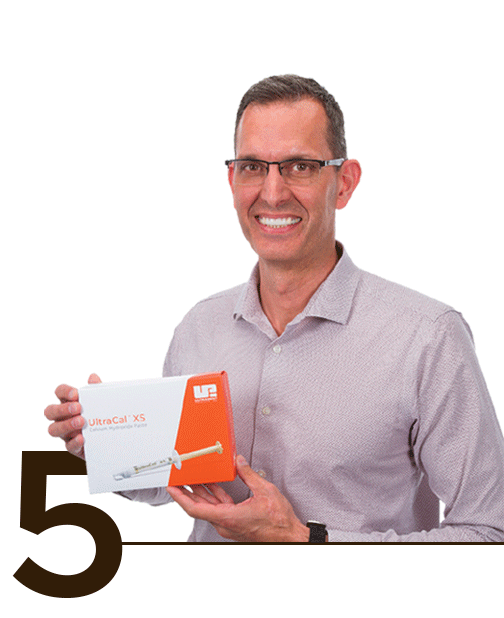 Aaron Honce
Territory Account Manager/ Endodontic Specialist | Kamloops/Kelowna/Prince George/Vernon
"UltraCal XS is the go-to intracanal treatment for "hot" teeth in endodontic treatment. The 35% calcium hydroxide formula calms the tooth at a pH of 12 and initiates healing prior to finishing endodontic treatment in a two-visit treatment plan. Easy delivery into the canal and very easy removal with the Ultradent NaviTip FX tip when used with Ultradent Citric Acid 20%. If you need to identify it on a radiograph, its opacity shows easily! A must-have in your endo armamentarium."
UltraEZ™ Desensitizing Gel
"Despite the fluoride and potassium nitrate added to the Opalescence whitening formula, certain patients may still experience sensitivity. I personally struggle with sensitivity when it comes to whitening and UltraEZ has been a huge help. Prolonged contact with the teeth (1 hour) leads to pretty immediate results and doesn't need to be used for days or weeks like sensitivity toothpaste. It has a similar viscous gel like Opalescence Go, so the tray stays where its placed and is very comfortable to wear with minimal clean up. It won't interfere with whitening, and it's gluten-free for those of us with sensitivities. Also, a box of UltraEZ comes with 10 sets of upper and lower pre-filled trays with five sets of instructions, so you can dispense it to your patients as needed!"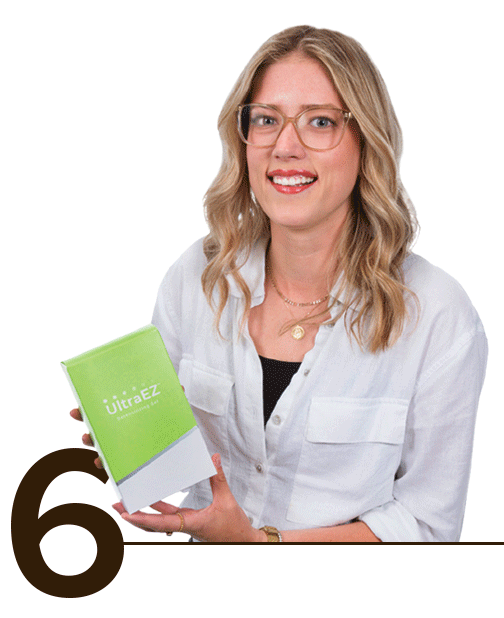 Maggie Buchanan
Inside Sales & Customer Service Manager
Enamelast™ Fluoride Varnish
"Clinicians need a patient-accepted and easy, fast way to provide fluoride treatments – whether it is for adults or more commonly for children. Enamelast fits the bill every time - hygienists love the unsurpassed fluoride uptake, adults love the clear look and smooth feel on their teeth and kids love the great flavours! Enamel protection has never been so easy or so effective!"
This article was originally published in the Clinical Life™ magazine: Fall 2022 edition
Clinical Life™ magazine is a premier periodical publication by Clinical Research Dental Supplies & Services Inc. Discover compelling clinical cases from Canadian and US dental professionals, cutting-edge techniques, product insights, and continuing education events.
Access all previous publications, request printed editions, or subscribe to our newsletter today.
Join our thriving community of dental professionals and elevate your practice to new heights!