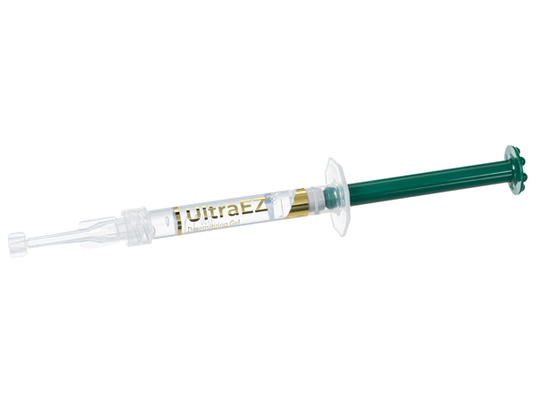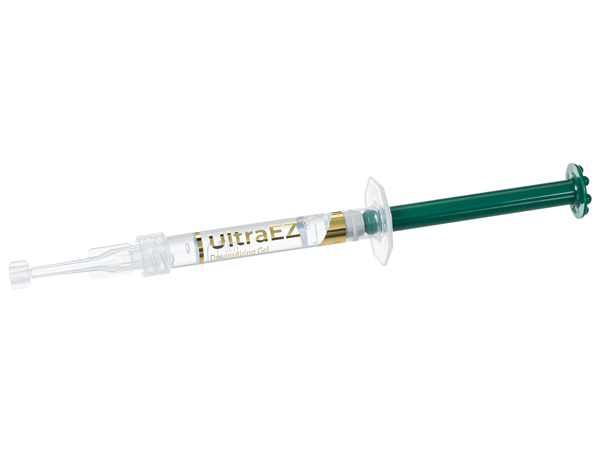 Product Details

Clinical Technique

Video

Configurations

FAQ

Resources
UltraEZ™ works instantly to alleviate discomfort and sensitivity, particularly after tooth whitening. UltraEZ is also ideal for treating patients suffering from toothbrush abrasion, thermal and chemical changes, and root exposure.
Formulated with 3% potassium nitrate and a 0.11% fluoride ion, UltraEZ, from Ultradent Products Inc., has a sticky, high viscous consistency that stays in contact with the teeth for fast relief while depolarizing the nerves.
UltraEZ is an excellent follow-up treatment to eliminate discomfort after tooth whitening, scaling and periodontal procedures.
Available in disposable, prefilled trays as well as in syringes for use with custom trays
Prefilled UltraFit™ tray adapts to any smile for a comfortable fit
Completely safe with no Glutaraldehyde
Can be used before and after whitening treatments
Indications for Use
Apply UltraEZ to seal dentinal tubules of exposed dentin and other areas where postoperative sensitivity is a concern.
Syringe UltraEZ into the custom tray. As a rule, one syringe should fill a complete arch. If the sensitivity is localized, concentrate gel in the affected area(s) while placing smaller amounts in the molar region to help hold the tray in place.

Teeth should be freshly brushed before the loaded tray is placed on the arch.

Gently press the edges of the tray against the arch labially and palatally.

Remove excess gel using either a soft toothbrush or a clean finger.

Leave the tray in place for 30+ minutes (up to the dentist's discretion).

After the tray is removed the patient should brush their teeth being careful not to swallow any UltraEZ gel. Use a soft toothbrush and cold water to wash out the tray.
Dr. Mark Colonna talks about using UltraEZ in his practice.
Tray Kit (Item Number: 705721):
10 x upper pre-filled UltraEZ trays
10 x lower pre-filled UltraEZ trays
Syringe Refill 4-Pack (701008): 4 x 1.2 mL UltraEZ syringes with tips
Syringe Refill 20-Pack (701007): 20 x 1.2 mL UltraEZ syringes with tips
Q: Can patients wear UltraEZ in their custom trays overnight?
A: No, UltraEZ is not indicated for overnight use.
Q: Does UltraEZ need to be refrigerated?
A: No, UltraEZ can be stored at room temperature.