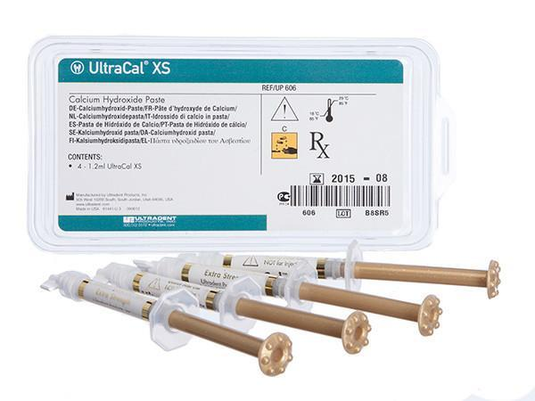 Product Details

Video

Configurations

Resources

Accessories
UltraCal™ XS calcium hydroxide paste is a uniquely formulated calcium hydroxide paste that is both aqueous and radiopaque, with a high pH (12.5). It is recommended to use the larger 29 ga NaviTip tip for predictable flow, enabling direct placement. UltraCal XS paste can be thoroughly removed from the canal using Ultradent Citric Acid and a NaviTip FX tip.
Second-visit protocol with an interappointment medication with calcium hydroxide resulted in improved microbiological status of the root canal system when compared with a single-visit protocol.1
Other features and benefits include:
Radiopaque
High pH
Superior at delivery control
1Vera J, Siqueira JF Jr, Ricucci D, et al. One- versus two-visit endodontic treatment of teeth with apical periodontitis: a histobacteriologic study. J Endod. 2012;38(8):1040-52
Learn Ultradent's recommended irrigation protocol using Ultradent's complete line of Endodontic irrigants and unique delivery tips. These products can increase success rates and simplify any root canal therapy no matter which cleaning and shaping technique is used. (480 mL bottles not available in Canada.)
UltraCal XS Syringe Kit (Item Number: 731027):
4 x 1.2 mL UltraCal XS syringes
20 x NaviTip Tip 29 ga Single Sideport tips (5 each - assorted 17 mm, 21 mm, 25 mm, and 27 mm lengths)
UltraCal XS Syringe 4-Pack (735606): 4 x 1.2 mL syringes.