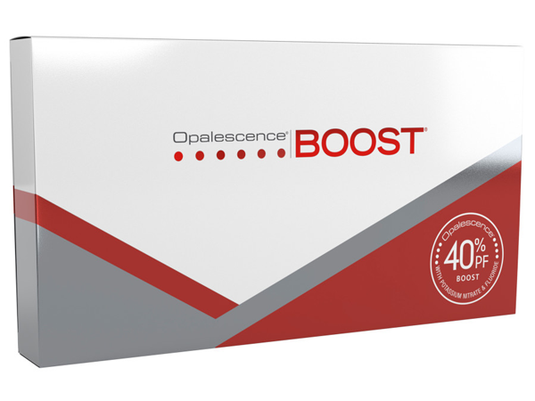 Product Details

Clinical Technique

Technical Details

Video

Testimonials

Configurations

FAQ

Resources

Accessories
Opalescence™ Boost™ from Ultradent™ Products Inc., is a 40% hydrogen peroxide, in-office power whitener that provides brighter, whiter teeth after just 40 minutes in the dental chair. Opalescence Boost is the ideal whitening treatment for patients who want whiter teeth immediately or have an event coming up.
The powerful 40% hydrogen peroxide gel is chemically activated and does not require light or lasers – saving patients from heat and discomfort. Through easy syringe-to-syringe mixing the formula is activated just prior to application, ensuring that every dose is fresh and effective. Other features and benefits include:
Chemically activated, so no light is needed
Contains 20% water to keep the teeth hydrated during the whitening process further reducing the likelihood of residual sensitivity
Opalescence tooth whitening gel contains PF (potassium nitrate and fluoride) Potassium nitrate has been shown to help reduce sensitivity. Fluoride has been shown to help reduce caries and strengthen enamel
Easy to see for complete removal
Two to three 20 minute applications
Thicker formula prevents the gel from running
No refrigeration required prior to mixing
Indications for Use
Opalescence Boost is a 40% power whitening gel for medical in-office use only. It is applied by the dentist for whitening one or more teeth, parts of a tooth, and/or for accelerated chairside whitening techniques.
Download a free set of patient-focused social graphics to help you market whitening to your patients:
Free Downloads
Before & After
Before whitening with Opalescence Boost
After whitening with Opalescence Boost
Step by Step Guide: Opalescence Boost In-Office Whitening
See Instructions for Use for complete instructions, warnings, and precautions.
Place protective eyeware and clothing on yourself and the patient to prevent contact with whitening agent. Check to see that the syringes are securely attached before mixing. To mix, follow the instructions on the reverse side.

Press all mixed gel into the RED syringe. Separate the two syringes and attach the Black Mini™ tip onto the red syringe. Check the flow on a cotton gauze or pad prior to applying it intraorally. If resistance is met, replace the tip and recheck the flow.

Place an Ultradent IsoBlock Bite Block and self-supporting plastic cheek retractors. Completely rinse and air dry teeth and gingiva.

Securely attach a Black Mini tip to OpalDam™ Green resin barrier and check flow. Express a continuous bead along the gingival margin, overlapping approximately 0.5 mm onto the enamel. Begin and finish the bead one tooth beyond the most distal tooth that is being whitened. Express the resin through any open embrasures.

Light cure the OpalDam Green resin barrier for 20 seconds per arch using a scanning motion. Check the resin cure with an instrument using caution not to disrupt the seal.

Apply a 0.5–1.0 mm thick layer of gel to the labial surface of the teeth. Allow the gel to remain on the teeth for 20 minutes per application.

Suction Opalescene Boost gel from the teeth using an Ultradent™ Luer Vacuum Adapter and SST tip or a surgical suction tip. DO NOT USE WATER. Repeat steps 6 & 7. Stop when desired results are achieved, or if the three applications per visit maximum has been met.

After the final application is complete and all visible gel is removed, thoroughly rinse teeth with an air/water spray and the high volume suction.

Gently slide the tip of a dental instrument beneath the OpalDam resin barrier and lift it off. Check for and remove any interproximal remnants.

Evaluate the shade change. If additional whitening is desired and no significant sensitivity is noted, reschedule the patient in 3–5 days for repeat treatment or dispense take-home whitening treatment.
No Light Needed
Scientific studies; have proven that the best in-office whitening results do not require a light. That's why Opalescence Boost whitening has always been chemically activated for the highest quality in-office whitening available.
Gluten Free and Kosher Certified
Opalescence whitening products are gluten free and kosher certified, so they fit in with the lifestyles and beliefs of patients from any background.
Immediate Results
Offering dramatic results after just two or three 20-minute treatments, Opalescence Boost whitening is perfect for patients looking for instant whitening gratification or those who have an important event coming up that requires a bright, white smile.
Perfectly Balanced pH
Because tooth whitening gel can be in the mouth for several hours at a time, it's important to use a product with a pH that closely matches the natural pH of a patient's saliva. Opalescence Boost whitening contains added buffers to help maintain neutral pH levels, so it's never acidic. Opalescence Boost whitening is specially formulated with the patient's experience in mind.
Innovative Mixing and Delivery
Opalescence Boost whitening uses a unique syringe-to-syringe mixing method to ensure the maximum strength possible. Once the gel is mixed, Opalescence Boost whitening is conveniently applied to the teeth through the Black Mini™ tip.
Powerful Formula
With its powerful 40% hydrogen peroxide formula, Opalescence Boost whitening can provide noticeable whitening results in about an hour. Because of its powerful concentration, Opalescence Boost whitening is only administered by a dental professional.
Easily Combined with Other Opalescence Whitening Products for Customized Treatments
While each Opalescence whitening product is effective in a stand-alone whitening regimen, many patients prefer to use a combination of treatments or products to meet their needs. Because every Opalescence whitening product works in combination with the others, it's easy to create a custom regimen for any patient.
Distinct Red Color
The noticeable color of Opalescence Boost whitening makes it easy to see, which helps during placement and removal.
Unmatched Quality
The names Opalescence whitening and Ultradent are synonymous with quality. All of our research and development is done in-house. So is our manufacturing and quality control. This allows us to guide and oversee the entire process—from the time an Opalescence whitening innovation is conceived to the time it's created and packaged for shipping. We have met the strictest standards, and our facility is ISO 9001 certified. All of this ensures every product performs exactly as it's supposed to for you and for your patients.
Superior Stability
Opalescence whitening products are among the most stable whitening products in the industry, maintaining virtually all of its effectiveness over the course of its shelf life. Because delivery times vary depending on the location of each particular dental office, Opalescence whitening products are formulated with transit time in mind, so they remain stable even after being shipped across the country. In fact, stability studies performed on Opalescence tooth whitening gels have shown that the peroxide potency at the end of the product's shelf life is consistently 90% or greater.
Formulated with High Water Content
Many whitening products on the market dehydrate teeth, resulting in uncomfortable sensitivity for patients. Opalescence Boost whitening is formulated with a high water content to keep the teeth hydrated during the whitening process. This high water content reduces shade relapse and dehydration to maximize patient comfort.
Opalescence Boost is a professional whitening treatment performed in the dental office. Powerful and award-winning, Opalescence Boost has proven effective at creating beautiful, long-lasting results after just one quick visit to the dentist.
Dr. Dimple Kotwani talks about Opalescence Boost Whitening. The tooth whitening patients love.
Intro Kit (Item Number: 704750):
Patient Kit (704751):
Econo Refills 20-Pack (704754):
20 x 1.2 mL Opalescence Boost/Activator Syringes
Q: How does whitening work?
A: Teeth whitening works intrinsically from the inside out, so there is no need for the entire tooth to be in contact with whitening agent in order for the entire tooth to be whitened. Peroxide gels break down into water, oxygen, and free radicals, which in turn oxidizes the bonds of coloured molecules that cause tooth discolouration.
Q: How long do whitening results last?
A: While whitening results are very stable long after the treatment is over, a few factors can affect the length of the whitening results such as genetics, diet, age, medication and certain habits. The procedure may need to be redone periodically.
Q: Will whitening cause tooth sensitivity?
A: Some people experience sensitivity while whitening, which is temporary. If desensitizing treatments are desired, we recommend the use of UltraEZ® desensitizing gel or Enamelast® fluoride varnish.
Q: How should I store Opalescence Boost?
A: Opalescence Boost may be stored at room temperature unmixed but when mixed it should be used or refrigerated.
Q: Will teeth whitening affect bond strength?
A: Even though whitening agents release a great amount of oxygen into the tooth, existing bonds are not weakened. If whitening before bonding, allow a period of 7–10 days after whitening. The high concentration of oxygen in the tooth could significantly and adversely affect polymerization of the resins.