The Science Behind Teeth Whitening
How Teeth Whitening Works
Teeth whitening is a process of removing stains and discoloration from the surface of the teeth to make them appear whiter and brighter. There are several methods of teeth whitening, including professional treatments by a dentist, over-the-counter products, and at-home kits. Teeth whitening is a popular cosmetic dental procedure and can be done in-office or at home. But how does it work? Let's break it down for patients here.
FAQ About Teeth Whitening
1. WHAT CAUSES TOOTH DISCOLOURATION?
Many factors affect tooth colour. Genetics is one factor; some people just have whiter teeth than others. Other factors include cigarette usage, dark foods, and beverages (including coffee, soda, tea, and red wine), age, medications (such as tetracycline), and tooth trauma.
2. HOW DOES TEETH WHITENING WORK?
Although there are many different methods such as bleaching agents and abrasives, not all of them are safe for the teeth enamel.
The most safest and scientifically proven whitening system, Opalescence™, uses either carbamide peroxide or hydrogen peroxide as a whitening agent. The active oxygen molecules in the whitening agent can penetrate the enamel of the teeth and react with the discolored molecules that cause tooth discoloration. This action spreads the active oxygen molecules and whitens the entire tooth while keeping the enamel safe.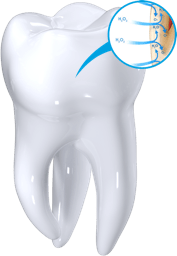 3. WILL WHITENING CAUSE TOOTH SENSITIVITY?
Tooth sensitivity can be a side effect of teeth whitening. If you experience sensitivity, it is usually temporary and will go away within a few days of finishing your whitening treatments. Desensitizing treatments can help if you experience sensitivity.
4. HOW LONG DO WHITENING RESULTS LAST?
Teeth whitening results are usually long-lasting, but certain factors like diet and smoking can cause them to lose their brightness over time. Fortunately, touch-up treatments are quick and easy, so your patients can always get their bright, white smile back.
5. WHO CAN WHITEN?
Almost anyone can successfully whiten their teeth. Opalescence whitening is effective at treating discolouration caused by age, food and drink, cigarettes, medication, or tooth trauma.
Patients of all ages can whiten — from teenagers to 90-year-olds. Orthodontic patients also can use Opalescence Whitening System! Opalescence Go can be worn over braces, while Opalescence 10% PF is recommended for use with clear aligners.
Teeth whitening can change patients' confidence. Teeth whitening changes lives!
Note: to achieve better final shade match, offer teeth whitening to your patients before any restorations.
What else makes Opalescence the #1 professional teeth whitening brand on the planet:
Opalescence has been a leading innovator in teeth whitening since 1990 and has received international recognition for its excellence in this field.
Opalescence whitening introduced its sticky, viscous teeth whitening gel which remains the best way to whiten teeth today.

3. The Opalescence teeth whitening family includes options to fit any patient's lifestyle.
For example, Opalescence® PF teeth whitening is designed to be used with a scalloped custom tray and can now be used with patients' own clear aligners. It is available in various concentrations and flavours for personalised, at-home teeth whitening. Opalescence PF teeth whitening gel also contains Potassium Nitrate and Fluoride (PF) to reduce tooth sensitivity without increasing the gingival sensitivity.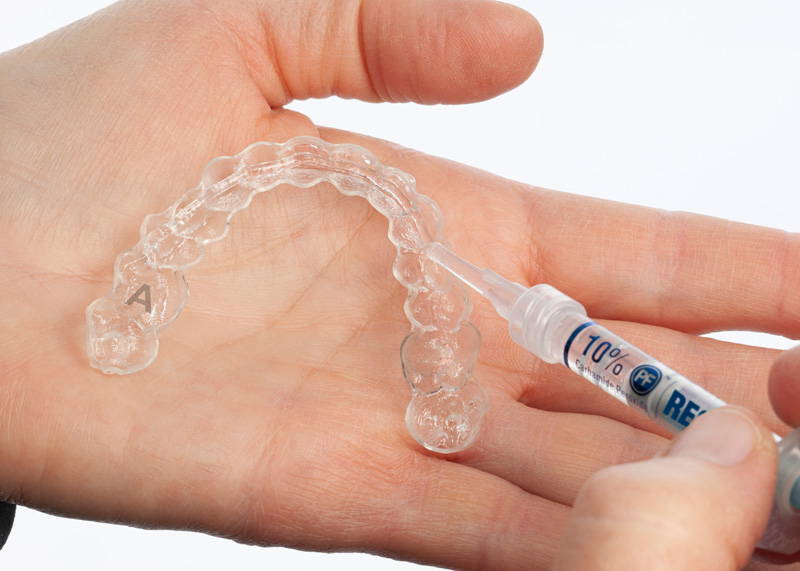 While Opalescence Go™ teeth whitening is a pre-filled, disposable tray system and allows users to whiten their teeth at their convenience without the hassle of a custom tray. It is also can be used by patients with orthodontic braces.

For medical, administered by dentist or hygienist, high concentration, in-office whitening system that gives visible results in about an hour, choose Opalescence™ Boost™ teeth whitening.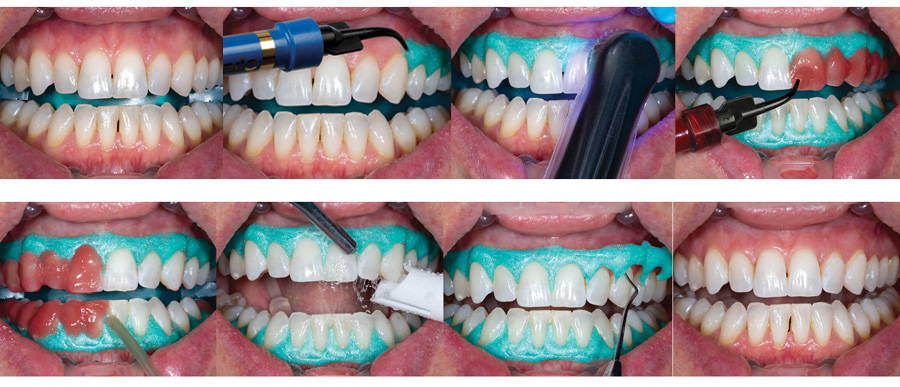 4. Opalescence teeth whitening is available in both hydrogen peroxide and carbamide peroxide formulas to best fit any patient's needs. Opalescence® PF teeth whitening, a carbamide peroxide formula, allows for a more gradual release, making it ideal for patients who prefer to whiten their teeth overnight or at a lower concentration for a longer period of time. Opalescence Go™ teeth whitening, however, contains hydrogen peroxide which releases more quickly, requiring much shorter wear times.
5. Opalescence teeth whitening gels have a high water content (20%), which helps to prevent teeth dehydration and reduce shade relapse. The gels are flavoured, gluten free, vegan, kosher, and some are sweetened with xylitol, which may reduce the risk of tooth decay.
Share this video on How Teeth Whitening Works with your patients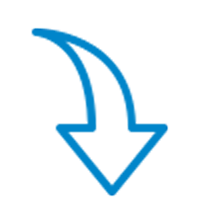 Patients' Teeth Before and After Opalescence Whitening Procedure
Whitening with Opalescence Go™: 10 or 15% Hydrogen Peroxide Take-Home Whitening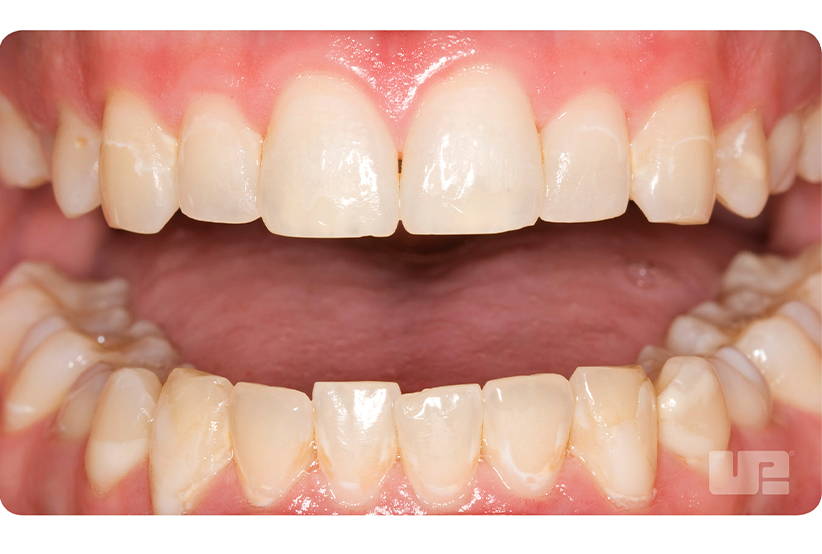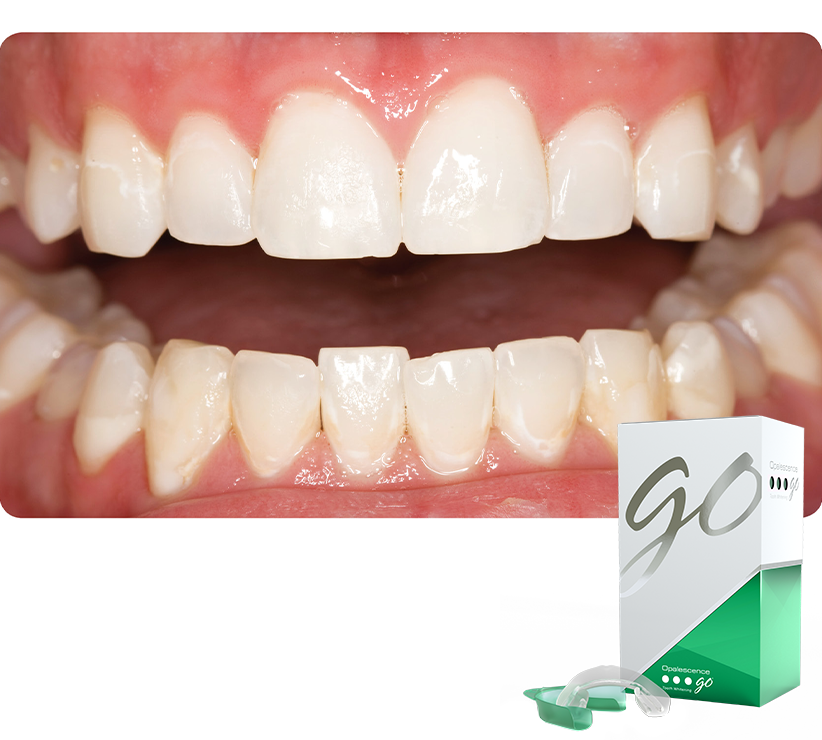 Whitening with Opalescence® PF: Choose from Five Different Concentrations of Carbamide Peroxide. Custom Take-Home Whitening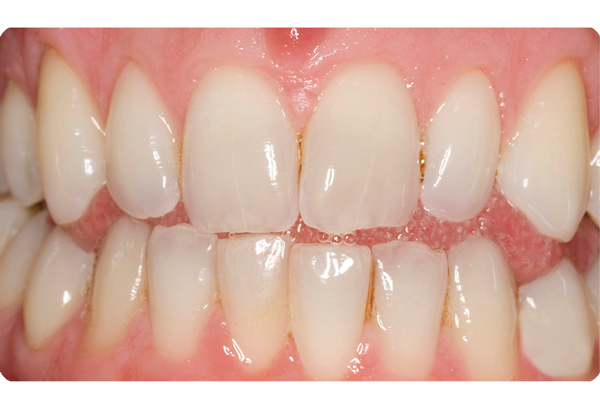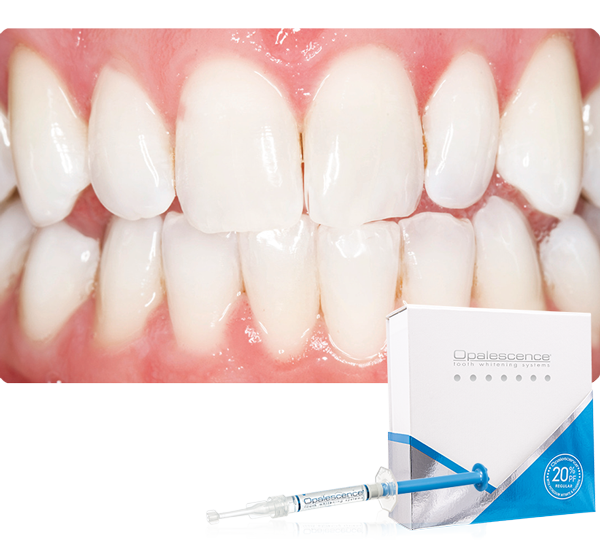 Whitening with Opalescence Go™: Can Be Worn over Orthodontic Braces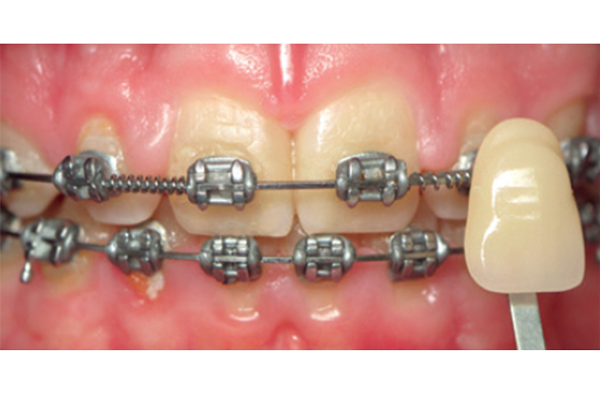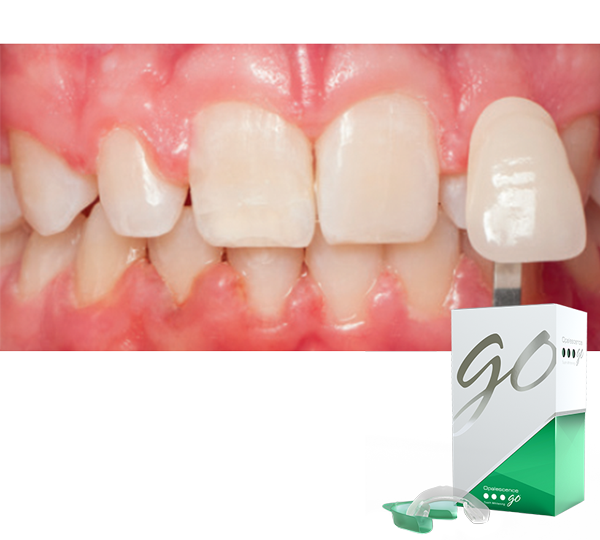 Whitening with Opalescence® Boost: In-Office 40-min Power Whitener. Administered by Dental Professionals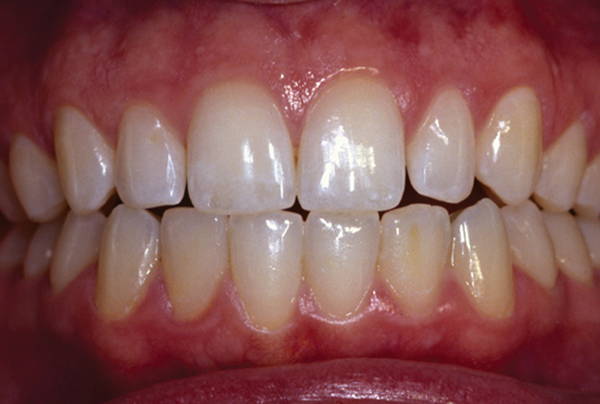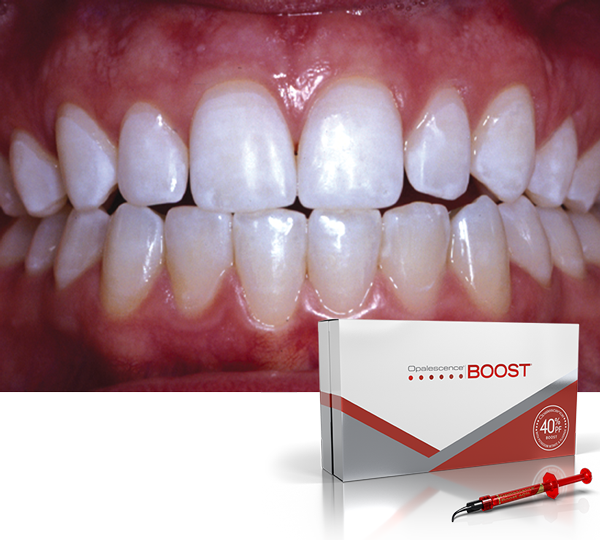 Whitening with Opalustre™: Chemical & Mechanical Removal of Superficial White and Brown Stains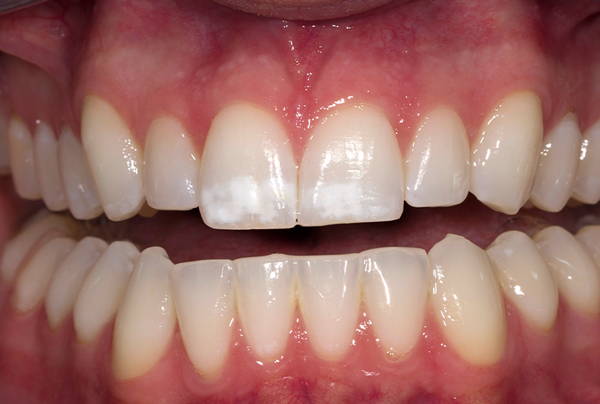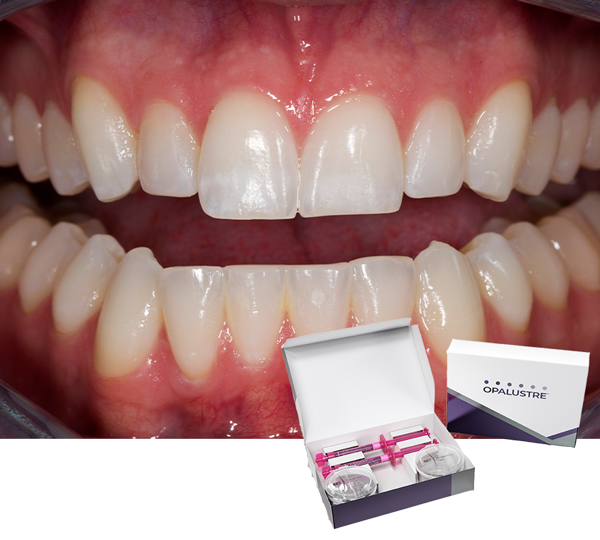 Whitening with Opalescence® Endo: The Walking Bleach Method for Non-Vital Teeth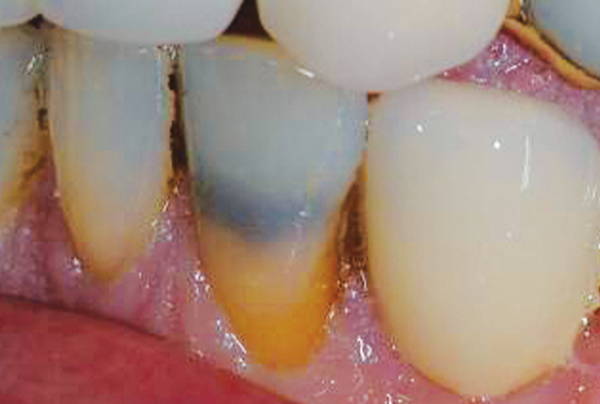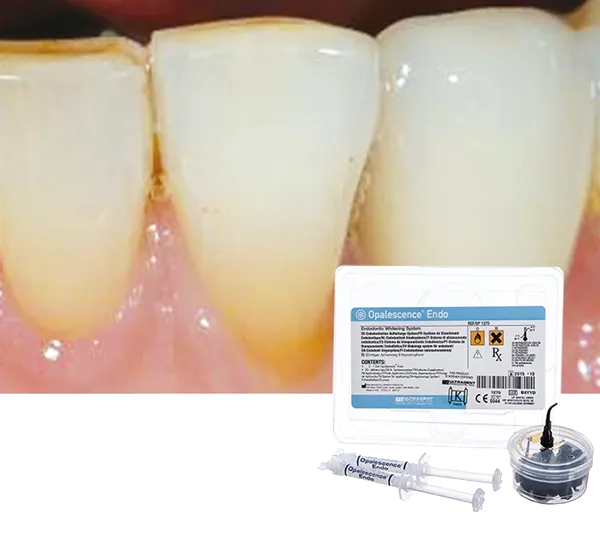 Images courtesy of Ultradent Products, Inc.
But what about the patients who prefer whitening light?
Your patients are seeing it all over social media, YouTube channels, and beauty blogs, so no wonder they're demanding whitening treatments that use some kind of light or laser!
According to current research, using hydrogen peroxide alone (the whitening agent used in Opalescence Boost, Opalescence Go, and Opalescence Endo) is effective in whitening teeth, and that light activation adds no additional benefit
1
. Here are some quotes from some studies that found it's better to whiten without a light.
In Vitro Efficacy and Risk for Adverse Effects of Light-Assisted Tooth Bleaching
"…optical radiation did not improve bleaching efficacy relative to bleaching without irradiation. The use of optical radiation in tooth bleaching poses a health risk to the client and violates radiation protection regulations. Therefore, we will advise against light-assisted tooth bleaching."
Bruzell EM, Johnsen B, Aalerud TN, Dahl JE, Christensen T. Photochem. In Vitro Efficacy and Risk for Adverse Effects of Light-Assisted Tooth Bleaching. Photochem Photobiol Sci. 2009;8(3):377-85.
Masters of Esthetic Dentistry According to Van Haywood,
"Various types of lights and lasers were claimed to simplify and shorten the bleaching technique, although the research to date has shown the contrary… Use of a light does not alter the final outcome and may give an illusion of whitening owing to dehydration."
Haywood, V. New Bleaching Considerations Compared with At-Home Bleaching. Journal of Esthetic and Restorative Dentistry. 2003;15(3):184-187.
Explain to your patients that our oral tissues are used to being in a dark environment with limited light exposure, so when you introduce a continuous stream of very bright, high intensity light, including UV and heat, this may not be good for them.
"Bleeding gums, sunburn, and severely burnt gums are among the common complaints, not to mention the possibility of getting cataracts, cancer, and other life-threatening illnesses."
Bruzell, E.M., et al (2009). In vitro efficacy and risk for adverse effects of light-assisted tooth bleaching. Journal of Photochemical & Photobiological Sciences, 2009, 8, 377-385.
Your patients can get the whitening results they're looking for by choosing an in-office or take-home whitening system that doesn't require a light, releases oxygen, and doesn't migrate to soft tissues.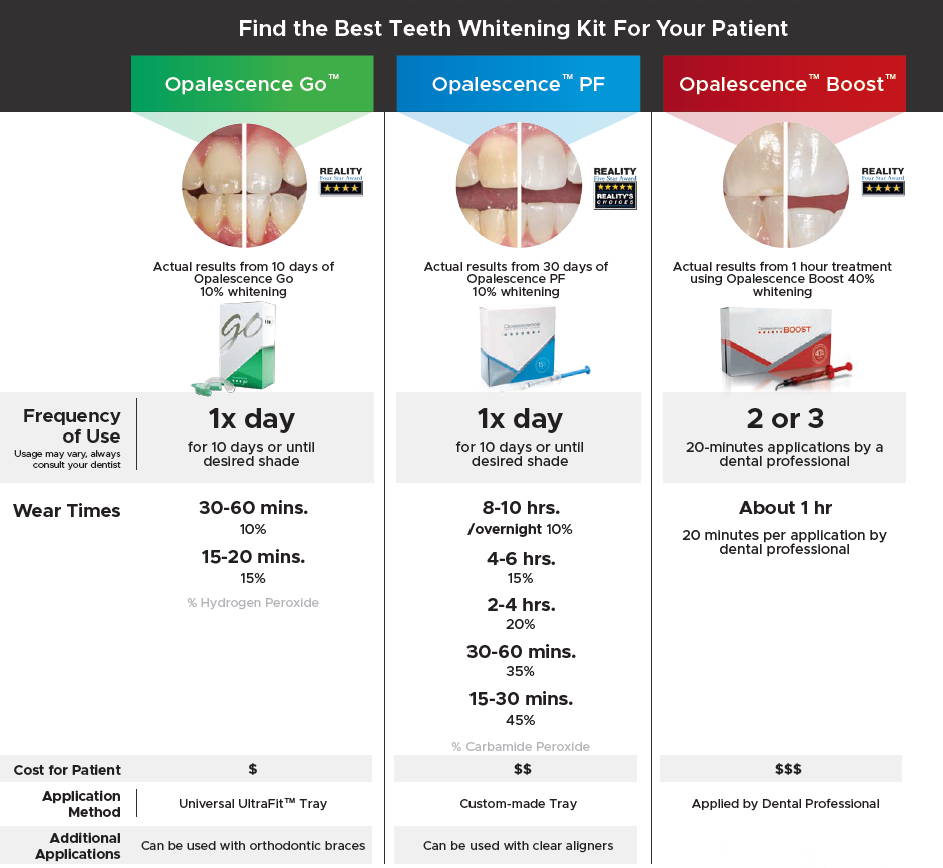 Will whitening affect bond strength?
Even though whitening agents release a great amount of oxygen into the tooth, existing bonds are not weakened.2,3
If whitening before bonding, allow a period of 7–10 days after whitening. The high concentration of oxygen in the tooth could significantly and adversely affect polymerization of the resins.4,5
2. Klukowska M, White DJ, Kozak KM, Zoladz JR, Baker RA, Garcia-Godoy F, et al. Effect of bleach on microleakage of Class V composite restorations. J Dent Res. 85(Spec Iss B):0035, 2006 (www.dentalresearch.org).

3. Angerame D, Garaffa S, Maglione M, Di Lenarda R, De Stefano Dorigo E. Effect of in-office bleaching on Class V composite restorations seal. J Dent Res. 84(Spec Iss A):3013, 2005 (www.dentalresearch.org).
4. Wilson D, Xu C, Hong L, Wang Y. Effects of clinical factors during tooth whitening on enamel. J Dent Res. 86(Spec Iss A):2632, 2007 (www.dentalresearch.org).
5. Lim B-S, Ryu I, Lee Y-K, Rhee S-H, Yang H-C, Ahn S-J et al. Effect of bleaching agent on shear bond strength to dentin. J Dent Res. 85(Spec Iss B):0036, 2006 (www.dentalresearch.org).
How long do whitening results last?
Whitening results are very stable, but depending on the patient's nutrition and lifestyle habits, the procedure may need to be redone periodically. Due to the safety of the whitening agents, this should not concern the dentist or patient.
Will tooth whitening cause sensitivity?
Tooth sensitivity is a relatively common side effect of whitening. If sensitivity occurs, it is transient and disappears after the completion of the whitening procedure.
What differentiates Opalescence Whitening from other whitening brands?

The Most Studied & Tested Whitening Brand
More clinical studies, articles, and reviews have been published on Opalescence whitening than any other professional whitening brand. It's part of the reason why it's so highly trusted.

Most Innovative Whitening Brand
Ultradent's Opalescence holds more patents than any other professional teeth whitening brand. A pH-balanced, water-based gel improves patient comfort by reducing sensitivity during whitening.

Most Experience With the Widest Reach
Since 1990, over 100 million people have whitened their smiles with Opalescence whitening products, which are currently sold in more than 130 countries.

Recognized, Awarded, and Trusted Whitening Brand
Opalescence whitening products have earned 50+ industry awards from highly respected dental organizations.
Thinking about how to market whitening services at your practice? We may help!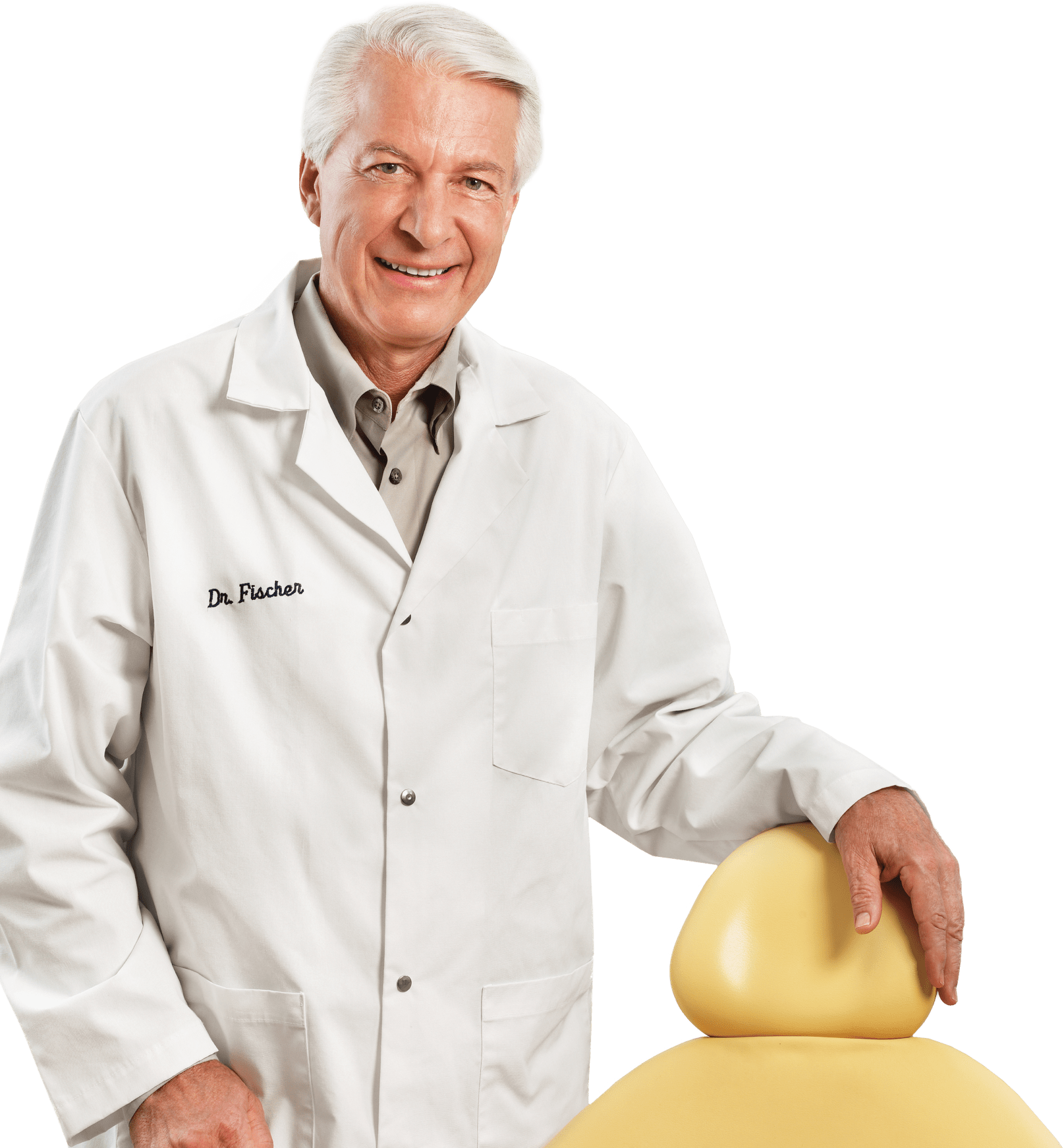 Dr. Dan Fischer
Inventor of Opalescence Whitening
Since its creation over 30 years ago, Opalescence® teeth whitening kits have continued to lead the market with innovation and improvement. Opalescence® whitening remains the global leader in professional teeth whitening today and has helped millions of people successfully whiten their teeth, giving them more confidence and improving their quality of life!