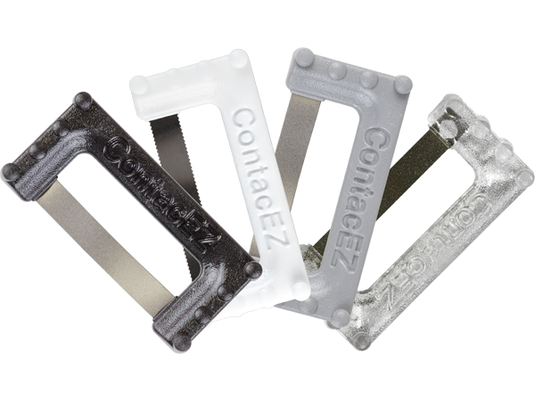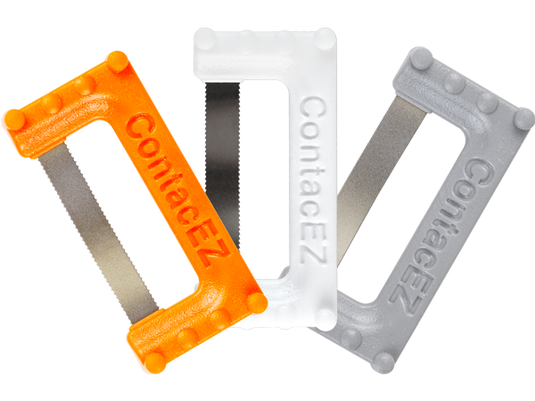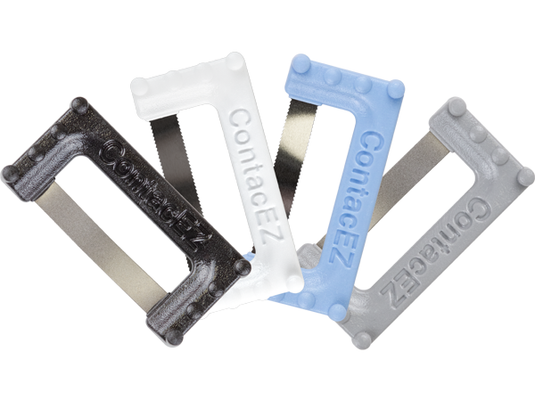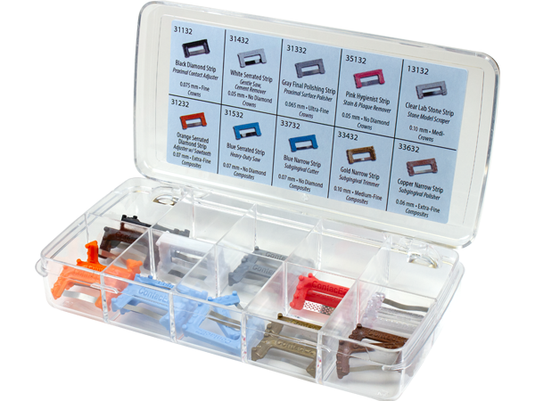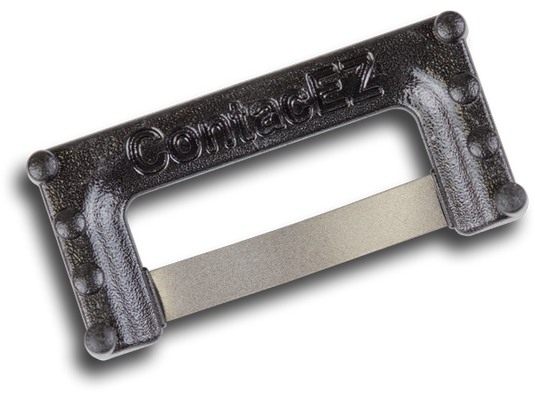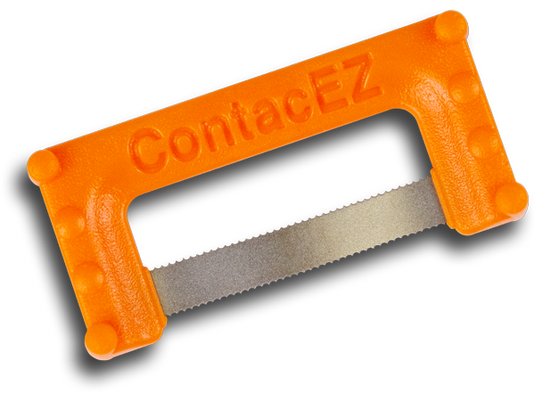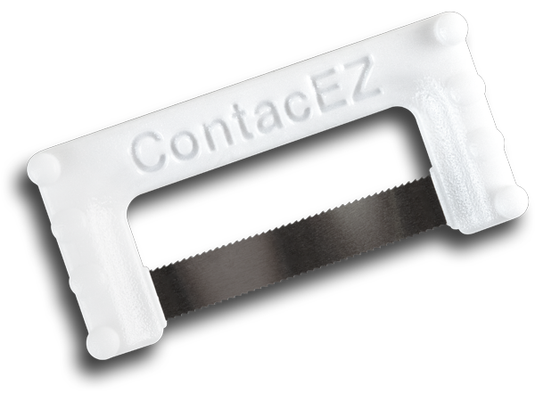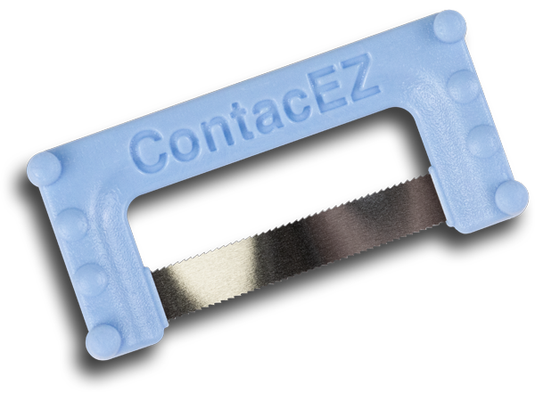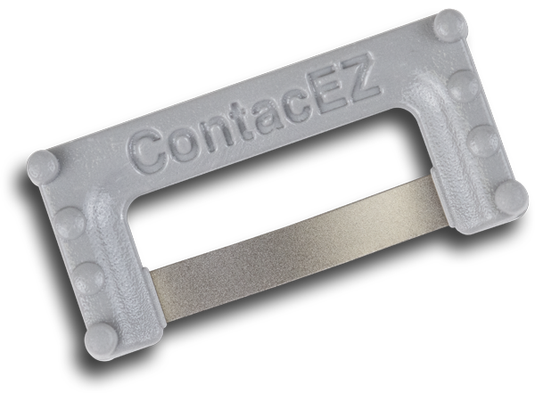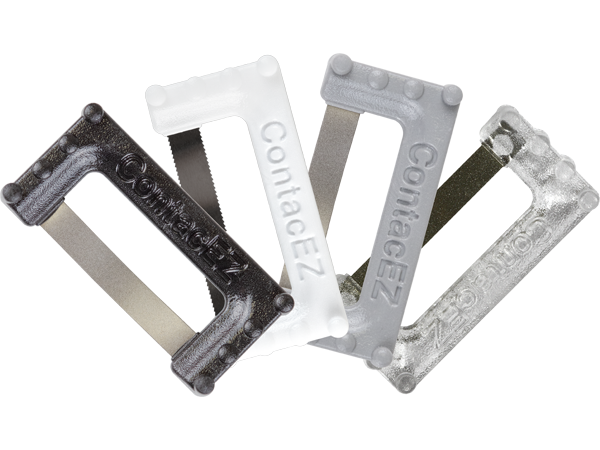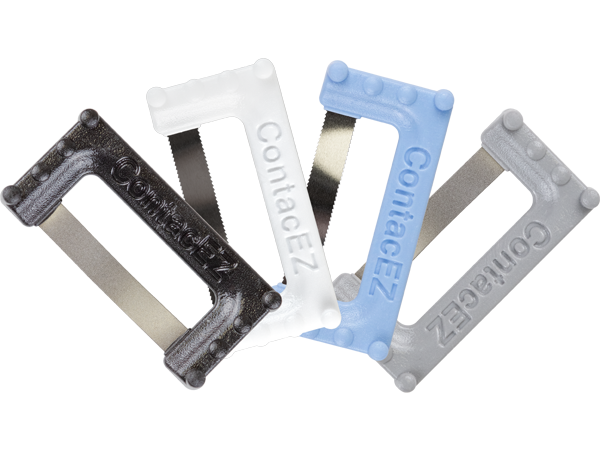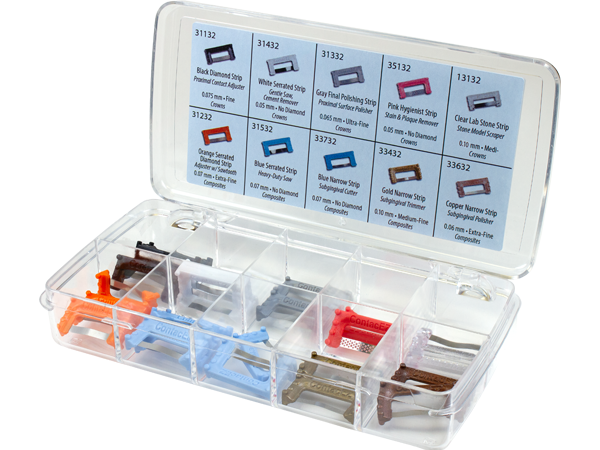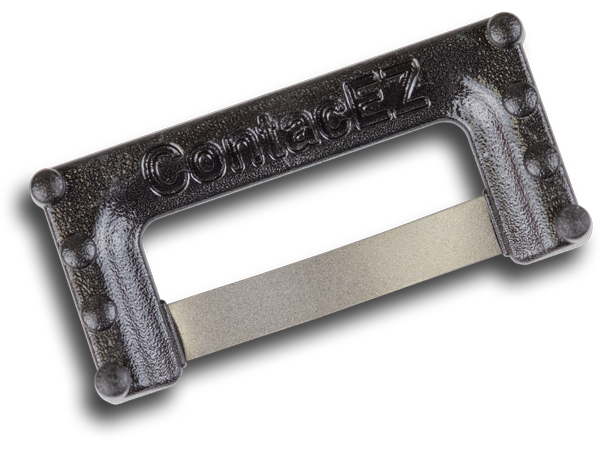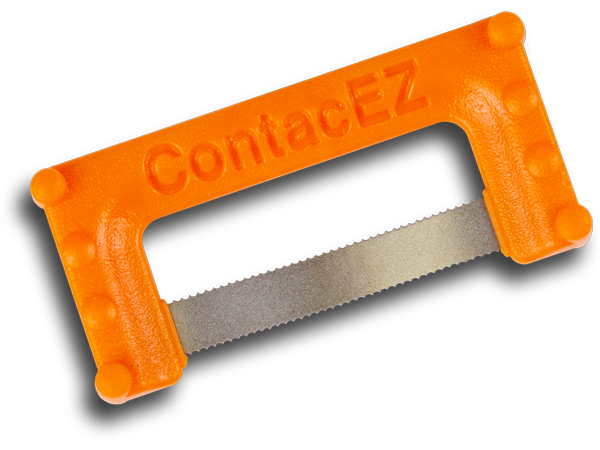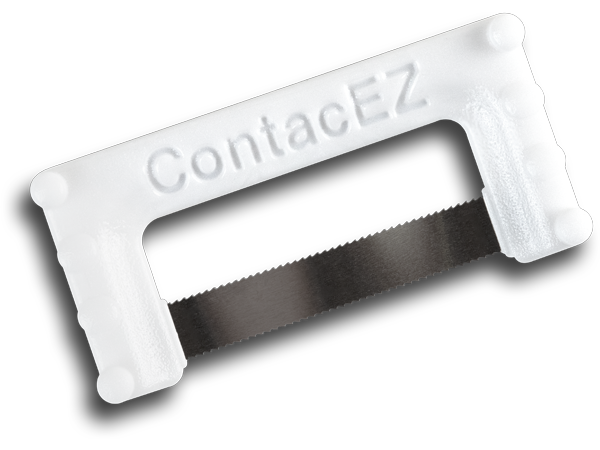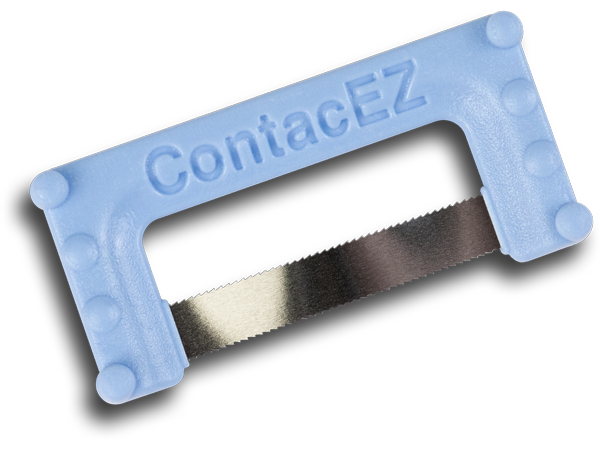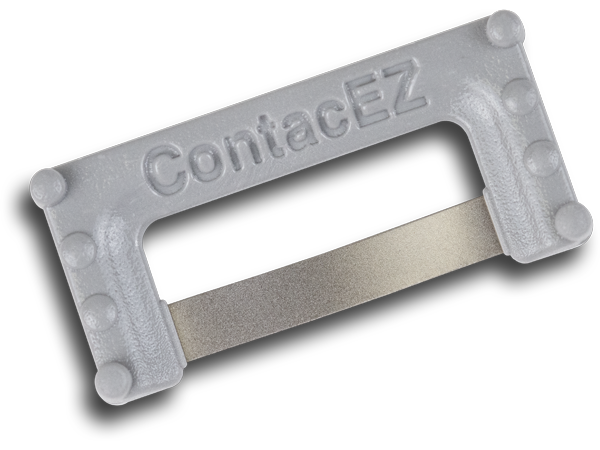 SAVE $100 on the Assorted 40-Pack OR SAVE $8 on 8-Pack Refills
Product Details

Clinical Technique

Technical Details

Video

Testimonials

Configurations

FAQ

Resources
The ContacEZ® Restorative Strip System is an innovative, precision dental strip system that achieves ideal proximal contact adjustment and complete marginal seating of crowns, veneers, inlays/onlays, and proximal contouring of composite fillings accurately with minimum time and effort.
The Restorative Strip system includes a proximal contact adjuster, an interproximal cement cleaner, a proximal surface polisher, a proximal contact adjuster with sawtooth and a heavy-duty dental saw. Other features and benefits include:
Single-handed, ergonomic design offers optimal tactile control and reduces hand fatigue
Eliminates the need to hold small restorations and use rotary instruments and articulating films
Central opening for enhanced visual perception and access for tools
Patient-friendly design prevents gagging and soft tissue irritation
Flexible strips conform to the natural contours of the teeth to avoid creating sharp corners
Autoclavable and reusable
The ideal proximal contact of an implant-supported crown #19 is adjusted using the ContacEZ Black Diamond Strip prior to cementation, and complete marginal seating is achieved.

Interproximal Relief is confirmed using the Gray Final Polishing Strip after cementation, which passes through the interproximal space with moderate resistance while polishing to a natural finish. The patient feels very comfortable with the new crown as if it was his own natural tooth.

Floss firmly snaps (pops) in and out, but it is not sufficient enough alone to check proximal contact adjustment of a new crown, due to its inconsistency of thickness.
Use the Black Diamond Strip to adjust ideal proximal contacts and restore interproximal relief by eliminating excessive pressure between the indirect restoration and the adjacent teeth without opening the contact. Use this strip prior to definitive cementation of crowns, inlays/onlays, and veneers. It is also useful for the contouring proximal surfaces of composite fillings.
Use the Orange Serrated Diamond Strip in place of the Black Diamond Strip when overly tight contacts are present, and the strip cannot access the interproximal space. Use this strip to adjust and contour proximal contacts for composite fillings. The serrated edge readily penetrates tight contacts to prepare for ideal proximal contact adjustment. To clean out excess cement from the interproximal space, use the White or Blue Serrated Strips.
This ultra-thin White Serrated Strip is designed to safely cut and clean out excess cement trapped in the interproximal space after cementation. Prior to light curing, use it for interproximal cleaning of multiple veneers or composite fillings without disturbing placement and to separate them from adjacent teeth. Pass the strip back and forth buccolingually only, using gentle force.
This heavy-duty Blue Serrated Strip dental saw is designed for more rigorous cutting and cleaning in the interproximal space. It safely cuts into massive excess resin cement trapped in the interproximal space as an alternative to the White Serrated Strip. It is also very useful for separating bonded contacts of multiple veneers after light-curing.
Use the Grey Final Polishing Strip to polish proximal contact surfaces of restorations and to restore a natural finish in one step. This strip also confirms interproximal relief after definitive cementation. For interproximal stain removal and cleaning, use the Hygienist Strip, Stain Remover.
Watch how the ContacEZ Restorative Strip System makes seating a crown on Tooth #15 safe, easy, and accurate.
"I use the Orange Strips most often when I have a tight contact that is shredding the floss and I need to lighten up the contact by a slight amount. I also use the Orange Strips when there is a slight overhang or roughness in the interproximal region of the filling that needs smoothing. The beauty of the ContacEZ strips is that they are thin and I don't have to worry about opening up the interproximal contact by filing away too much material. I use ContacEZ strips almost every time I do composite restorations. They have made my ability to create an ideal contact easily attainable!"
Dr. A Fujioka DMD – Vancouver, WA
Assorted System 8-Pack (Item Number: 208254):
2 x Black Diamond Strip
2 x White Serrated Strip
2 x Blue Serrated Strip
1 x Orange Serrated Diamond Strip
1 x Grey Final Polishing Strip
Assorted System 40-Pack (208250):
8 x Black Diamond Strip
8 x Orange Serrated Diamond Strip
8 x White Serrated Strip
8 x Blue Serrated Strip
8 x Grey Final Polishing Strip
Crown Seating Kit 32-Pack (208251):
8 x Black Diamond Strip
8 x White Serrated Strip
8 x Grey Final Polishing Strip
8 x Clear LAB Stone Strip
Composite Finishing Kit 24-Pack (208253):
8 x Orange Serrated Diamond Strip
8 x White Serrated Strip
8 x Grey Final Polishing Strip
Veneer Finishing Kit 32-Pack (208252):
8 x Black Diamond Strip
8 x White Serrated Strip
8 x Blue Serrated Strip
8 x Grey Final Polishing Strip
Signature Set 24-Pack (208316):
3 x Black Diamond Strip
3 x White Serrated Strip
3 x Orange Serrated Diamond Strip
3 x Blue Serrated Strip
2 x Grey Final Polishing Strip
2 x Clear LAB Stone Strip
Restorative Strips Individual Refill Packs:
8-Packs:
Black (208255)
Orange (208256)
White (208257)
Blue (208258)
Grey (208259)
32-Packs:
Black (208296)
Orange (208297)
White (208298)
Blue (208299)
Grey (208301)
Q: How many times can you sterilize and reuse a strip?
A: For maximum efficiency and functionality, ContacEZ recommends using each strip only 3-5 times before disposal.
Q: Can ContacEZ strips adjust Zirconia crowns?
A: Yes. ContacEZ Strips can be used for Zirconia crowns the same as Porcelain crowns.
Q: Which strip should be used to restore a natural finish?
A: The ContacEZ Gray Final Polishing Strip, (Extra-Fine Diamond, Single-Sided) is the proximal surface polisher that will restore a natural finish.