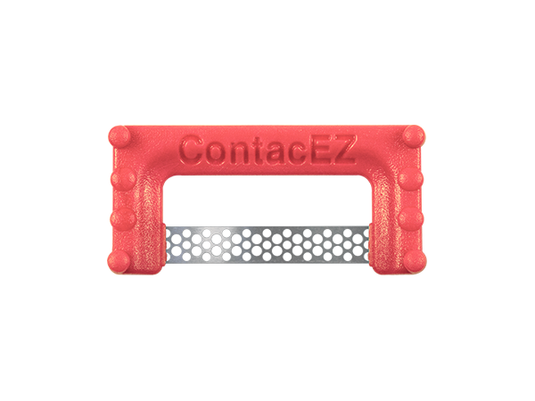 Product Details

Clinical Technique

Technical Details

Configurations

Resources
The ContacEZ® Hygienist Strip is an advanced, high-precision dental strip designed to remove extrinsic discoloration and plaque from interproximal surfaces without causing damage to tooth enamel. The non-abrasive, flexible, stainless steel strips clean proximal contact areas of tough coffee, tea, tobacco, and red wine stains quickly, safely, and easily to ensure patient satisfaction and save hygienist chair time. Other features and benefits include:
Removes stains and plaque from proximal surfaces
Non-abrasive perforated strip protects enamel
Accesses areas that are difficult to reach with other tools
Leaves a smooth proximal surface for flossing
Flexible, highest-quality, stainless steel strip
Thinner than dental floss
Autoclavable, steam heat only, up to 270˚F
Clinical Images
Protect the lip by using either a cotton roll or fingers to move it out of the way. Insert the strip with minimal vertical pressure.
Passing the thin, perforated strip back and forth buccolingually will even remove stains between tight contacts.
Procedure Steps
Place a cotton roll between the lip and gum. Insert the strip into interproximal spaces by passing back and forth buccolingually with minimal vertical pressure.

Use gentle force to curve the flexible strip along the stained interproximal surface. Pass the strip back and forth buccolingually, maintaining the pressure on the stained surface until the discolouration has been removed.

Repeat as necessary on the opposite tooth. The strip will curve and clean along the natural curvature of the tooth with its built-in flexibility. The non-abrasive perforated strip will not damage enamel, just remove the stain.
The ContacEZ Hygienist Pink Strip is available in 8-Pack (Item Number: 208279) and 32-Pack (208302) quantities.