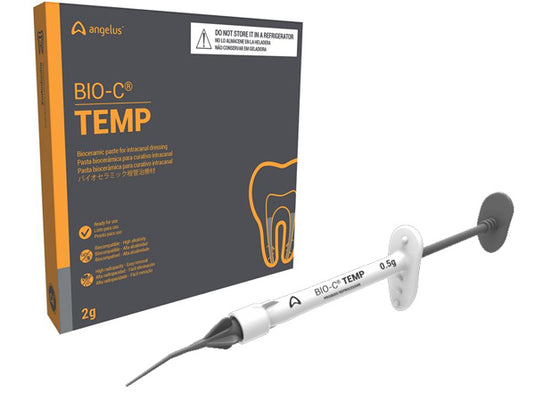 Product Details

Clinical Technique

Technical Details

Testimonials

Video

Configurations

FAQ

Resources
Bio-C® Temp from Angelus® is a ready-to-use bioceramic tricalcium silicate paste for intracanal dressing allowing high performance in fewer sessions. It is advantageous to calcium hydroxide pastes because its low solubility allows it to be in contact with the canal walls for a longer period of time. As a result, this allows for a continuous and gradual release of hydroxyl (OH-) ions. Bio-C Temp is available in a syringe with a silicone cap and uses applicator tips specially developed for this product. The silicone cap effectively protects from external environment moisture, preventing premature hardening. The applicator tips are pre-curved and with adequate length, which facilitates application in areas with difficult access. Other features and benefits include:
Biocompatible
High alkalinity
High radiopacity
Microban antimicrobial protection
Easy removal
Indications for Use
Intracanal dressing for endodontic treatment of teeth with pulp necrosis and retreatment.
Intracanal dressing for cases of perforations, external and internal resorptions, prior to the use of Bio-C Repair, MTA Repair HP and MTA Angelus.
Incomplete rhizogenesis.
Images courtesy of Dr. Maria Antonieta Veloso Carvalho de Oliveira.
Perform the biomechanical preparation of the canal and, in cases of internal resorption, use curettes for the elimination of granulation tissue.

Dry the canal with absorbent paper cones.

Dispense the initial portion of material from the tip of the syringe (1.0 mm).

Connect the applicator tip to the syringe.

Insert the tip of the syringe near to the dental apex, slowly withdrawing in the coronary direction. For better sealing, insert a suitable numbering manual file to obtain a complete fill of the canal.

Remove excess paste from the pulp chamber and seal the coronary opening. Important: make these changes, if necessary, until the signs and symptoms normalize.

Removal of intracanal dressing should be performed with Sodium Hypochlorite and a K-type file using the movement of the file against the walls of the root canal.

Then, irrigate with 17% EDTA solution and, if possible, activate EDTA with Ultrasonic Tip in 3 cycles of 10 seconds.

Seal the canal with a root canal sealer like Bio-C Sealer or MTA Fillapex with gutta-percha points.

Seal the coronary opening.
"Bioceramics are ceramic materials used in medicine and dentistry due to their biocompatibility and ability to create an ideal healing environment. Bio-C Temp is Endodontics' first intracanal bioceramic medication, indicated for cases of treatment and retreatment due to its high pH, its anti-bacterial, bacteriostatic and anti-inflammatory action and mineralization induction. Because it is a bioactive product, Bio-C Temp interacts with the surrounding tissue, stimulating healing, and the tissue system responds to the material as if it were a natural tissue. We use Bio-C Temp in the most diverse cases: pulpitis, pulp necrosis, periapical lesion, persistent fistula, inflammatory or purulent exudate, perforation, apexification, external and internal resorption. We recommend Bio-C Temp not only for its actions, but also because it is a ready-to-use product, easy to insert into the root canal and with no painful symptomatology even in cases where it extrudes through the apical foramen."
Dr. Maria Antonieta Veloso Carvalho de Oliveira, Dr. Luís Henrique Araújo Raposo, and Dr. Paulo Vinícius Soares, the Faculty of Dentistry of the Federal University of Uberlândia (FOUFU).
Watch how Bio-C Temp's chemistry allows for high and continuous release of hydroxyl ions (OH-), achieving high performance in fewer sessions.
Bio-C Temp (Item Number: 850812): 4 x 0.5 g syringes with 20 tips.
Q: What is the difference between Bio-C Sealer, Bio-C Repair, and Bio-C Temp?
A: Bio-C Sealer is a canal-sealing sealer, Bio-C Repair is a repair sealer, and Bio-C Temp is a delay dressing used between sessions so that the canal can be sealed later.
Q: Does Bio-C Temp set inside the canal?
A: Bio-C Temp was developed for the purpose of not setting and being easy to remove. Its formulation contains modulated characteristics so that it meets the necessary properties of a delay dressing.
Q: In what situations would I use Bio-C Temp?
A: In cases where the chemical mechanical preparation was not finished, painful symptomatology, and presence of exudate that prevents the sealing procedure.
Q: How do I remove Bio-C Temp from inside the canal?
A: Final removal of Bio-C Temp prior to canal sealing should be performed using Sodium Hypochlorite and a K-type File with the movement of the file against the walls of the root canal. Then, irrigate with 17% EDTA solution and, if possible, activate EDTA with Ultrasonic Tip in 3 cycles of 10 seconds.
Q: How often should Bio-C Temp be replaced?
A: Bio-C Temp was developed with a formulation that provides a gradual and slow release of its components for a healthy restoration of the affected region. Therefore, unlike calcium hydroxide, which requires frequent replacement, Bio-C Temp dispenses and/or eliminates the need for new applications. Patient signs and symptoms will indicate the need to repeat the procedure.
Product Information
View the Bio-C Temp Product Sheet (CRD).
View the Bio-C Temp Product Sheet (Angelus).
View the Bio-C Temp Scientific Technical Profile.
Articles and Case Studies
View the article In vitro evaluation of cell viability, radiopacity and tooth discoloration induced by regenerative endodontic materials from the International Endodontic Journal.
View the article Physicochemical and Biological Evaluation of Endodontic Filling Materials for Primary Teeth from the Brazilian Dental Journal featuring Katerine Jahnecke Pilownic, Ana Paula Neutzling Gomes, Zhe Jun Wang, Luiza Helena Silva Almeida, Ana Regina Romano,Ya Shen, Anelize de Oliveira Campello Felix, Markus Haapasalo, Fernanda Geraldo Pappen.
View the case study Influence of different techniques for removing intracanal medications based on bioceramics and calcium hydroxide compounds from Angelus.
View the article, provided by Angelus, explaining the use of intracanal bioceramic medication to achieve disinfection.
View the article Effect of Ultrasonic Activation on Dentinal Tubule Penetration of Bio-C Temp and Ultracal XS: A Comparative CLSM Assessment from the European Endodontic Journal featuring Peña-Bengoa F, Magasich MC, Bustamante D, Wastavino C, Niklander SE, Cáceres C.
Reports
View the report Antimicrobial activity against biofilms formed membrane from the Universidade Federal do Ceará featuring Bruno Carvalho de Vasconcelos, DDS, MSc, PhD.
View the report Bio-C Temp In vitro Cytotoxicity Potential Testing by Mariana Aguilera Alencar da Silva.
View a side-by-side comparison of Bio-C Temp versus Calcium Hydroxide.
Technical Documents
View the Bio-C Temp SDS.
View the Bio-C Temp IFU.
bioc