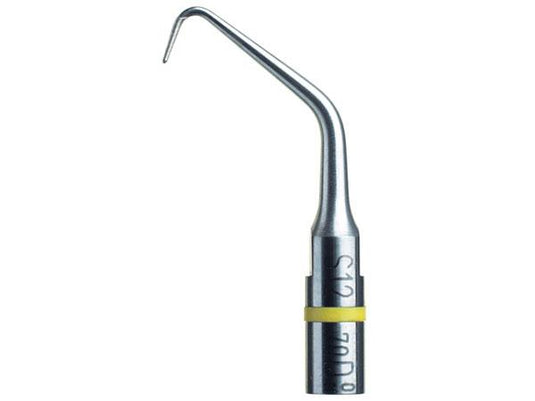 Product Details

Technical Details

Video

Tip Size

FAQ

Resources

Accessories
Acteon® NEWTRON Apical Surgery Ultrasonic tips are used for apical preparation of cavities and isthmuses.The S tips are designed for a minimally-invasive apical retreatment, with a complete cleaning and quick healing. Their active part has been lengthened to perform a deeper treatment (maximum working length = 5mm). These tips are used at medium power with light pressure to avoid unnecessary tissue removal and micro-fractures of periapical walls. Endodontic apical surgery can also be made with the Acteon EndoSuccess™ Apical Surgery kit, which enables the preparation of the canal system up to 10mm.
Indications for Use
Apical surgery:
S12-70D Diamond Coated Back Action Tip. Recommended for the treatment of posterior areas, difficult to access canals or particular root orientation.
For use with Acteon NEWTRON Ultrasonic Generators.
Acteon Endo Surgery tip in action.
S12-70D Diamond Coated Back Action Tip (Item Number: 820118): 1 ea. Angled at 70°, Diamond-coated 30μm, length 5mm, taper 9%.
Q: How do I change (or place) the tip?
A: The tip threads onto the end of the autoclavable handpiece (AHP). The tip-enclosing wrench provided prevents you from having to touch the actual tip. You orient the slot in the wrench around the base of the tip, press the wrench into place, and turn the tip counter-clockwise to loosen the tip. The tip should always either be applied on the AHP or inside the wrench. First, hand tighten a tip to the handpiece. Then align the hole of the wrench to the flat sides of the tip and press down. The wrench will lock into place. Now unscrew the wrench and the tip remains inside, helping prevent the loss of tips or injuring hands and fingers. Hand tightening only needs to be done the first time using the device or acquiring new tips and wrenches. The tip should remain in the wrench unless it's in use. The torque wrenches have a special design that will prevent over-tightening of the tip on the AHP. When the tip is tight on the AHP, continue to force the wrench in a clockwise motion until you hear an audible "click". You will then know the tip is sufficiently tight on the AHP. DO NOT DO THIS WITH THE FLAT COLOUR-CODED WRENCHES.
Q: Can I sharpen these tips?
A: No. These tips are not to be altered in any way. Sharpening these tips will negatively affect the tip's ability to vibrate properly.
Q: How long do the tips last?
A: Most users experience at least 6 – 9 months of use prior to having to replace a tip due to its wear. ACTEON offers the widest variety of NEWTRON tip designs and manufactures the thinnest perio tips on the market. ACTEON was the first company to develop tips with an internal coolant spray, diamond coated tips and pure titanium tips for implant maintenance. ACTEON manufactures NEWTRON tips for all applications including:
periodontics
subgingival scaling
root planing
implant maintenance
biofilm disruption
cavity preparation
margin preparation
condensing of composites
endodontic retreatment
post and crown removal
apical surgery