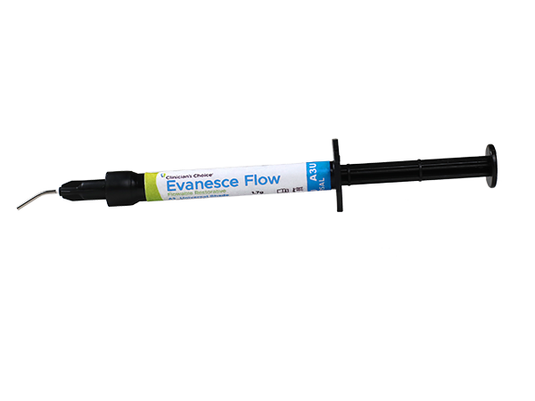 Purchase 5 for the price of 4
Product Details

Technical Details

Video

Configurations

Resources

Accessories
Esthetic and strong, easy to express and manipulate, Evanesce™ Flow is the ideal solution to minimally-invasive restorations and a vital component to your large composite cases. Evanesce Flow was engineered to complement the Evanesce Universal Restorative composite line and features the very same chemistry. Other features and benefits include:
Truly universal for use anywhere in the mouth
Thixotropic for improved control, easily dispensed from the syringe, and will not slump on a vertical surface
Relatively low rate of shrinkage (3.6% compared with up to 5%), and high filler content (62% by weight and 48% by volume)
Moves easily when manipulated without sticking to the instrument causing pull-back
Ideal for superficial Class I and II's due to its esthetics, ability to be adapted to the tooth and high strength
Class V's benefit from its no-slump handling and range of opacities and shades
Invaluable as a liner base in posterior restorations to support the dentinal/adhesive seal
Excellent shade and opacity match to Evanesce and VITA Classic shade guide
Can be used on its own or in combination with Evanesce
With a radiopacity of 200% Al is clearly distinguishable from composite on a radiograph for ease of diagnosis
Available in the most popular shades
Using Evanesce Flow in Class V Restorations with Dr. Marc Geissberger, DDS, MA.
Evanesce Flow 1.7 g Syringes. Available in the following shades (each includes 5 mixing tips as well as IFU/SDS):
Universal Shades:
A1 (Item Number: 323517)
A2 (323518)
A3 (323519)
A4 (323520)
B1 (323521)
BL1 (323525)
Enamel Shades:
A1 (323501)
A2 (323502)
A3 (323503)
B1 (323505)
Dentin Shades: