FAQ About Tooth Whitening
Q: How does tooth whitening really work? What causes tooth discolouration?
Many factors affect tooth colour. Genetics is one factor; some people just have whiter teeth than others. Other factors include cigarette usage, dark foods and beverages (including coffee, soda, tea, and red wine), age, medications (such as tetracycline), and tooth trauma.
How does teeth whitening work?
Opalescence™ whitening gels contain an active whitening ingredient—either carbamide peroxide or hydrogen peroxide. Active oxygen molecules from the whitening agent are able to pass through the enamel of the teeth, where they react with and neutralize the discoloured molecules that cause tooth discolouration. The active oxygen molecules spread, whitening the entire tooth. A brighter, whiter smile is the result.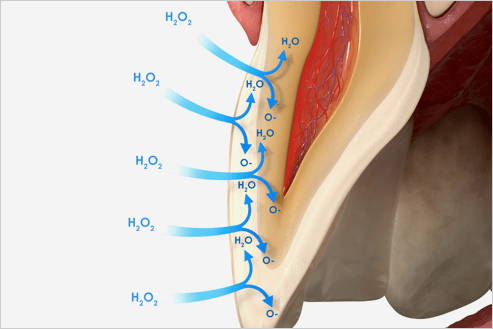 Q: Will whitening cause tooth sensitivity?
Tooth sensitivity can occur as a result of whitening. If sensitivity occurs, it is temporary and typically disappears within a few days after the completion of whitening treatments. Desensitizing treatments can be used to help treat or prevent sensitivity if it occurs.
Q: How long do whitening results last?
Teeth whitening results are very stable, leaving your patients with a stunning smile long after treatment is over. However, there are a few factors that can make teeth lose their brightness. Things like diet and certain habits (like smoking) may affect the length of whitening results. Fortunately, touch-up treatments are quick and easy, helping your patients get that bright, white smile back.
Almost anyone can successfully whiten their teeth. Opalescence whitening is effective at treating discolouration caused by age, food and drink, cigarettes, medication, or tooth trauma. Patients of all ages can whiten—from teenagers to 90-year-olds.

This article was originally published in the CRD Whitening Resource Book.
The CRD Whitening Resource Book is an educational book in which Clinical Research Dental showcases the entire whitening portfolio and explains in detail how each product works. Plus, informative articles and tips on how to successfully incorporate whitening in different and creative ways into the dental practice.

Subscribe to our newsletter today and request your Clinical Life™ magazine printed version.