5 on 5 - Opalescence™ Whitening Marketing Tips from Dental Offices Across Canada
"Steveston Smiles is dedicated to creating bright smiles year-round, and our marketing efforts are constantly changing and evolving based on our patients' needs and current trends. We strive to introduce fresh ideas to keep them engaged!
We have posters scattered throughout the office, raising awareness and generating interest in our whitening options. Combining orthodontic treatments with whitening has also proven to be effective. I recommend to my patients that they either whiten in the aligner tray or use the last tray of the treatment instead of creating a new custom tray just for whitening. This approach simplifies everyone's lives and makes it more affordable for the patient.
Recently, our most effective marketing strategy has been our active social media presence, where we showcase real experiences with our staff, including their opinions and their own treatment experiences. For example, I personally shared my 10-day Opalescence™ Go treatment, highlighting a different aspect of the product each day (like whitening while walking the dog, demonstrating that you don't need dedicated time to whiten, and emphasizing how comfortable it is). The results were phenomenal! I received numerous questions in my inbox, and the interest in whitening has grown exponentially since then. We believe that social media has brought our patients closer to us as their dental professionals, and we are delighted
that they place their trust in us."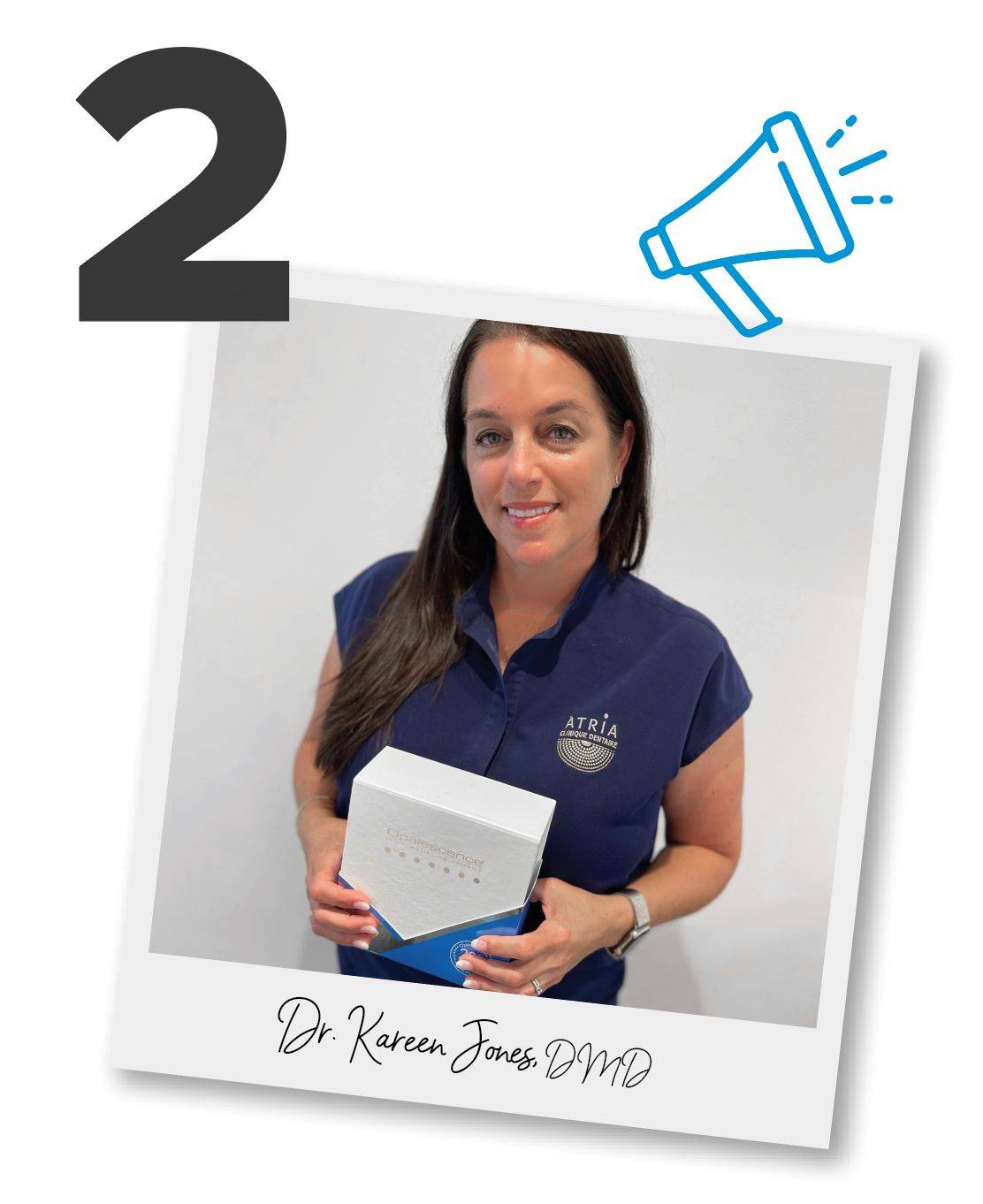 "At Atria Clinique, our rapidly expanding practice is dedicated to welcoming new patients and assisting our regular patients in incorporating whitening treatments into their current treatment plans. For instance, we express our gratitude to new patients by offering them an Opalescence Go™ kit as a gift for choosing us to care for their smiles. Additionally, for patients undergoing orthodontic aligner treatment, we provide complimentary kits after their treatment is completed. Currently, we do not offer Opalescence™ PF (the syringe-delivered whitening gel) to our Invisalign® patients, but we can envision its potential benefits in
the future, as it would allow patients to whiten and straighten their teeth at the same time.
One promotion that has proven successful for us is focusing our marketing efforts and providing discounts on whitening services in the spring and late winter, precisely when teenagers are preparing for graduation. We understand that our patients often consider whitening their teeth before important milestones, and we ensure that our staff is well-informed and prepared to recommend whitening products during this period. Our team plays a pivotal role in the growth of our practice, including expanding the number of patients who explore teeth whitening options!"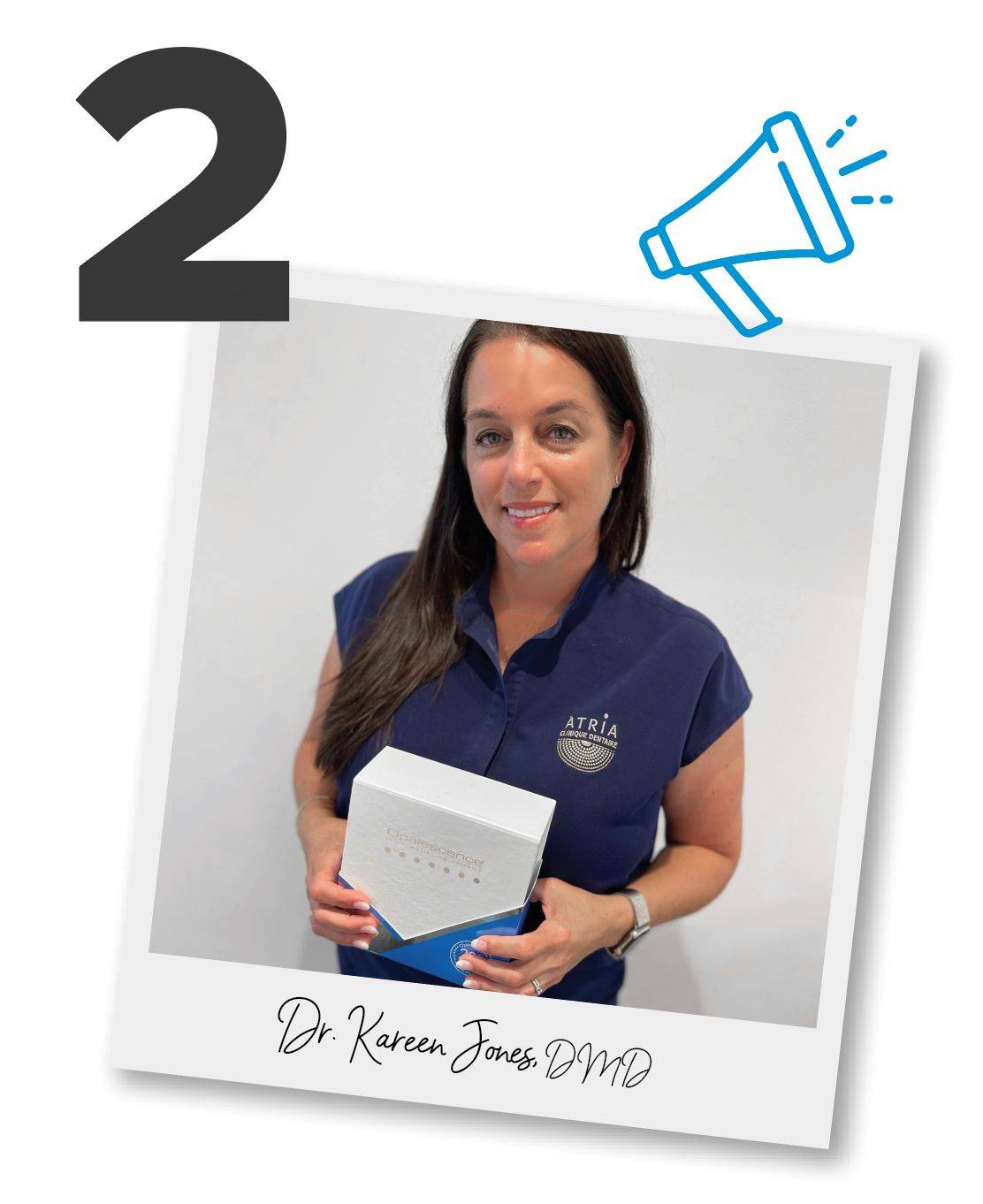 "The team at The Edge Dental Hygiene Centre proudly advocates for Opalescence™ whitening, firmly believing that quality and expertise outweigh the practice of giving away whitening treatments for free. We always
recommend that our fellow dental professionals invest in in-depth research and comprehensive education on every product and service offered in their office, including all available whitening products. Knowledge is essential for delivering exceptional care and running a successful business, and we have greatly benefited from choosing Opalescence™ as our practice's tooth whitening system.
In our office, we make use of the free marketing resources provided by CRD, placing posters and patient reference materials throughout the operatories and waiting room. Additionally, we include a comprehensive whitening menu in patient take-home bags so our patients can learn more about whitening after their appointment if we didn't have a chance to discuss it in person. We also take a chairside approach with our patients, engaging them in discussions about whitening using the shade guide. Sometimes a patient needs a little nudge to help them decide to go for it, and this shade comparison vividly illustrates the potential transformation they could expect from whitening their current shade. This often serves as the decisive factor in their choice to proceed with the treatment!"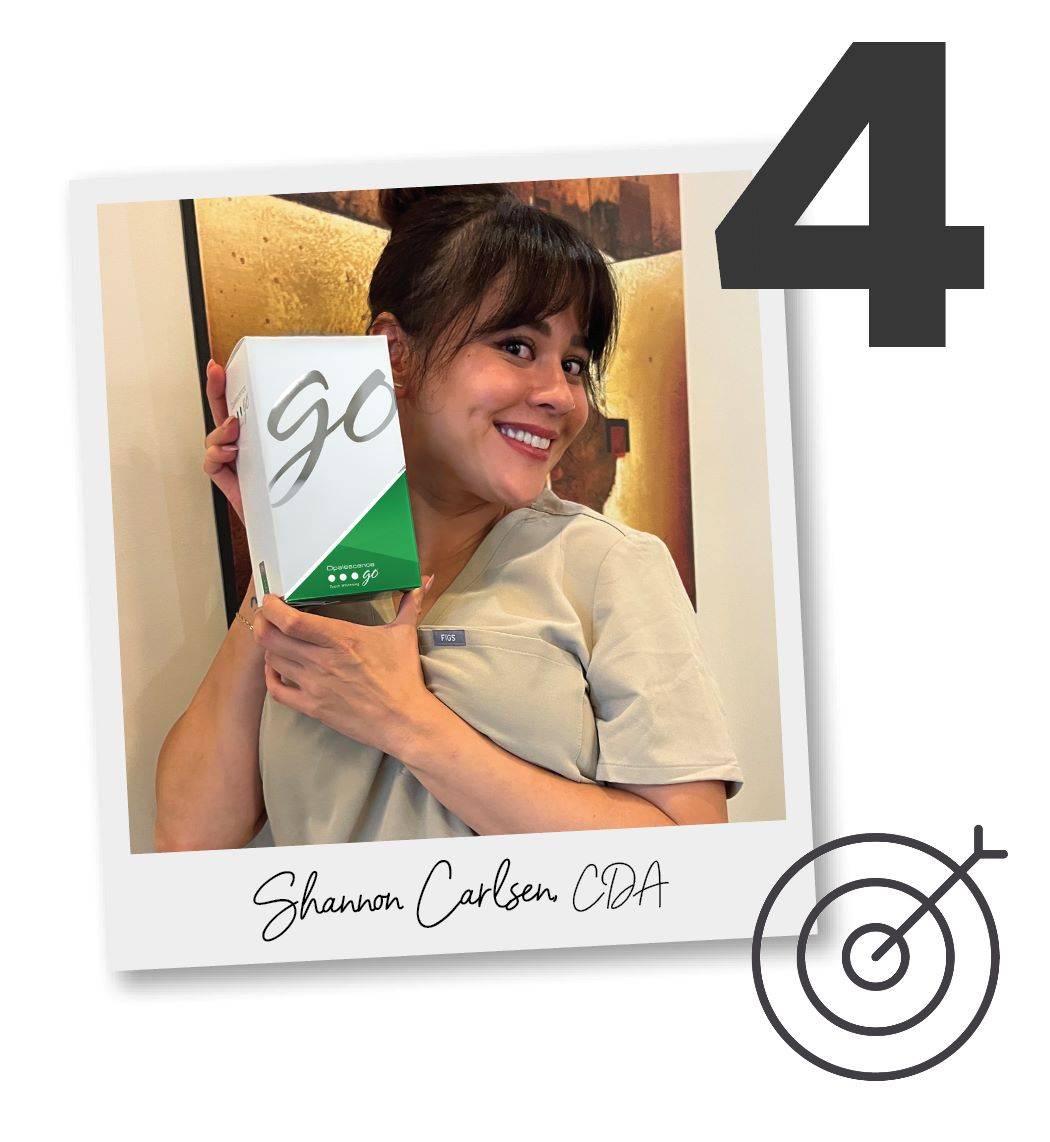 "Westhill Dental is committed to enhancing smiles with Opalescence™, and we always extend a warm welcome to new patients by offering a complimentary whitening treatment when they come in for their first appointment. We believe it sets the stage for a bright start to their dental journey with us!
It's very important to us that our team of doctors and hygienists are well-trained and at ease when discussing whitening and addressing questions about the products. We make an effort to be attentive to our patients' needs and interests, and we do not push the treatment in any way. Opalescence™ Go boxes are prominently displayed on the front desk counter, and we strategically time our whitening promotions (such as before the holidays or graduation), but we generally wait for the patient to initiate the discussion or inquire about it. We understand that patients can be sensitive about certain aspects of their smile, but when they are ready, we are pleased to offer a high-quality whitening product. We particularly appreciate the fact that all Opalescence™ products are formulated to combat sensitivity, which is the primary concern for most whitening patients!"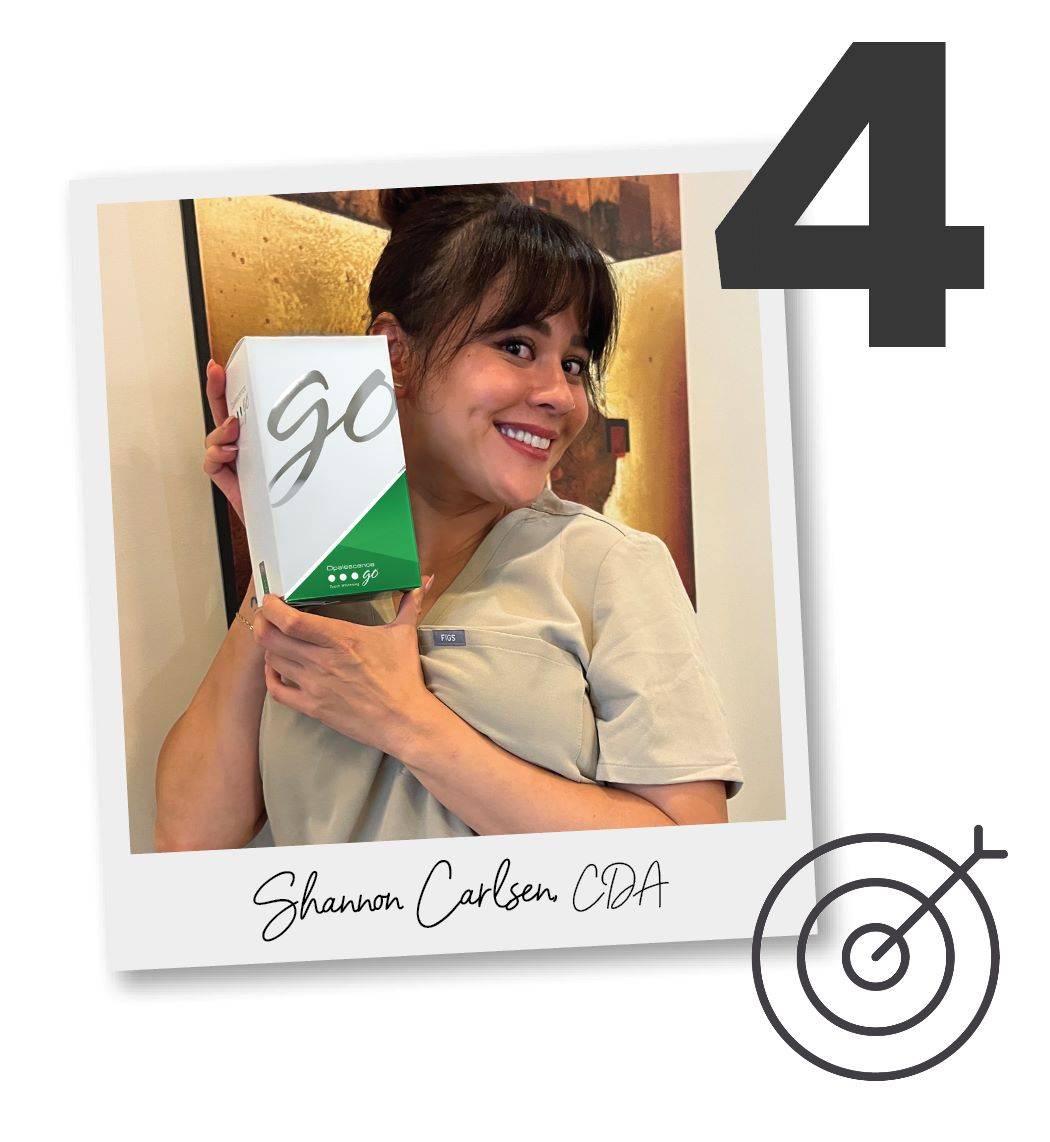 Grand Bend Family Dental -
Grand Bend, ON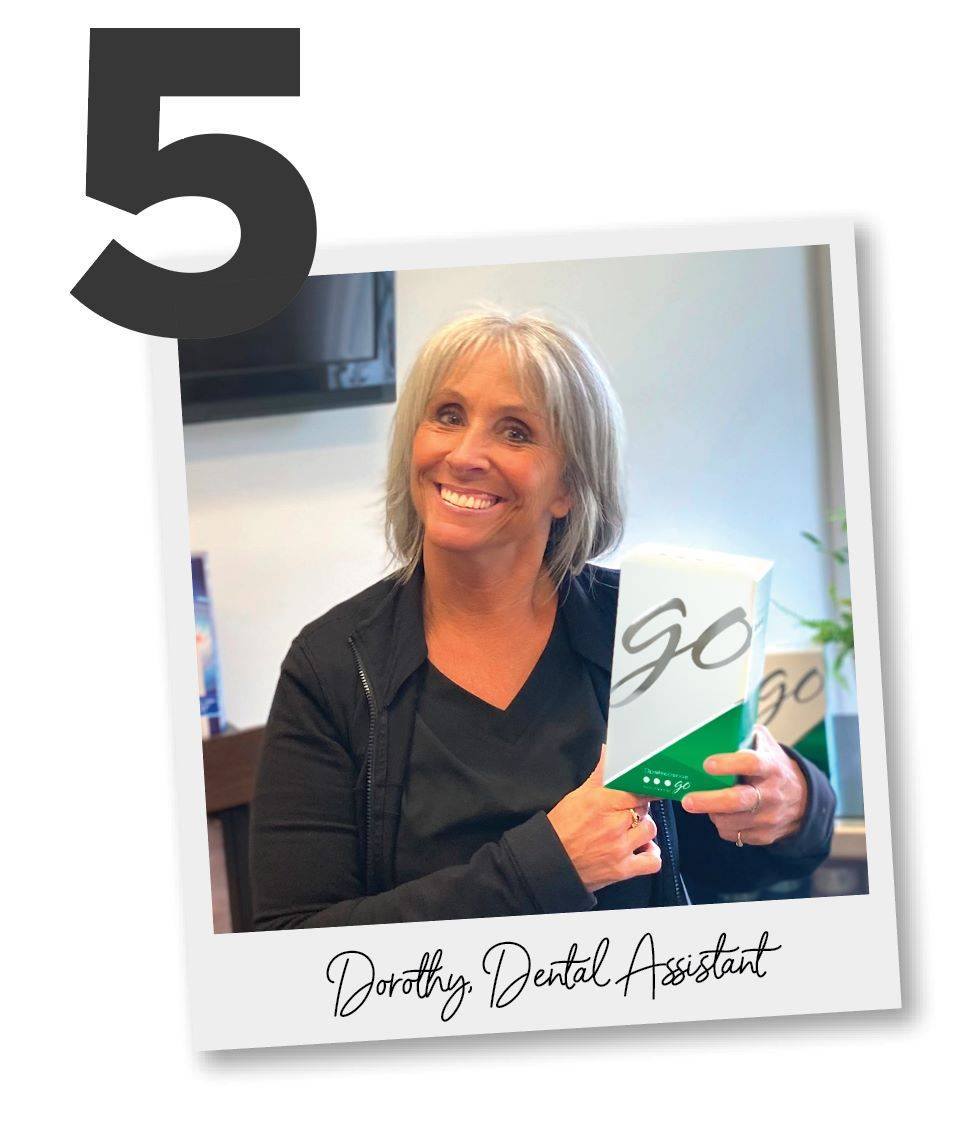 Grand Bend Family Dental -
Grand Bend, ON
"At our Grand Bend Family Dental Practice, our team focuses on providing competitive teeth-whitening services to our clients. We utilize both our in-office team and digital marketing strategies to spread the word to potential new patients.
For our office team, who have shown strong support for the Opalescence™ product line, we offer invaluable training and mentorship opportunities, empowering them to deliver premium whitening services. They provide whitening services during hygiene appointments and offer them during their new patient exams for
a discounted fee. Our approach also involves integrating whitening bookings and production into staff goals, which we monitor twice a month. This helps enhance the team's dedication to raising awareness of the services we offer.
Additionally, we heavily invest in digital marketing, particularly through targeted Opalescence™ Boost™ paid advertisements that reach individuals seeking teeth whitening services in our area. We diligently track all leads and ensure timely follow-up, nurturing conversions and targeting non-converters with emails.
Furthermore, we maintain an SEO-optimized website to enhance the customer experience and facilitate the acquisition of new patients. Our team is delighted with Opalescence whitening products, and our patients are thrilled with the exceptional results they provide!"
Interested in learning more about Opalescence™ Whitening?
This article was originally published in the Clinical Life™ magazine: Fall 2023 edition
Clinical Life™ magazine is a premier periodical publication by Clinical Research Dental Supplies & Services Inc. Discover compelling clinical cases from Canadian and US dental professionals, cutting-edge techniques, product insights, and continuing education events.
Access all previous publications, request printed editions, or subscribe to our newsletter today.
Join our thriving community of dental professionals and elevate your practice to new heights!