The Bioceramic Revolution - Part 2: Root Canal Sealers
The uses of Bioceramics in endodontics have evolved well beyond a simple repair material, all due to its inherent biocompatible and bioactive nature.
Most recently MTA (Mineral Trioxide Aggregate) as well as bioceramics have been incorporated into root canal sealers, introducing some exciting new properties to root canal sealers. The first of these was MTA Fillapex (Angelus, Londrina, Brazil). This semi-permeable resin-based sealer with 13% MTA was an exciting breakthrough in sealers as it began to exploit the desirable physical properties of bioceramic materials into a root canal sealer.
Not long after, pure bioceramic sealers were introduced, which contained no resin. These sealers were a further improvement to the obturation armamentarium.
BIO-C Sealer (Angelus, Londrina Brazil) is the latest innovation in this classification of sealers. The mechanism of BIO-C Sealer is as follows:
BIO-C Sealer is composed of bioceramic materials, which allow the release of calcium ions as the material sets, which stimulates the formation of mineralized tissue, for faster healing and regeneration;


The sealer has a high pH (12.5) which gives it an antibacterial action, and therefore a more favourable prognosis for the tooth;


The extremely small particle size in the sealer, provides excellent flow and a nice thin film, and also allows better diffusion to tissues, leading to faster regeneration.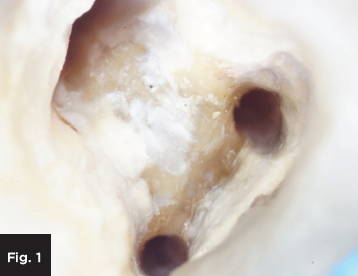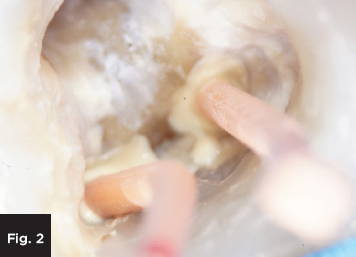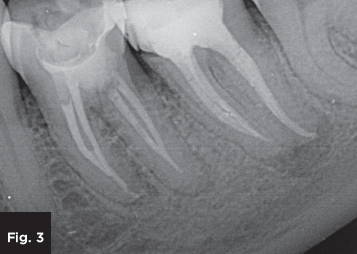 While BIO-C Sealer is compatible with any obturation technique, including warm vertical, lateral and carrier-based techniques, the ready-to-use formula is ideal for single cone techniques. This simple technique is described as follows (Fig. 1, 2, 3):
After the canal is cleaned, shaped and irrigated, it is dried to a semi-moist condition. As bioceramic sealers are hydrophilic, this will enhance the set and the sealer will chase moisture in the dentinal tubules;

A GP cone is fitted to .5mm from the working length with a apical tug-back;

The mixing tip is affixed onto the BIO-C Sealer syringe and is bled slightly to ensure proper flow. The tip is placed into the apical extent of the canal, approximately 2-3mm short of working length, or as close as practical. The sealer is GENTLY injected. The operator will keep the tip buried in the material while the syringe is slowly withdrawing until the canal is filled close to the orifice with sealer;

The pre-filled GP cone is now SLOWLY inserted into the filled canal. Excessive force creates undue hydraulics which may push too much sealer into the periapical tissues, so slow and steady progression is required;

The GP is now seared at the orifice and the pulp chamber is cleaned and a coronal seal is placed.
This technique is elegantly simple as it efficiently fills the canal in 3 dimensions, involves no compaction, so reduces the possibility of root fracture, there is no plastic or vulcanized obturation carrier to worry about in endo-restorative continuum, and the canal is being filled with an antibacterial, biocompatible, and bioactive material. Biocermaic materials are here to stay in endodontics and have already enhanced the success of conventional root canal therapy.
References:
Rafael Pino Vitti, DDS, MSc, PhD, Physical Properties of MTA Fillapex Sealer. JOE July 2013Volume 39, Issue 7, Pages 915–918
Christiane Lopes Zordan-Bronzel, DDS, MSc, Fernando Ferrari Esteves Torres, DDS, MSc, Mario Tanomaru-Filho, DDS, PhD, Gisselle Moraima Chavez-Andrade, DDS, PhD, Roberta Bosso-Martelo, DDS, PhD, Juliane Maria Guerreiro-Tanomaru, DDS, PhD, Evalutation of Physicochemical Properties of a New Calcium Silicate-based Sealer, BIO-C Sealer. JOE October 2019 Volume 45, Number 10, 1248-1252
Brian Bevan, CRD Endodontic Product Manager
Over a lengthy career he has established excellent and enduring relationships with Key Opinion Leaders, Universities and Grad programs, and key dental industry contacts. Brian speaks to general dentists and specialists on an almost daily basis and is considered a valuable resource on the challenges and techniques essential to successful endodontics.

This article was originally published in the Clinical Life™ magazine: Fall 2020 edition
Clinical Life™ magazine is a premier periodical publication by Clinical Research Dental Supplies & Services Inc. Discover compelling clinical cases from Canadian and US dental professionals, cutting-edge techniques, product insights, and continuing education events.