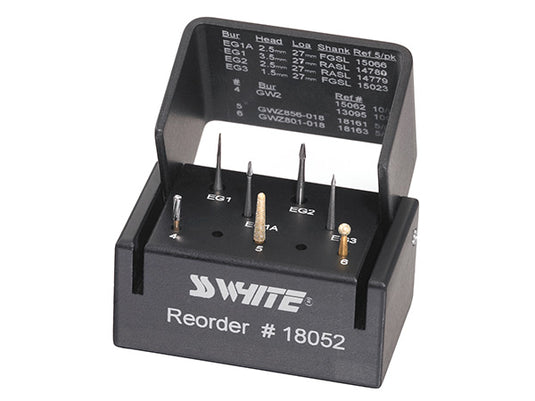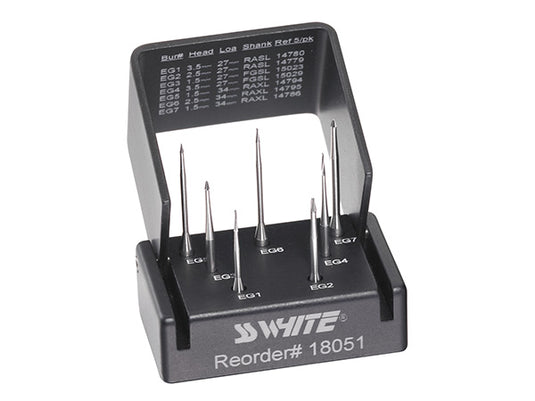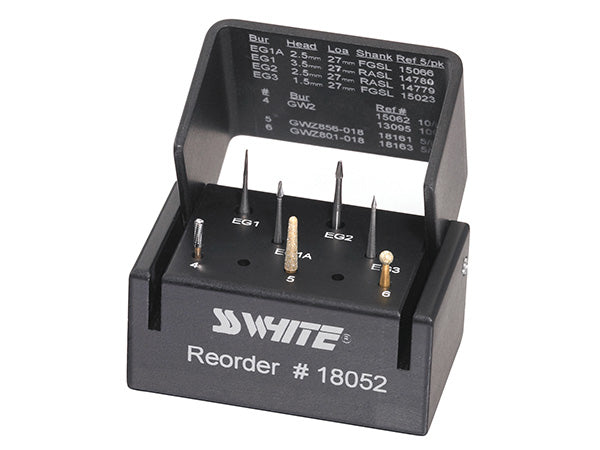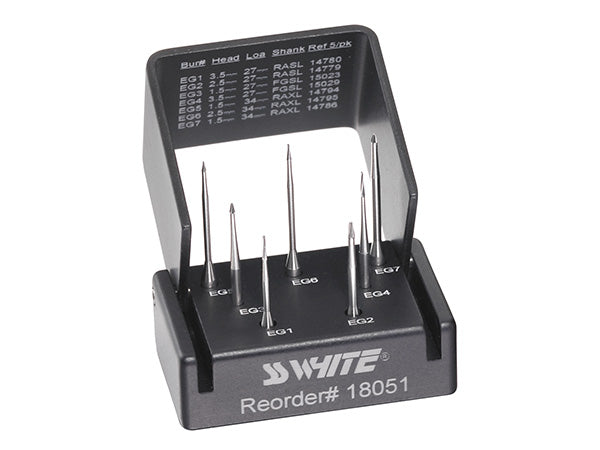 Product Details

Technical Details

Video

Testimonials

Kit Contents

Resources

Accessories
EndoGuide Anterior Bicuspid Kit - For Endodontic Access and Exploration
Efficiently locate and access single root canals in anterior and bicuspid teeth. The EndoGuide Anterior/Bicuspid Kit contains all instrumentation to create endodontic access through metal, porcelain, zirconia and tooth structure. Other features and benefits include:
Includes an autoclavable bur block and seven rotary instruments featuring SS White.
Great White #2 metal cutting bur.
Great White Z Diamonds for access through ceramic/zirconia.
EndoGuide burs for virgin tooth access and de-roofing as well as troughing, enlarging and exploring canals.
EndoGuide Molar Kit
Efficient, straight-line access to canals is achievable with EndoGuide, a unique set of eight carbide burs for non-surgical root canal treatment. The patented, conical shaped micro-diameter tip acts as a self-centering guide for precision access to canals while conserving healthy peri-cervical dentin. The funnel-shaped bur design improves canal visualization. Other features and benefits include:
Use of EndoGuide Burs creates a V-shaped access pathway to reduce endodontic file deflection
Offer precision guidance for efficient identification of calcified/MB2 canals.
Conserves vital peri-cervical dentin to strengthen resistance to fracturing.
Facilitates increased tactile sense of dentin and calcified canals.
Provides a polished dentin surface for easier visual identification of hidden canals, reducing dependence on costly ultrasonic instrumentation.
Indications for Use
EndoGuide Burs are specifically designed for deep troughing; deeper orifice enlargement and calcified canals; de-roofing pulp chamber; initial access for small incisors; troughing and navigating calcified canals; navigating super ovoid and calcified canals; retrieving separated instruments. Find specific recommended applications for each bur on the Technical Details tab.
Problem: Round burs were designed to cut vertically and horizontally, which can cause run-off and difficulty finding canals during endodontic access.
Solution: EndoGuide burs are funnel-shaped, specifically designed to offer an accurate straight-line access path and better tactile sense. Doctors have indicated Endoguide Burs conserve 40% more peri-cervical dentin, which is key to strength, increased restoration life and general dentist satisfaction with endodontic results and referral.
EndoGuide Kit and Bur Reference Guide
SS White® proudly announces EndoGuide™ Micro Endodontic Burs for precision access and exploration of root canals. SS White has developed these innovative micro endodontic burs in conjunction with Dr. David J. Clark and Dr. John A. Khademi, two of today's leading experts in micro endodontic procedures.
"EndoGuide Burs can reduce or eliminate dependence on ultrasonic tips. EndoGuide Burs offer greater precision and efficiency in creating straight-line access and identifying canals in molar teeth."
Dr. John Khademi DDS, MS
Endoguide Anterior/Bicuspid Kit (Item Number: 208510) includes:
1 x Great White 2 [GW2]
1 x Great White Z 856-018 [GWZ 856-018]
1 x Great White Z 801-018 [GWZ 801-018]
Endoguide Molar Kit (208511) includes: