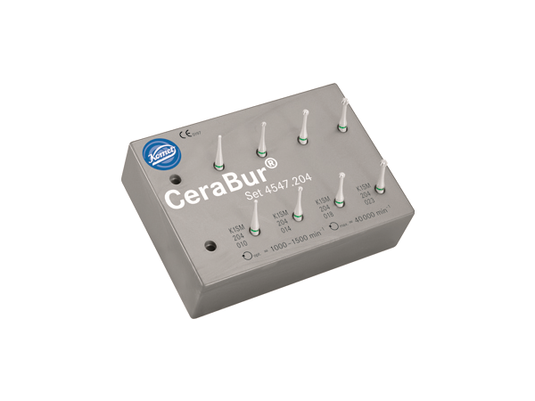 Product Details

Clinical Technique

Technical Details

Kit Contents

Resources

Accessories
The CeraBur® K1SM facilitates controlled, intuitive excavation, enabling the user to feel when the instrument leaves the carious, soft dentin. The outstanding efficiency of the CeraBur K1SM was shown in a study compiled by the University of Münster, Germany. On top, a study prepared by the Queen Mary University of London showed that the service life of the K1SM is three times as long as that of a round tungsten carbide bur. Other features and benefits include:
Ceramic round bur, high-efficiency cutting design for excavating and slim neck for improved vision
Biocompatible and corrosion-free
High-efficiency cutting in carious, soft dentin
Special blade design for smooth operations
Maximum rotation frequency: 40,000 min-1/rpm
Indications for Use
Cavity preparation.
Looking for a way to easily switch to Komet burs? Download and then print a Komet Bur Conversion Card here:
Cavity preparation with CeraBur®
Shank Type
The CeraBur Surgical Length Latch Starter Kit (Item Number: 334547) comes with: