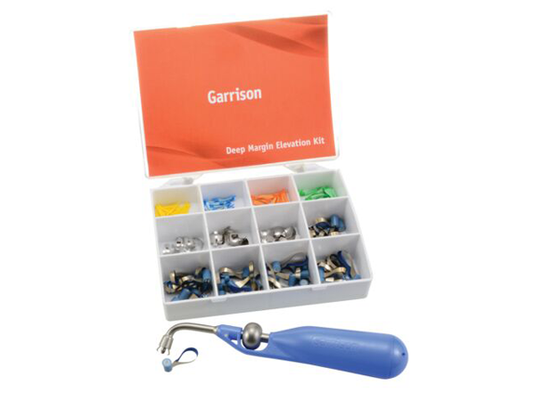 SAVE $69.95. Manufacturer Promotion: Purchase a Deep Margin Elevation Kit and Receive a Free Pack of 6.5 mm Dead Soft Matrices. Fax a copy of your invoice dated 1/10/23 - 31/12/23 to: Garrison Dental Solutions, Attn: Liz Kammers, 1-616-842-2430; or email a scanned copy of the invoice to ekammers@garrisondental.com with PMCA 1023OH in the subject line.
Product Details

Video

Kit Contents

Resources
The Deep Margin Elevation Kit allows you to predictably relocate deep localized margins.
Developed with leading biomimetic clinicians, Garrison's specialized materials provide the extra matrix band seal and control required to successfully relocate deep margins. The conservative deep margin elevation procedure allows for the maximum conservation of natural tooth structure while helping to avoid more invasive procedures such as crown lengthening. Relocated supragingival margins facilitate easier scanning/impressions and proper isolation for improved bonding of inlays, onlays and direct final restorations.
Indications for Use
Class II and crown build up/post/core procedures.
Request a Demo
An introduction of the Deep Margin Elevation Technique.
Learn the uses for the Deep Margin Elevation Kit with Dr. JD Corey.
Performing the Deep Margin Elevation Technique (DME) with Dr. JD Corey
Garrison ReelMatrix Deep Margin Elevation Kit (Item Number: 202169) includes:
Product Information
Articles and Case Studies