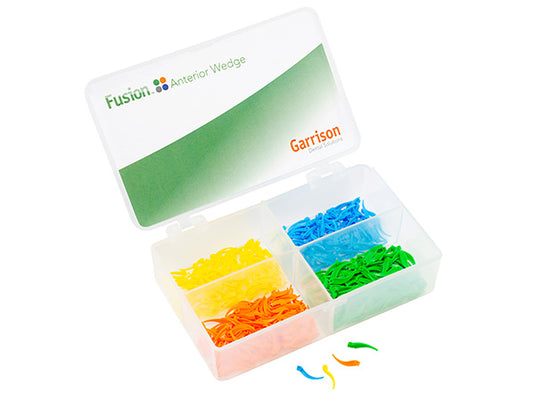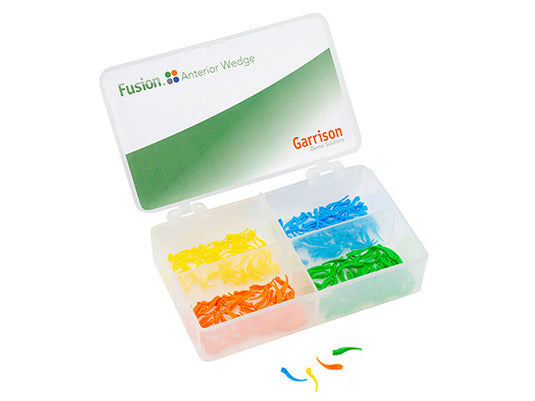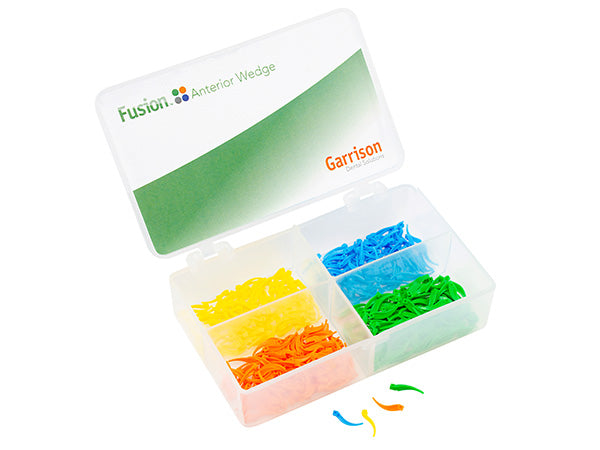 Product Details

Clinical Technique

Video

Testimonials

Configurations

FAQ

Resources

Accessories
The all-new Fusion™ Anterior Matrix System from Garrison gives you the materials and techniques to restore many types of anterior lesions with confidence. The clever features of the Fusion Anterior Wedge make it a 'must have' for all anterior restorations. Other features and benefits include:
Radical curvature ensures a firm seal at the cervical margin from facial to lingual.
Helps maintain ideal anatomy by hugging the band to the tooth.
Unique 'T' shape sits deeper in the interproximal space to minimize the dreaded 'black triangle.'
Tapered separator strut allows you to adjust the amount of pressure exerted to control the interproximal contact.
The cervical interface is half above and half below the sulcus for maximum adaptation with deeper restorations.
Indications for Use
Class II and class IV procedures.
Walkthrough of the Fusion Anterior Matrix System
Dr. JD Corey showcases the modern approach to successful anterior composite restorations.
Dr. JD Corey walks us through placement of the anterior matrix system, and accessing the preparation during curing.
Dr. JD Corey shows us how to modify your technique for extremely deep preps when using the Fusion Anterior Matrix System.
Dr. JD Corey talks all about beveling for your restoration when using the Fusion Anterior Matrix System.
"Just used the new ant matrix this week. I did a large distal cervical lesion on #27. band and wedges did the trick. I was not sure if I would like the metal matrix, but it was an improvement over a mylar matrix."
Bruce Crispin DDS, MS - Tarzana, CA
"I have tried the anterior matrix system and I do like it. It is easy to place, and the wedge helps to eliminate excess at the cervical. It forms a nice anatomical form on the DL line angle. I am working on photos to include in my lecture. I believe that this is a very user-friendly system that works well for the masses. Congratulations!"
Dr. Dan Ward - Columbus, OH
"I received the (Anterior) kit and love it. Have already tried it and find it very easy to use. Definitely planning on using it on all my anterior interproximal restorative treatments."
Dr. Simona Cuevas, DDS
"Super simple to use! Love it! Getting the right contour has always been tedious and time consuming to get it done right. This is no longer an issue with the Fusion Anterior Matrix System. Saves me about 20 minutes per restoration."
Dr. Anthony Vocaturo DDS, AAACD, FIADFE, FACE, FAGD
Fusion Anterior Wedge Kit (Item Number: 203226) includes:
Fusion Anterior Wedge Mini Kit (203227) includes:
Q: Do I need to purchase the new wedge or can I use any wedge?
A: Use the new wedge with the system because it has a unique feature like no other. The anterior wedge will curve around the tooth for better contact as well as going subgingival. It's going to give the best separation, best seal and proper anatomy.
Q: Can I use this new anterior fusion wedge with mylar?
A: Yes.
Q: When would I use this vs mylar?
A: Based on feedback of the dentist that helped develop this system a majority of them would choose the new system over mylar for most restorations. It frees up a hand and gives a better restoration.