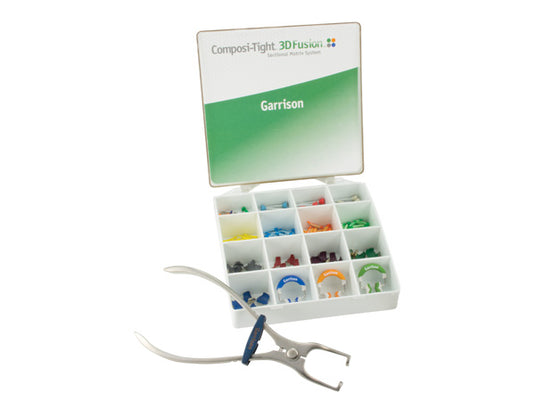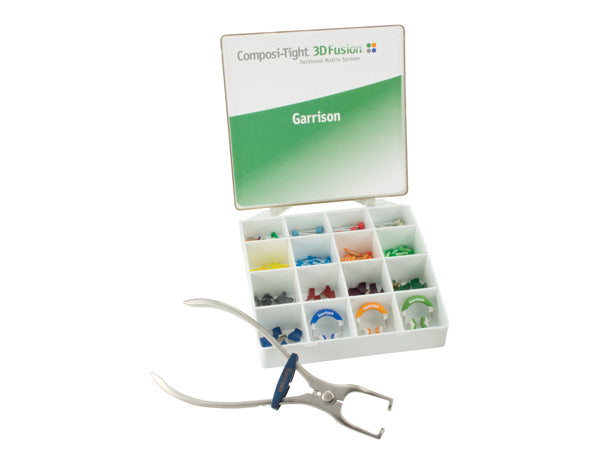 Product Details

Clinical Technique

Technical Details

Video

Kit Contents

Resources

Accessories
The Composi-Tight® 3D Fusion™ sectional matrix system has been engineered to provide the ultimate solution for tight, anatomical contacts on Class II composite restorations.
Whether you're restoring an entire quadrant, the distal of the canine, or a completely broken down MOL, Composi-Tight 3D Fusion provides you with the materials to achieve predictable results. The contoured sectional matrix bands create proper tooth anatomy while three styles of rings create the required tooth separation and band adaptation for a tight, natural contact. Other features and benefits include:
Superior tooth separation force through advanced engineering and material selection guarantees perfect contacts restoration after restoration
Soft-Face silicone ring tips with enhanced marginal ridge anatomy hug the pre-contoured dead-soft matrices to the tooth for flash free, perfectly contoured restorations
Packed with features like Tru-Stack technology for easy ring stacking, over-the-wedge placement and Ultra-Grip anti-ring slip extensions that make system use intuitive and frustration free
Indications for Use
Class II procedure.
Technique for Class II restorations utilizing Composi-Tight 3D Fusion Soft Face Rings
Place rubber dam. Isolation of the area helps to prevent contamination from blood and saliva. As with many dental procedures, aspiration of small parts is a valid concern.

Place FenderWedge prior to preparation to pre-separate and protect the adjacent tooth. Prepare tooth with conservative Class II preparation. Once the preparation is complete, remove the FenderWedge and place your matrix.

Place Composi-Tight 3D Fusion sectional matrix band. Select a matrix band that most closely approximates the occlusogingival height of the tooth. The Grab-Tab should be oriented toward the occlusal margin and may be bent over the adjacent tooth after placement

Insert Composi-Tight 3D Fusion wedge. Keep a finger on the matrix band to prevent the wedge from dislodging the band during insertion. Wedge firmly, a high viscosity resin packed into the preparation may displace the band away from the tooth.

Apply the Composi-Tight 3D Fusion Soft Face ring retainer. Select a retainer ring that is appropriate for the embrasure and tooth being restored. Spread it with the *Composi-Tight 3D Fusion Ring Placement forceps and place it over the wedge.

Very Important: push the matrix band firmly into contact with the adjacent tooth in the desired contact area.

Use your preferred etching, disinfecting and bonding technique following manufacturer's instructions. Apply your preferred composite resin following manufacturer's instructions.

Remove the ring, wedge and band.

Contour and polish the restoration.
Only a sectional matrix system can deliver results like this!
Fails to restore proximal anatomy
Thin contact at the marginal ridge
Large food trap below
Increased likelihood of fracture, occlusal interference, recurrent caries, and periodontal disease
Operator-friendly retaining system
Naturally contoured bands
Anatomically correct contacts
Contacts at the height of contour
Rings produce optimal tooth separation for excellent, tight contacts
How it works
Dead-soft three dimensionally contoured matrices have placement tabs for easier occlusal placement and Garrison's revolutionary non-stick coating for hassle-free removal.
Composi-Tight 3D Fusion Ultra-Adaptive wedges glide in, but won't back out. Their soft, flexible exterior readily adapts to interproximal irregularities for a superior gingival seal.
All three of the Composi-Tight 3D Fusion separator rings will fit over the wedge for easier placement. With Ultra-Grip retention extensions, they will stay firmly in place from the distal of the canine to the widest of molar preparations.
Animation demonstrating how the new Composi-Tight 3D Fusion system works.
Learn how to properly place the Composi-Tight 3D Fusion Wide Prep ring.
3D Fusion Matrix Kit [FX-KFF-10] (Item Number: 203101) includes:
3D Fusion Matrix Kit with Rally Polishers [FXR-KFF-10] (203100) includes: