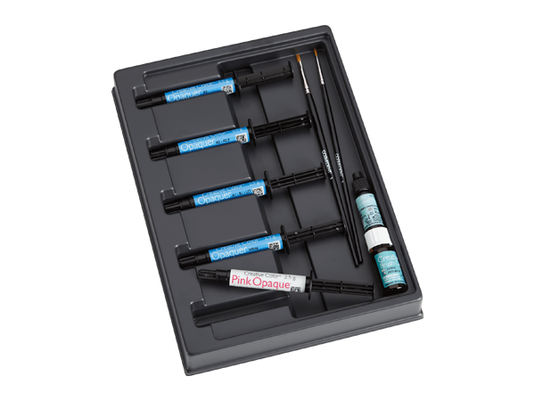 Product Details

Video

Configurations

Resources

Accessories
Creative Color® is a system of tints and opaquers that is designed for Renamel Microfill and Renamel Universal Microhybrid, but it is also compatible with most other restorative systems.
Creative Color opaquers and tints have a unique viscosity that flows only when you touch it, which means you're in complete control. Even if you apply a few layers, neither material will add bulk to the restoration.
Creative Color Opaquers have been the industry standard for the last 27 years, and no dental composite system is complete without them. They help dentists create invisible restorations by blocking undesirable under-color and unwanted translucent shine-through. Other features and benefits include:
Blocks unwanted color and translucent shine-through
Color blends invisibly into your dental compostie material
Unique viscosity that is easy to manipulate and control
Microfill based dental composite for the higher esthetics
Shades cover the entire VITA Shade range
Creative Color Tints help you create invisible restorations by adding effects such as incisal translucency, cervical darkening, craze lines and check lines.These #1 rated tints are a key ingredients to better esthetics. Other features and benefits include:
Helps you create cervical darkening and incisal translucency
Recreate craze lines, check lines and maverick colors
Decrease value of your composite resin material
Microfill based, 10% filled, and polishable
Translucent and natural in appearance
Indications for Use (Opaquers)
Increase value or brightness
Block unwanted translucent shine-through
Block undesirable under color of tooth structure
Create surface characterization such as hypoplasia and check lines
Indications for Use (Tints)
Impart incisal translucency and cervical chroma into your restoration
Mimic surface artifacts such as pit and fissure staining
Recreate craze lines, check lines and maverick colors
Decrease the value of your dental composite restoration
With Creative Color tints, you can create effects that look so lifelike that your restorations will appear invisible.
*Creative Color® Opaquer Kit (Item Number: 451900):
5 x Opaquers (1x 2.5 g syringe of A1, A2, A3, B2, C1, C3, C4, White)
2 x brushes
Technique manual
*Creative Color® Tint Kit (452900):
5 x tints (1x 2.5 g syringes of honey yellow, grey, violet, light brown, dark brown)
2 x brushes
Technique manual
*SPECIAL ORDER PRODUCT: Product is not stocked in our warehouse and is only requested when an order is placed for said product. This product is ineligible to be returned.