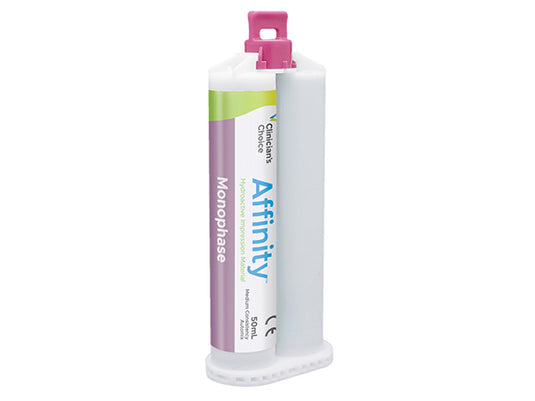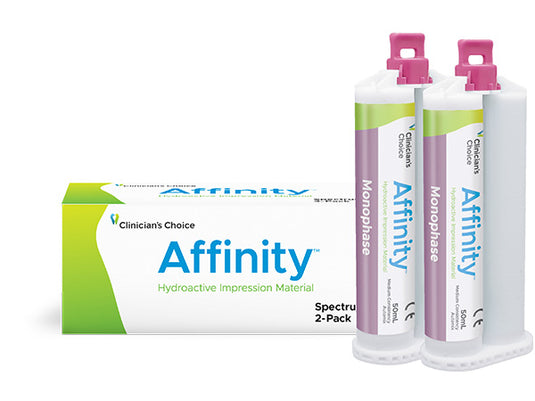 Product Details

Clinical Technique

Technical Details

Testimonials

Configurations

FAQ

Resources

Accessories
Developed for use as a single-phase impression material, Affinity™ Monophase maintains the most desirable properties of polyether such as a gum-like consistency, high durometer cure, and high tear strength. But unlike polyether, Monophase is far more cost-effective, sterilizable, and dimensionally stable.
Affinity Monophase Hydroactive Impression Material is a cost-effective single-phase impression material, ideal for implant impressions, edentulous, partial impressions and fabrication of clear aligners in orthodontic treatments. Monophase maintains properties of polyether such as a gum-like consistency, high durometer cure, and high tear strength.
Affinity Monophase is part of the Affinity line of impression materials that combine a unique branched resin, more refined filler and even distribution of surfactant for enhanced accuracy.
Affinity impression materials feature:
Enhanced hydrophilicity for excellent performance in the presence of moisture, especially with subgingival preparations
Matched fluid states between the tray and wash materials better capture the preparation site
100% cure to a dense supportive state, which translates to higher tear strength and dimensional stability
Affinity Monophase is available in regular set only
"​The Affinity line of products are an indispensable part of my restorative practice. The quality and flexibility of the entire line gives me great confidence in my crown and bridge procedures."
Dr. Robert G. Ritter – Jupiter, FL
To purchase in bulk quantities or bundle with other impression materials and save money per cartridge you can build a Spectrum Pack here:
Affinity Monophase 2-Pack (Item Number: 025400):
2 x 50mL cartridges
Mixing tips
IFU / SDS
Q: How is Affinity different from other impression materials?
A: Only Affinity uses branched resin chemistry for 3-dimensional cross-linking resulting in a higher tear strength, refined fillers, and an even distribution of surfactant. Other impression materials use linear resin chemistry with an uneven distribution of surfactant resulting in less accurate impressions that are more prone to tearing of the thin interproximal and sulcus fins.