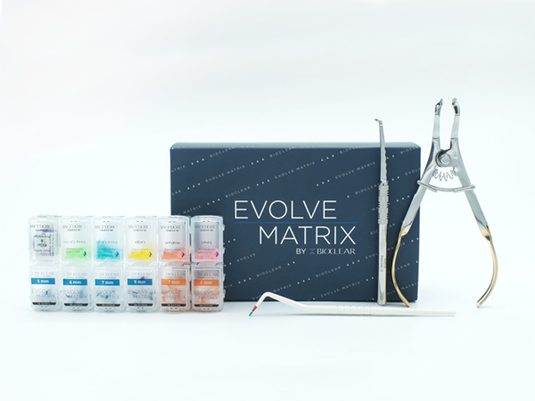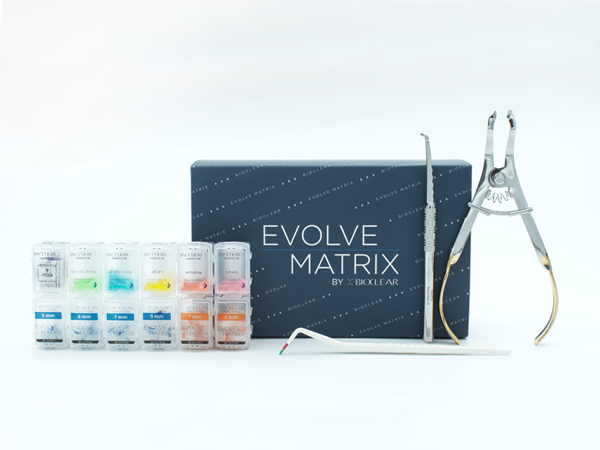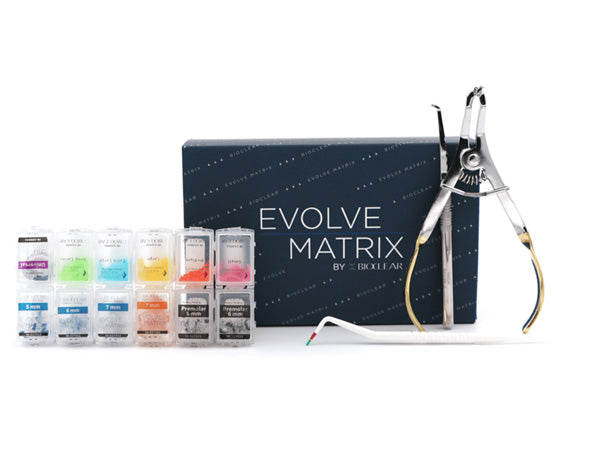 Buy 1 Bioclear Evolve Select Kit (Item Number: 208937) and Receive a Free Refill of Filtek Supreme Ultra Universal Restorative Refill
Product Details

Clinical Technique

Video

Kit Contents

Resources

Accessories
Following the legacy of the Biofit HD Matrix Series, the Evolve matrices offer the same benefits of the Biofit HD posterior system, but also offer additional features not available with other systems. The new features of the Evolve series matrices include wider profiles, a deeper apron shape that allows the matrix to seat more deeply in the interproximal - even down to the bone level - and colour coding with visible sizing on each matrix for easy selection and placement. In addition, the matrices feature extra-flared, quick-release tabs on the buccal and lingual surfaces that are easier to find and use. Other features and benefits include:
Four emergence profile shapes that are colour-coded on the tab.
Matrix heights printed on the matrix for quick identification.
A wide array of sizes (heights) available - the blue comes in 5, 6, 7, 8, and 9mm. The orange and pink come in 6, 7, and 9mm. The black comes in 5, 6, 7, 8, and 10mm.
All Evolve matrices are 75 microns thick, and anatomically preshaped for less manual shaping and contouring.
Indications for Use
Blue Evolve: can be used for anything you would typically use a Biofit matrix for and more.
Orange Evolve: created for instances where the Blue Evolve matrices invert. This matrix features a flatter emergence profile curvature than the Blue Evolve but is not as flat as the Pink Evolve matrix.
Pink Evolve: created for whenever the Blue Evolve or Biofit matrices invert. Commonly this occurs between maxillary first and second molars in cases of broad teeth, tight root proximity, or very flat teeth.
Black Evolve: created for premolar or narrow (buccal to lingual teeth). This matrix has a curved profile allowing it to wrap narrow teeth easier with little manipulation.
Request a Demo
Before
After
Dr. David Clark demonstrates the new Evolve Matrix System and Evolve Matrix Height Indicator by Bioclear. In this video, he explains how to select, place, and use each piece of the system to create comfortable and tight contacts.
Starter Bioclear Evolve Posterior Kit (Item Number: 208926) includes:
Assorted Bioclear Evolve Kit (208927) includes:
Complete Bioclear Evolve Complete Kit (208929) includes:
Bioclear Evolve Posterior Kit (208930) includes:
Bioclear Evolve Select Kit (208937) includes:
Bioclear Evolve Select Add-On Kit (208938) includes: