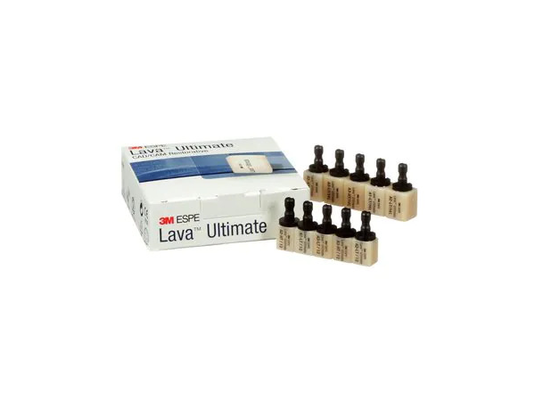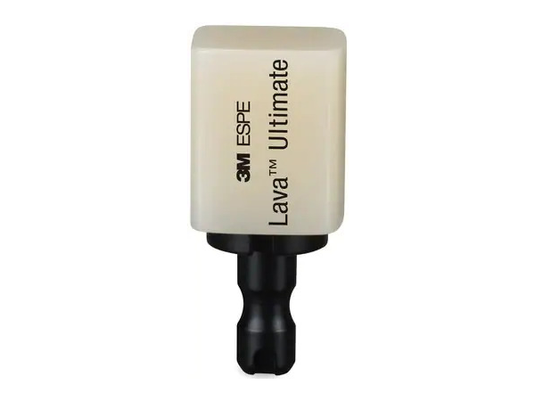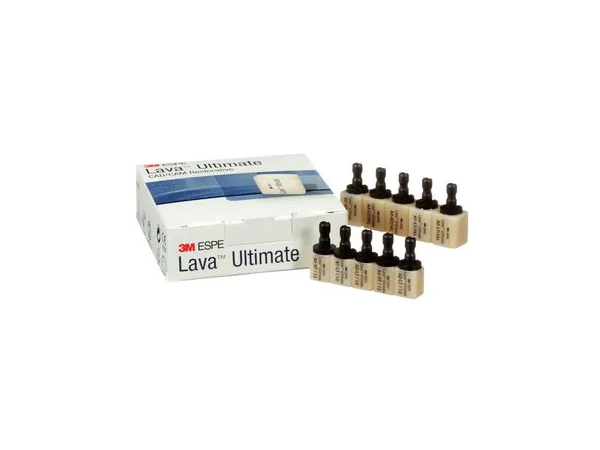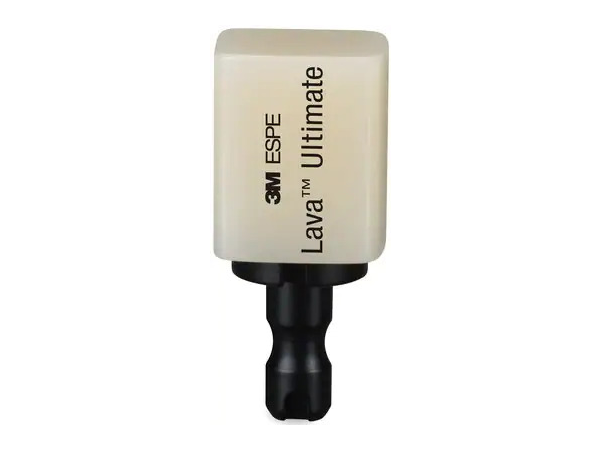 Product Details

Clinical Technique

Configurations

Resources
3M™ Lava™ Ultimate Restorative is the world's first resin nano ceramic restorative with the benefits of both glass ceramic and resin materials. Lava Ultimate Restorative gives chairside CAD/CAM dentists better edge quality and smooth margins for a brilliant restoration. It's an advance that improves productivity and creates a better restorative experience for patients.
3M science makes the difference 3M scientists and engineers combined nanotechnology with a proprietary curing treatment to create a unique material with the benefits of both glass ceramics and resins: High flexural strength (2 MPa) Excellent wear resistance, even to opposing enamel Brilliant and long lasting polish. Other features and benefits include:
Fast and easy to mill - no firing necessary.
Brilliant esthetics with long-lasting polish.
Less wear to opposing enamel than glass ceramics.
Resilient, not brittle.
Resin nano ceramic material delivers exceptional durability, excellent polish retention.
Available in eight shades and two translucencies.
Indications for Use
Lava Ultimate Restorative is indicated for the following permanent adhesive, single-unit restorations: Inlays, onlays and veneers.
Click here to view the 3M Lava Ultimate Inlay/Onlay Guide
3M Lava Ultimate CAD/CAM Restorative Intro Kit (Item Number: 3-110128) includes:
1 x Size 14L-LT, A1-
1 x Size 14L-HT, A2
1 x Size 14L-LT, A2
1 x Size 14L-HT, A3
1 x Size 14L-LT, A3
1 x Size 12-LT, A1
1 x Size 12-HT, A2
1 x Size 12-LT, A2
1 x Size 12-HT, A3
1 x Size 12-LT, A3
3M Lava Ultimate CAD/CAM Restorative Refills available in the following sizes, transparencies and shades:
Size 12-LT, A3 (3-110110)
Size 12-LT, B1 (3-110112)
Size 12-LT, BL (3-110113)
Size 12-LT, C2 (3-110114)
Size 12-LT, D2 (3-110115)
Size 12-HT, B1 (3-110111)
Size 14L-LT, A1 (3-110117)
Size 14L-LT, A2 (3-110119)
Size 14L-LT, A3 (3-110122)
Size 14L-LT, A3.5 (3-110120)
Size 14L-LT, B1 (3-110124)
Size 14L-LT, BL (3-110125)
Size 14L-LT, C2 (3-110126)
Size 14L-LT, D2 (3-110127)
Size 14L-HT, A1 (3-110116)
Size 14L-HT, A2 (3-110118)
Size 14L-HT, A3 (3-110121)
Size 14L-HT, B1 (3-110123)