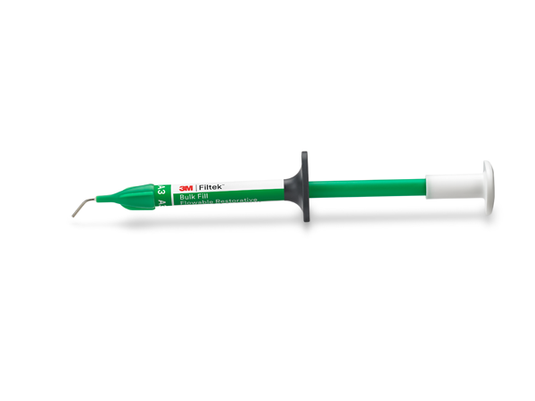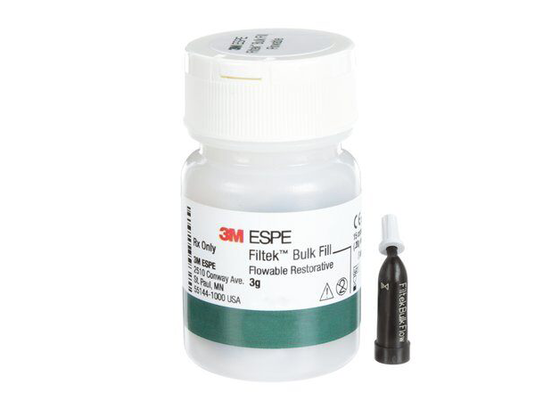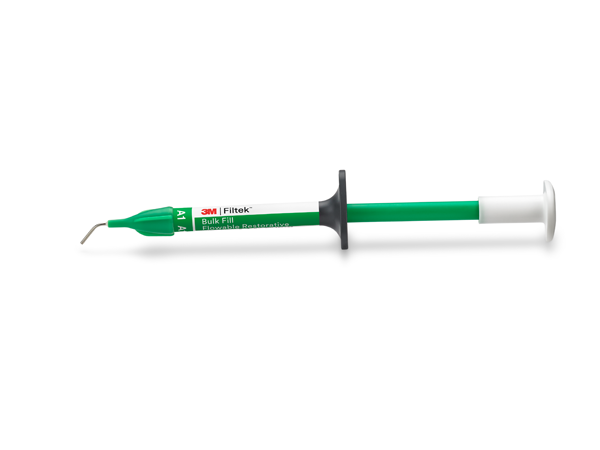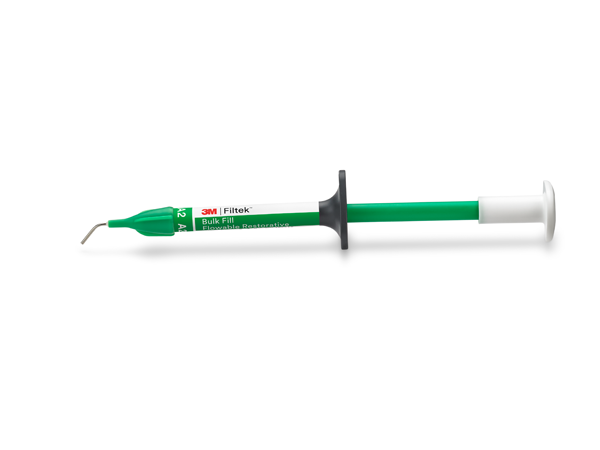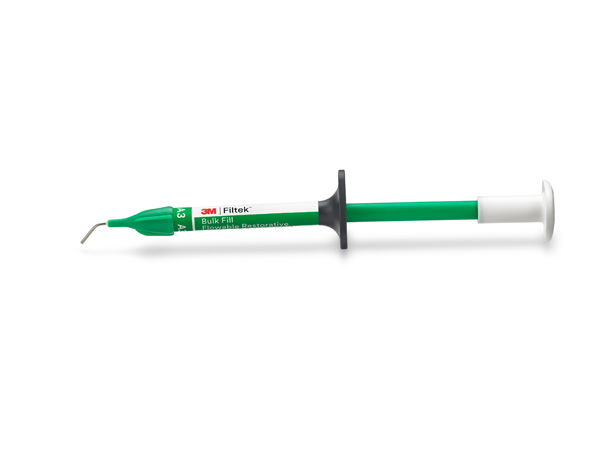 Product Details

Clinical Technique

Video

Configurations

Resources

Accessories
3M™ Filtek™ Bulk Fill Flowable Restorative is a strong and efficient flowable composite designed for posterior applications. This formula, which can be warmed up to 70ºC (158ºF) for one hour (up to 25 times) for injection moulding, is contained within a new syringe that virtually eliminates bubbles and material 'run-on'.
One of the key features of the newly redesigned syringe for 3M Filtek Bulk Fill Flowable Restorative is the single-use tip. These tips feature an easy-to-bend cannula that's designed to resist kinking for better access and control — all while helping to improve comfort and ease-of-use. Benefit from improved dispensing of material to the tooth by using 3M Filtek Supreme Flowable Restorative. Other features and benefits include:
Up to 50% stronger than the leading bulk fill flowable**
Nearly twice the wear resistance of leading bulk fill flowables***
One-step placement up to 4mm
Low shrinkage stress
Easy adaptation
Excellent wear resistance
Choice of easy-to-use capsules or syringe delivery
4 Shades: A1, A2, A3, Universal
**Compared to SureFil SDR Flow
***In vitro data on file
Indications for Use
Base under Class I and II direct restorations
Liner under direct restorative materials
Pit and fissure sealant
Restoration of minimally invasive cavity preparations (including small, non stress-bearing occlusal restorations)
Class III and V restorations
Undercut blockout
Repair of small enamel defects
Repair of small defects in esthetic indirect restorations
Repair of resin and acrylic temporary materials
As a core build-up where at least half the coronal tooth structure is remaining to provide structural support for the crown
Class II Restoration using the Bioclear Method. Step 18 preview: Inject Heated Flowable Composite.
View the full step-by-step Class II Restoration using the Bioclear Method Guide.
Posterior restoration made simple
Clinical photos courtesy of Dr. Reich, Seefeld, Germany.
Prepare the tooth and apply an adhesive e.g. 3M Scotchbond Universal Adhesive.

Dispense up to 4 mm of 3M Filtek Bulk Fill Flowable Restorative into the prepared cavity and cure, e.g. with 3M Elipar DeepCure-S LED Curing Light.

Place a 2 mm (minimum) capping layer of an esthetic composite, such as a 3M Filtek Universal Restorative, and cure.
Learn how to use the Push-Pull Instrument with the Spot Weld Technique, the Go/No-Go Instrument, and the two-step Rockstar Polish.
The Clark Push-Pull instrument is the "lightsaber" of tools. From teaching to actually using, the Push-Pull instrument is a must have.
3M Filtek Bulk Fill Flowable Restorative 2 x 2 g Syringe Refills with 20 dispensing tips are available in the following shades:
A1 (Item Number: 3-103116)
A2 (3-103117)
A3 (3-103118)
Universal (3-103119)
Filtek Bulk Fill Flowable Restorative Capsule (0.2 g each) 15-Packs are available in the following shades:
A1 (Item Number: 3-103112)
A2 (3-103113)
A3 (3-103114)
Universal (3-103115)