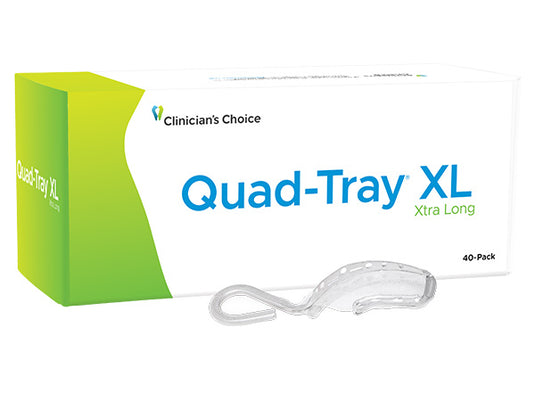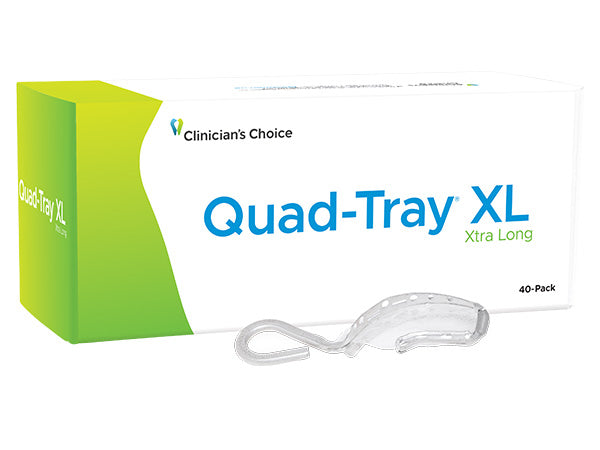 Product Details

Clinical Technique

Video

Configurations

Resources
The Quad-Tray® XL allows dentists to take ideal, distortion-free dual-arch impressions in cases that involve multiple preparations, including small bridges. Quad-Tray XL incorporates all the benefits of our original Quad-Tray, which include an inflexible aluminum construction, wide, customizable arch, and thin distal bar.
The Quad-Tray XL impression tray features a full quadrant design to assist the dental lab in providing ideal occlusion by recording cuspid rise. Quad-Tray XL also offers more lateral support for the impression material, increasing rigidity and reducing impression flex.
Both the lingual and buccal walls of the Quad-Tray XL are enhanced to allow impression material to lock to the tray. On the buccal side, as the tray curves towards the anterior, the Quad-Tray XL's perforated walls provide sufficient height to encompass the height of anterior teeth. While the extended length of the tray allows the clinician to capture larger cases, including 3-unit bridges, while providing greater lateral support for the impression material.
The Quad-Tray XL is part of Clinician's Choice Quad-Tray family of ultra-rigid aluminum dual-arch impression trays specially designed to prevent the causes of tray distortion.
triple tray triple trays
Full Quadrant Impression using Affinity InFlex, Affinity Light Body RF and Quad-Tray XL
Dentistry and photography courtesy of Christopher Ramsey, DMD
Affinity InFlex Maximum Support Tray Material is loaded onto both sides of a Quad-Tray XL.

After syringing Affinity Light Body RF (Regular Flow) around the inlay preparation and implant site, the Quad-Tray XL encompasses the full quadrant.

Perorated buccal wall locks impression material to the tray.

InFlex flows through the Quad-Tray XL's slotted lingual and buccal walls to lock the impression material and tray together.

Notice how InFlex has displaced the Light Body without over-displacing it from the prep sites.

Precise detail is achieved every time.
Compared with flimsy plastic trays, the inflexible Quad-Tray is designed for accuracy. Peter Jordan, president of Clinician's Choice, discusses dentistry's best-selling metal quadrant impression tray.
Designed to prevent impression distortion, Quad-Tray from Clinician's Choice is dentistry's best-selling metal dual-arch, disposable impression tray.
Quad-Tray XL (Item Number: 041400) is available in 40-pack quantities.