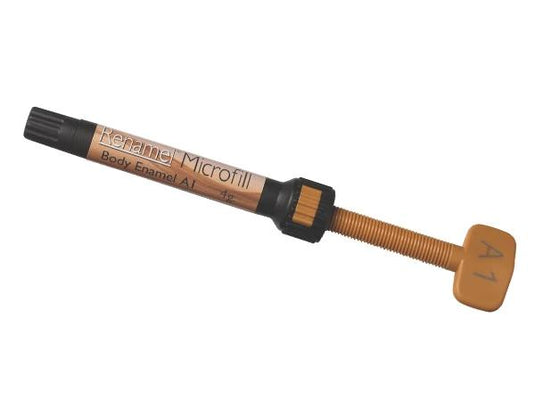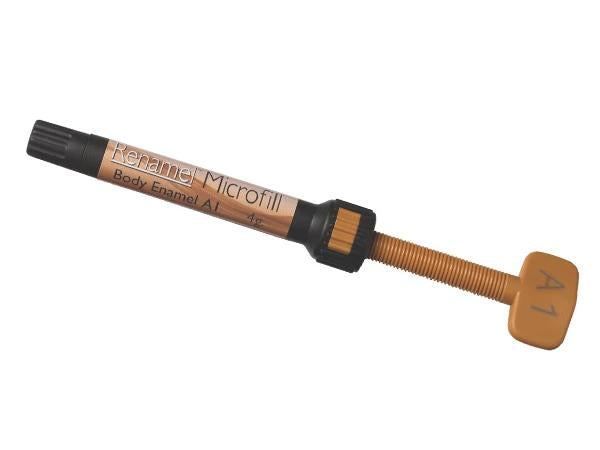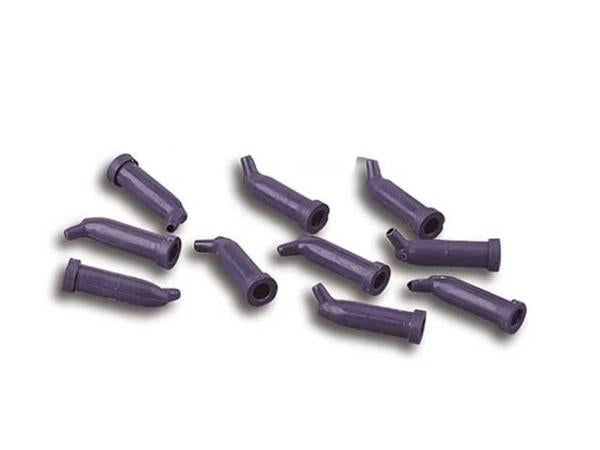 Purchase 5 for the price of 4
Product Details

Technical Details

Videos

Testimonials

Configurations

Resources
Renamel® Microfill is an award-winning composite that perfectly replicates the enamel surface. Renamel Microfill composite combines beauty with long-lasting colour stability and wear resistance. Features and benefits include:
Long-term wear resistance
Total colour stability over time
Highly esthetic composite that mimics enamel surface
Polishes to an enamel-like lustre with a polish that lasts long-term
Resists stain and plaque accumulation
Most lifelike translucency of all composites
Indications for Use
Renamel Microfill is recommended for direct anterior composites; top layer of Class I and Class II restorations; Class V restorations (cervical caries, root erosion, wedge shaped defects); closing of diastemas; repair of composite and ceramic veneers; reshaping, lengthening, and; restorative repositioning of anterior teeth.
This case shows long-term wear resistance and colour stability of Renamel Microfill – 23 years later!
Dr. Daniele Larose talks about Renamel Microfill and how this Cosmedent top-seller brought her practice to a new level.
Dr. Newton Fahl shares his easy and predictable technique for a direct composite veneer on a tooth that requires a change in form but has a good colour base. In this video Dr. Fahl takes you step-by-step through cervical tinting, incisal translucency and the finishing and polishing process.
Class V composite repair with Renamel Microfill.
"With Microfilled resins, margins are more easily defined, finished and polished, making them more stain and plaque resistant and less subject to breakdown over the long-term."
Dr. Bob Margeas
"For ultimate esthetics, nothing beats Renamel Microfill. For a composite that handles beautifully, has a natural translucency, polishes to an amazing shine and is colour stable for many years… choose Renamel Microfill."
Corky Willhite, D.D.S.
"For any restoration, if you want the best polishability, the best lifelike luster of a natural tooth, the best refractive and reflective index, the best long-term maintenance over time with the least wear, and the best simulation of natural tooth structure, then Renamel Microfill is King."
Dr. Bud Mopper, Developer of Renamel Microfill
Renamel Microfill Refill 4 g Syringes are available in the following shades:
A1 (Item Number: 491501)
A1.5 (491502)
A2 (491503)
A2.5 (491504)
A3 (491505)
A3.5 (491506)
A4 (491507)
A5 (491508)
A6 (491509)
B0 (491527)
B1 (491510)
B2 (491511)
B3 (491512)
B4 (491513)
C1 (491514)
C2 (491515)
C3 (491516)
C4 (491517)
D2 (491519)
D3 (491520)
D4 (491521)
Incisal Dark (491525)
Incisal Light (491523)
Incisal Medium (491524)
Light Opaque (491522)
SuperBrite 1 (492510)
SuperBrite 2 (492511)
SuperBrite 3 (492512)
White (491526)
Renamel Microfill Refill 0.2 g Compules (20-pack) are available in the following shades:
A1 (496501)
A2 (496503)
A3 (496505)
A3.5 (496506)
B0 (496527)
B1 (496510)
C2 (496515)
D2 (496519)
Incisal Light (496523)
Incisal Medium (496524)
SuperBrite 1 (496529)
SuperBrite 2 (496531)
SuperBrite 3 (496533)