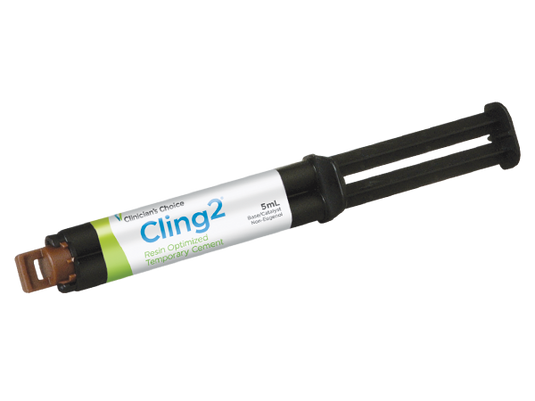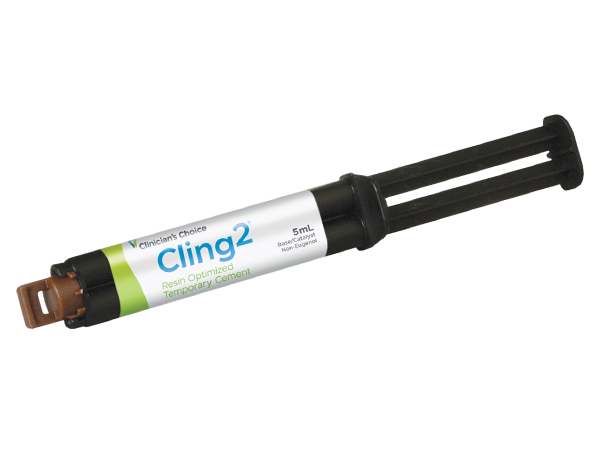 Purchase 4 for the price of 3 on 5mL and 10mL sizes OR SAVE 15% on the 25mL Cartridge
Product Details

Clinical Technique

Technical Details

Video

Configurations

FAQ

Resources

Accessories
Versatile and easy to use, Cling2® Resin Optimized Temporary Cement is the ideal choice for cementing provisional crowns, bridges, inlays, and onlays.
Cling2's zinc oxide, non-eugenol formula soothes and protects the prepared tooth. The addition of a small amount of polycarboxylate resin helps to optimize adhesion, soothe the tooth and provide an excellent marginal seal to prevent bacterial build-up and maintain tissue health.
Only Cling2 gives you these combined advantages:
No mess, no mixing pads – direct application into provisional crown, bridge, inlay or onlay
Mixes automatically to give you a bubble-free, perfect 1:1 base:catalyst mixture – every time
Efficient 30-second working time and 60-90 second set time
Self-contained system and compact size makes it the ideal and economical choice for dental practices with multiple operatories
Indications for Use
Cling2 is a non-eugenol, automix temporary cement designed as a medical device for cementing provisional crowns, bridges, inlays, and onlays.
Inspire provisionals are loaded with Cling2.

The temporary restoration is inserted and held in place for 60 to 90 seconds.

Cling2 effortlessly peels off margins.

Cling2's translucency makes it the perfect choice for anterior restorations. Here, the provisionals demonstrate ideal esthetics and tissue health is maintained.
Dentistry and photography courtesy of Dr. Robert Lowe
SIMPLE PLACEMENT
Cling2 sets in about 1:30 minutes for easy placement.
EASY CLEANUP
As Cling2 sets, it easily peels away from margins.
SUPERIOR ADHESION
Once set, Cling2's optimized resin formula provides extra adhesion to prevent premature dislodgement.
EFFICIENT REMOVAL
When you are ready, Cling2 releases and usually stays in the prosthesis making clean up a breeze. The remaining Cling2 on preparation flakes off easily.
EXCEPTIONAL TISSUE HEALTH
Cling2 carboxylate resin and non-eugenol, zinc oxide formula prevents adverse bacterial activity, resulting in exceptional tissue health, every time.
Dentistry and photography courtesy of Dr. Robert Lowe
5 mL Syringe (Item Number: 158900): 1 x 5 mL syringe (base & catalyst), 12 x mixing tips, IFU/SDS.
10 mL Syringe (158910): 1 x 10 mL syringe (base & catalyst), 15 x mixing tips, IFU/SDS.
25 mL Cartridge (158925): 1 x 25 mL cartridge and 12 mixing tips, IFU/SDS.
Q: The temporary is popping off. How can I fix this?
A: Ensure that there is an adequate amount of Cling2 placed inside the temporary. The preparation must be clean and dry prior to cementation and a dry field must be maintained until Cling2 has set.
Q: I am having difficulty removing Cling2 from the temporary. What can I do?
A: Once set, excess Cling2 breaks apart in large pieces, making clean-up quick and efficient. As with other temporary cements, clean-up of excess cement from the temporary is made easier by polishing or applying a glaze, such as Glisten (Clinician's Choice), prior to cementation. Not only will this make Cling2 easier to separate from the temporary, but it will also prevent plaque build-up and staining throughout the provisional period.
Q: The cement is adhering to the prep site. What can I do?
A: It is normal for a small amount of Cling2 to remain on the prep site. You may also choose to limit Cling2 to the walls adjacent to the margin, if the preparation is ideal.