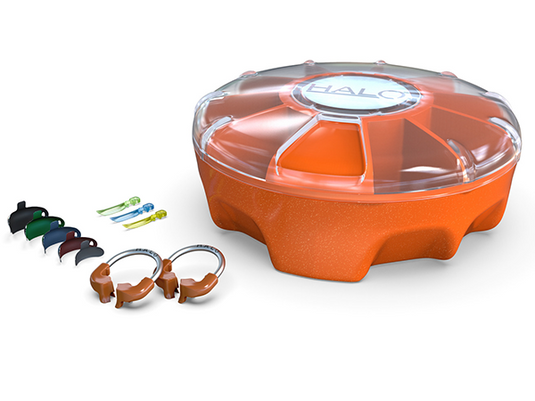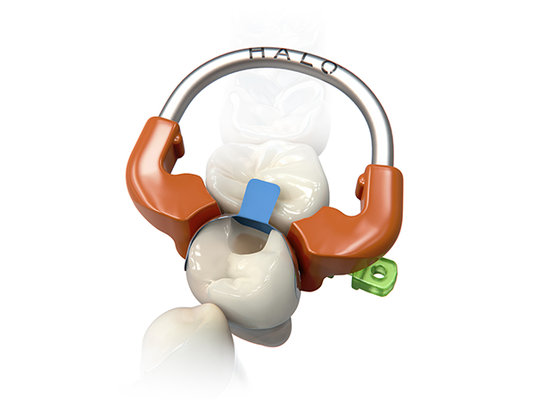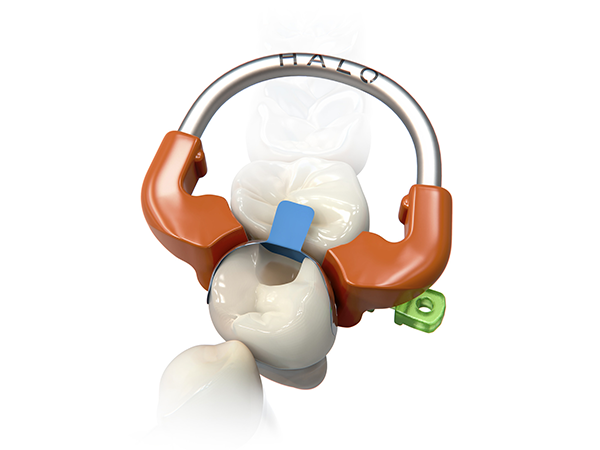 Product Details

Clinical Technique

Technical Details

Video

Kit Contents

Resources

Accessories
The Halo system produces anatomically shaped contours so you can spend less time shaping and finishing your restoration. And it provides consistently tight contacts, helping to ensure that your restoration will have the longevity both you and your patient expect.
Maximum tooth separation is achieved through the force of the nitinol ring and the active wedging provided by the wedges. This ideal system of separation allows you to restore a single tooth or back-to-back restorations with ease. The unique beak design of the Halo ring allows the band to fully adapt to the prep from the gingival margin to the marginal ridge and helps it maintain its shape even in large preparations, helping you to consistently achieve anatomically shaped restorations.
When your restorations have ideal contacts and anatomical curvature, you will see a reduction in the time spent shaping and finishing. The Halo system does that with every restoration.
Ultradent Halo Step-by-Step Guide
Select an appropriate matrix band based on required occlusogingival height. Using tweezers, grip the matrix band tab and bend as needed, then place interproximally with the concave surface facing the tooth to be restored.

Select wedge that best adapts matrix band to the gingival portion of the preparation. Grip wedge with cotton pliers.

Light finger pressure may need to be applied to the matrix band to prevent it from being dislodged during wedge placement.

If needed, an additional wedge may be used to provide greater adaptation to gingival cavosurface.

Carefully place Halo ring using the ring forceps.

The ring should be placed as low as possible with the tine ends of the ring straddling the wedge on each side of the tooth.

Inspect matrix band, wedge, and ring placement to ensure that the matrix band is well adapted to the cavosurface margins and that it is in intimate contact with the adjacent tooth.
Stainless Steel Bands
Use Halo matrix bands to achieve natural contours and reduce the time needed to shape and finish the composite restoration. Available in Original and Firm varieties, Halo matrix bands are right for any restoration.
Halo Bands
Anatomical contours reduce time shaping and finishing
Ultra-thin 0,038 mm stainless steel
Easy to place, manipulate, and remove
Learn More
Easy-to-Use Wedges
Halo wedges provide enhanced separation, are stackable, and are color coded for quick and easy selection. Plus, their collapsable center allows for anatomical adaptation of the matrix band.
Halo Wedges
Active wedging for enhanced separation
Color coded by size for ease of use
Stackable
Learn More
Durable Nitinol Rings
Strong and flexible, Halo rings can be used many times over while maintaining their force with less fatigue. Their natural contours eliminate flash, so you'll be done with each restoration in less time.
Halo Rings
Contours eliminate flash reducing time finishing and polishing
Stackable design for use in MODs and Class II restorations
One ring can be used 1000+ times
Learn More
The Halo sectional matrix system is the reliable, superior matrix system you need for consistently better results. Learn how to use it quickly and easily to complete your restorations.
Dr. Rafael Beolchi provides an overview of the Halo™ sectional matrix system, highlighting its features and why it benefits clinicians and patients.
Halo Sectional Matrix System Original Bands Kit with Instruments (Item Number: 781106) includes:
2 x Universal Matrix Rings
25 x 3.5 mm Original Matrix Bands
25 x 4.5 mm Original Matrix Bands
25 x 5.5 mm Original Matrix Bands
25 x 6.5 mm Original Matrix Bands
25 x 7.5 mm Original Matrix Bands
25 x Small Yellow Wedges
25 x Medium Blue Wedges
25 x Large Green Wedges
1 x Matrix Ring Forceps
1 x Matrix Band Tweezers
1 x Halo Carousel
Halo Sectional Matrix System Original Bands Kit - No Instruments (781107) includes:
2 x Universal Matrix Rings
25 x 3.5 mm Original Matrix Bands
25 x 4.5 mm Original Matrix Bands
25 x 5.5 mm Original Matrix Bands
25 x 6.5 mm Original Matrix Bands
25 x 7.5 mm Original Matrix Bands
25 x Small Yellow Wedges
25 x Medium Blue Wedges
25 x Large Green Wedges
1 x Halo Carousel
Halo Sectional Matrix System Firm Bands Kit – No Instruments (781108) includes:
2 x Universal Matrix Rings
25 x 3.5 mm Firm Matrix Bands
25 x 4.5 mm Firm Matrix Bands
25 x 5.5 mm Firm Matrix Bands
25 x 6.5 mm Firm Matrix Bands
25 x 7.5 mm Firm Matrix Bands
25 x Small Yellow Wedges
25 x Medium Blue Wedges
25 x Large Green Wedges
1 x Halo Carousel
Halo Sectional Matrix System Original Bands Mini Kit (781109) includes:
2 x Universal Matrix Rings
5 x 3.5 mm Firm Matrix Bands
5 x 4.5 mm Firm Matrix Bands
5 x 5.5 mm Firm Matrix Bands
5 x 6.5 mm Firm Matrix Bands
5 x 7.5 mm Firm Matrix Bands
5 x Small Yellow Wedges
5 x Medium Blue Wedges
5 x Large Green Wedges
1 x Halo Carousel