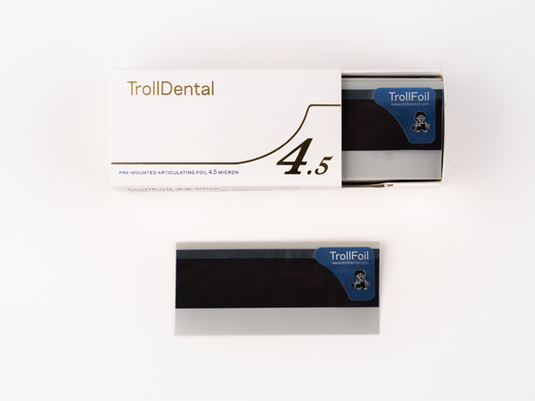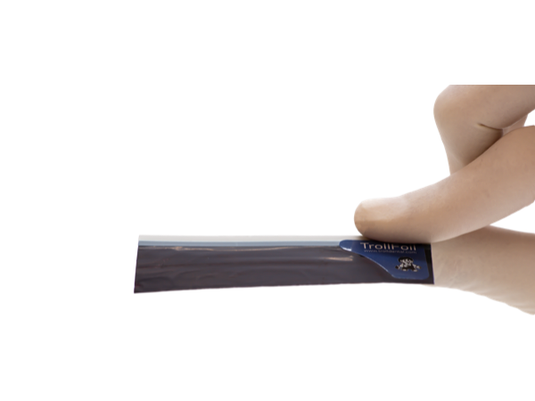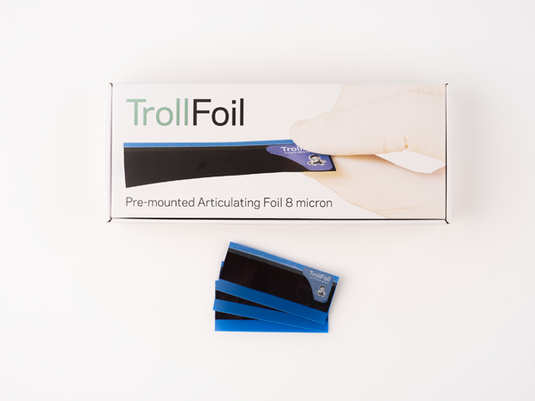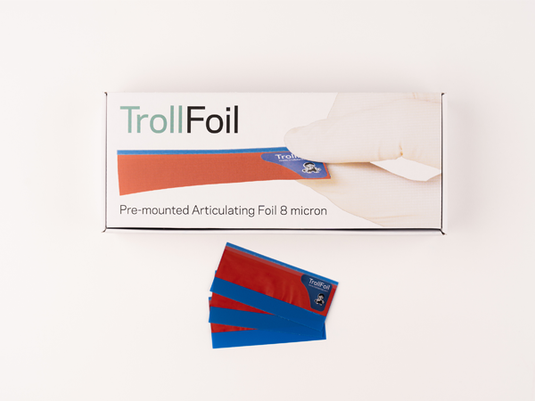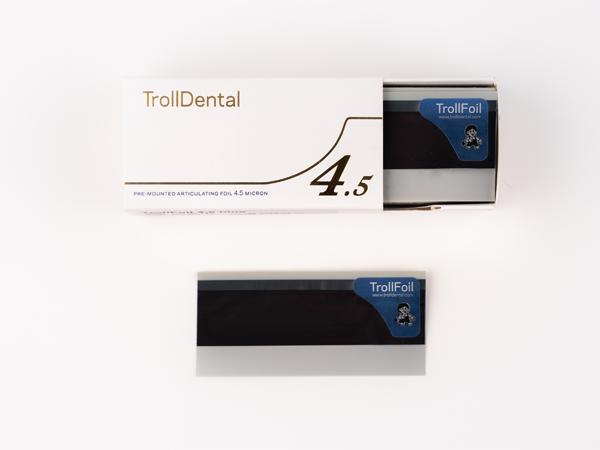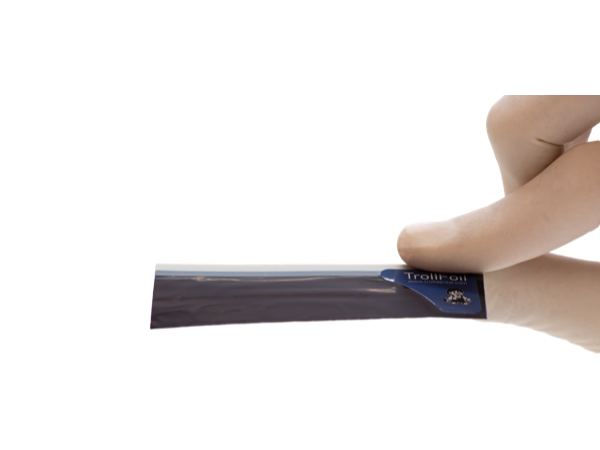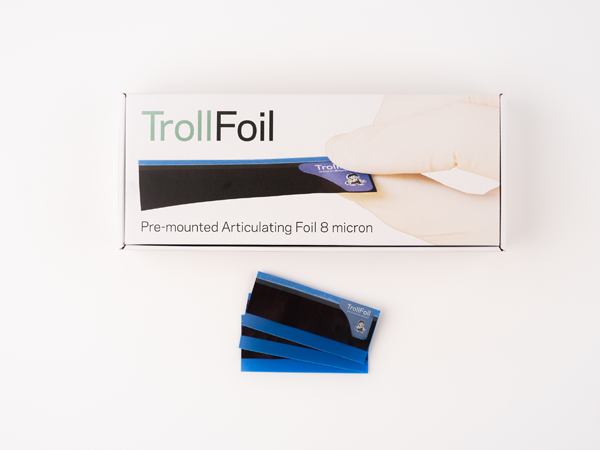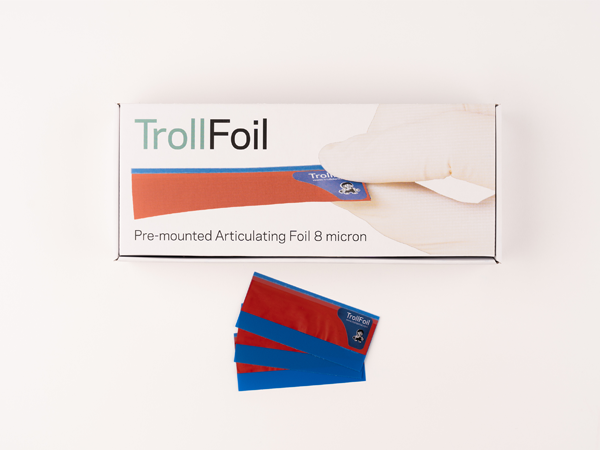 Product Details

Testimonials

Video

Configurations

FAQ

Resources
TrollFoil 4.5 is our new addition to the TrollFoil product line. At 4.5 microns thin it is the thinnest articulating product on the market. Research shows the thinner the articulating Foil the better, especially when you need to fine-tune that one little spot that the patient feels, but you cannot get with your normal articulating product. Your adjustments are precise instead of grinding all over the place. It is the perfect product to make getting those hard to dial-in bites fast and easy. Other features and benefits include:
4.5 microns, the thinnest on the market
Marks hard to dial in spots
No need to use forceps
Ink on both sides
Removable protective strip
Precise markings
Consistent markings
Marks on wet, dry & highly polished surfaces
Mounted on a rigid frame
Always stretched and straight
"The thing I like about TrollFoil is that it will mark very accurately for my final occlusal equilibration. It can be used on wet or dry surfaces and is only 8 microns thick. I usually do my initial equilibration using a 200-micron articulating paper and then I finish it up with a TrollFoil—it gives me the most accurate markings of someone's occlusion. It won't smudge or give you a false reading when checking a bite. I also like that you don't have to use hemostatic forceps or special equipment to use the paper. It comes in its own frame; there's a little tab that you tear off and what's left will actually be your holder of the paper. But the best thing about it is the thinness. For my final equilibration or if I'm checking a crown that may be high, it marks very accurately, even if it's a highly polished restoration."
Bob Margeas, DDS
Introducing TrollFoil articulating foil.
A clinical review of using TrollFoil and all it's benefits.
TrollDental TrollFoil Articulating Foil available in the following variants:
Blue 4.5 Micron 80-Pack (Item Number: 208319)
Blue 8 Micron 100-Pack (208318)
Blue 8 Micron 500-Pack (208320)
Red Micron 100-Pack (208323)
Q: What is the difference between the original TrollFoil and TrollFoil 4.5?
A: TrollFoil 4.5 is thinner at 4.5 microns thin, original TrollFoil is 8 microns thin.
Q: Is thinner better?
A: Thinner is better, especially when you are trying to dial in that hard-to-get spot. Thick articulating products give less accurate markings.
Q: What is TrollFoil and TrollFoil 4.5 made of?
A: Both are a foil, not a paper. The foil holds the colour which is released when the patients tap their teeth together, no need to grind and recheck, just tap, tap, tap. Foil is a stronger material than paper and releases the colour accurately.
Q: What about the colour?
A: The colour is a carbon-based colour, not a wax-based colour, which is precisely released when the patient taps their teeth together. Unlike a wax-based colour TrollFoil and TrollFoil 4.5 will not smear which takes the guessing away. You know exactly where to go.
Q: What surfaces does TrollFoil 4.5 mark on?
A: It marks on wet, dry, and highly polished fields. It is the only articulating product you will need to mark on all surfaces.
Q: Do I need to use forceps?
A: No, TrollFoil 4.5 comes on its own frame, you simply tear off the cover and go straight to the mouth without using a forceps, one less thing to have to autoclave. You can use a forceps if you choose but it is not necessary.