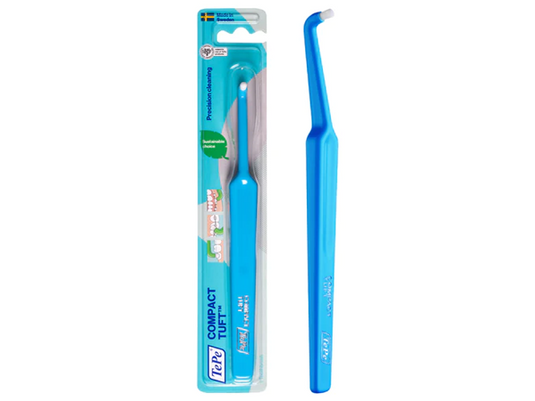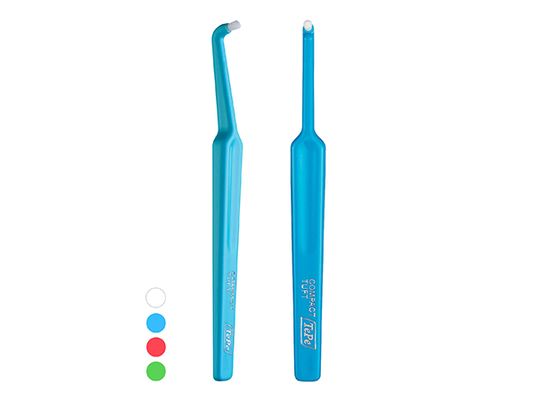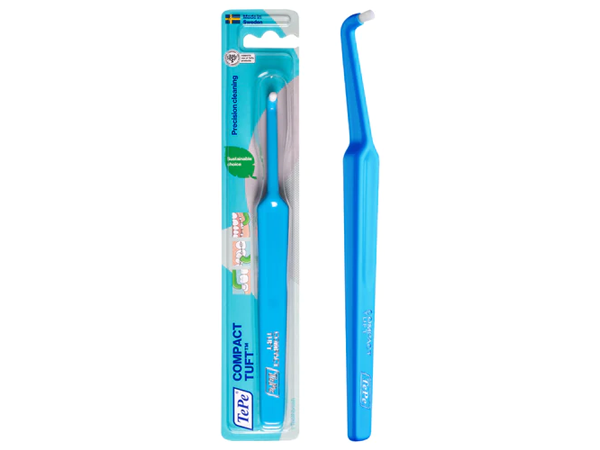 Product Details

Clinical Technique

Video

Configurations

Resources

Accessories
TePe Compact Tuft is an angled brush with a small, dome-shaped tuft with tightly packed short filaments that give a firm feel. The stable handle and dense, firm tuft make this brush ideal for precision cleaning of hard-to-reach areas. The brush is suitable for cleaning of bars, implant-supported constructions, attachments for overdentures, fixed braces, along the gum line, crowded teeth, emerging teeth, or impacted wisdom teeth. It is also ideal for brushing children's emerging molars. Additional areas of use can occur upon recommendation from a dental professional. The Compact Tuft is suitable for all individuals; children should be assisted by an adult. The frequency of use is based upon individual needs and recommendations. Can be angled in hot water for better access.
By replacing fossil raw material with plant-based material in a mass balance system, TePe has reduced the carbon footprint of the Compact Tuft by around 80% – without compromising on product quality, efficiency, or design.
Uses for TePe Compact Tuft
Clean around fixed braces.

Clean emerging molars.

Clean hard to reach crowded areas.
This video will guide you in understanding the features of the product and how to use a Compact Tuft specialty brush.
TePe Compact Tuft Toothbrush 14-Pack (Item Number: 680088):
1 assorted colour toothbrush in a retail blister pack, sold in a box of 14
TePe Compact Tuft Toothbrush 25-Pack (680112):
1 assorted colour toothbrush in a retail blister pack, sold in a box of 25