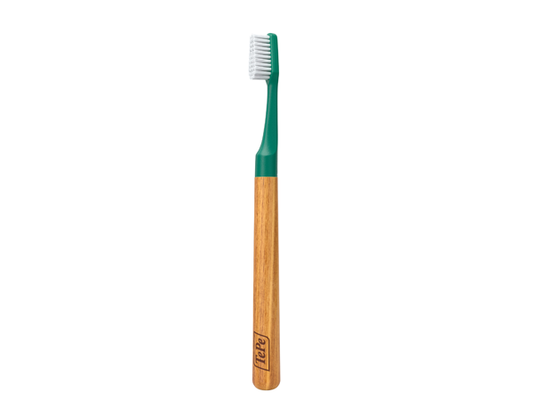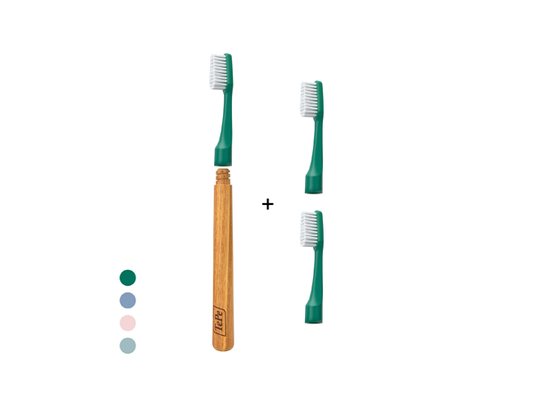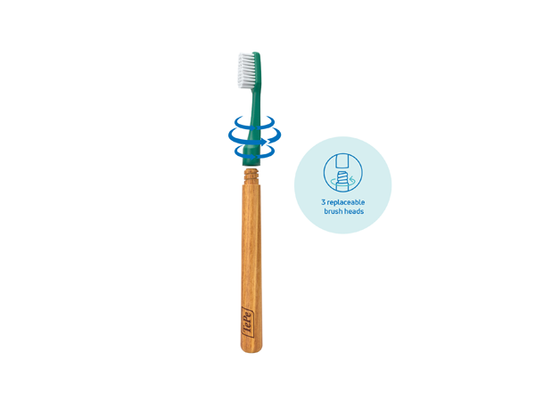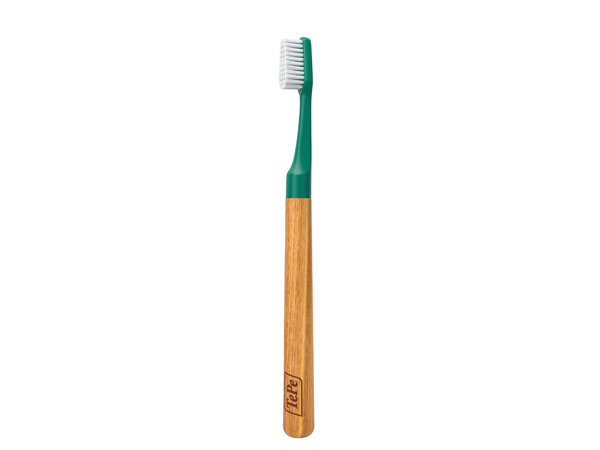 Product Details

Technical Details

Video

Configurations

FAQ

Accessories
The TePe Choice™ soft bristle toothbrush is an innovative and sustainable toothbrush with a reusable wooden handle and replaceable brush heads. Replacing only the brush head on this eco friendly toothbrush, means less plastic waste. This reusable toothbrush is made from beech wood and ISCC certified plant-based material. The soft end-rounded bristles make for a soft toothbrush and therefore a gentle cleaning.
TePe Choice is a high-quality eco toothbrush that improves not only your patients' oral hygiene but is a good choice for the environment as well. This modular toothbrush is developed and produced in Sweden, in collaboration with dental experts. Other features and benefits include:
Small, tapered brush head for easy access
80% less plastic waste thanks to replaceable brush heads
TePe Choice - make your choice, for tomorrow.
The TePe Choice toothbrush have a reusable wooden handle made from Swedish beechwood. It's a sustainable toothbrush with 3 replaceable brush heads and soft castor oil bristles. 80% less plastic waste.
TePe Choice Toothbrush 14-Pack (Item Number: 680103):
1 assorted colour toothbrush in a retail blister pack, sold in a box of 14
Q: How do you exchange the replaceable brush heads?
A: Replacing the brush head is quite simple. Just turn the brush head counterclockwise. Then make sure that the wooden handle is dry when attaching the new brush head. Now turn the brush head clockwise. Make sure there is no gap between the neck and the shaft.
Q: How long can the wooden handle be used for?
A: It can be used for approximately 9 months.
Q: How long can the brush head be used for?
A: The recommendation is to change the brush head every three months.
Q: Will the wooden material withstand the humidity in a bathroom environment?
A: Yes, the wooden handle is treated by a plant-based coating to minimize the absorption of water.
Q: Why is the brush head in plastic?
A: For hygienic and comfort reasons. To ensure that the integrity of the product is maintained while at the same time, the feel of the brush in the mouth is agreeable.
Q: Grown, carved and manufactured in Sweden
A: The reusable wooden handle on the TePe Choice toothbrush is made from locally Swedish grown beechwood. The handle is then produced in Sweden by a local wood carver and the toothbrush is manufactured in TePe's factory in Malmö, Sweden.