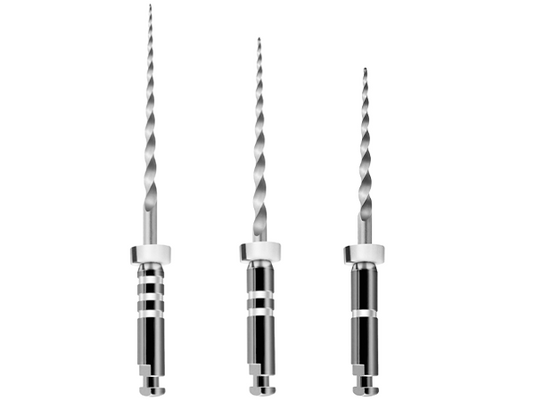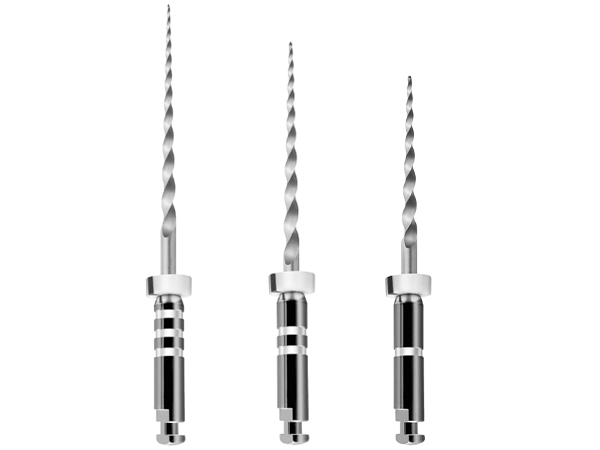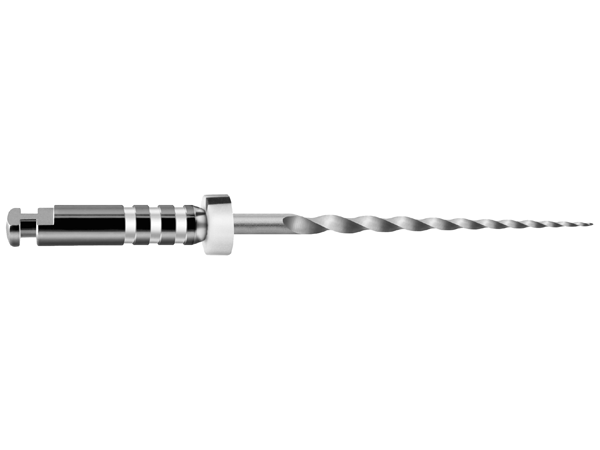 Product Details

Clinical Technique

Technical Details

FAQ

Configurations

Resources
Non-surgical re-treatment is often the first option for re-treating teeth with post endodontic treatment disease or complications.
Exact Retreatment files are designed to remove materials such as gutta percha, carrier-based obturators and other filling materials from the coronal, middle and apical thirds of the root canal prior to canal re-shaping and filling.
Retreatment Technique
Establish a pilot hole using a small sized stainless steel hand file with an appropriate solvent, heat carrier or ultrasonic instrument.

Without engaging dentin, gently press the spinning D1 into the obturated material.

Use D1 to remove the obturation material from the coronal 1/3.

Next, use the D2 to progressively remove material from the middle 1/3.

When appropriate, use the D3 to remove obturation material from the apical 1/3. Use hand files with a solvent to remove obturation materials from the apical 1/3 when encountering intricate anatomy.

Remove the files frequently and inspect flutes. Continue as long as obturation material is visualized between the cutting blades.
Retreatment Tips
Always begin with a well-angulated set of radiographs.

Understand the specific anatomy is critical to success.

Assess the obturation material.

Heat and friction will help remove the obturation material.

Throughout the procedure, remove the instruments, inspect and clean the flutes. Then, re-insert and continue to auger material out of the canal.

Recommended speed for EXACT Retreatment Files is 500-700 RPM for gutta-percha and carrier based obturators. Use 300 PRM to remove paste fillers.

EXACT Retreatment Files are single use devices.
Exact Retreatment File Sizes
Indications for Retreatment
Tooth not healed as expected after initial treatment
Decay, Fracture, and Infection
Q: What RPM should I run the Exact Retreatment files at?
A: The recommended speed is 500-700 rpm for removal of gutta percha or obturation carriers, 300rpm for paste fillers.
SS White Exact Retreatment Files Assorted 3-Pack (Item Number: 318264) includes:
1 x D1 (30/.09)
1 x D2 (25/.08)
1 x D3 (20/.07)
SS White Exact Retreatment Files available in the following 6-packs:
D1 (30/.09) (318265)
D2 (25/.08) (318266)
D3 (20/.07) (318267)