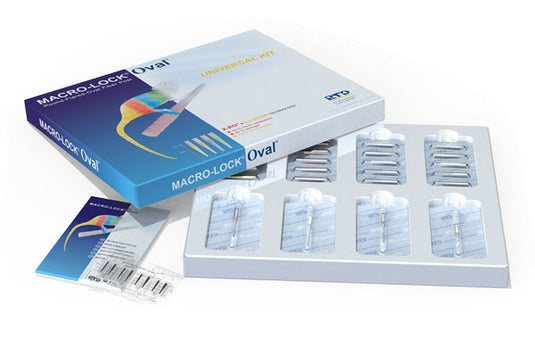 Product Details

Clinical Technique

Technical Details

Testimonials

Kit Contents

Resources

Accessories
Macro-Lock™ Oval Universal Kit features innovative posts designed for the restoration of wide, flared canals, and starter and finishing drills. The posts feature colour-on-command illusion technology and advanced X-RO fibre. Macro-Lock Oval simplifies restorations with ovoid canals. Other features and benefits include:
Unique oval shape provides anti-rotation benefit while replacing weaker cement with high strength fibre composite
Preferable to circular fibre posts in oval-shaped canals, given the stress distribution at the post/dentin interface
Macro retentive serrations in the upper 1/3 of the post interlock with the cement and core material to increase retention
The additional bulk or fibre in the middle 1/3 of the post offers maximum strength and fracture resistance to help protect the tooth
Passive grooves in the bottom 1/3 of the post lock into the cement in the round apical portion, which is a conservative 0.04 taper
Standard Post and Macro-Lock Oval Post Comparison
The Macro-Lock OVAL Post, the advanced fiber post designed for maximum retention, with any type of cementation or resin build-up, is also available with RTD-patented Illusion and X-RO fiber technology.
Each post size has a tapered (0.4) apical segment and a profoundly flared coronal section.
In addition, the surface of the post is roughened with controlled specificity to a highly micro-mechanical surface for excellent bonding and long-term retention.
Available in four sizes, the intrinsic post colours match the drill markings and help the clinicians distinguish one size from another. With this Illusion Technology, the colour disappears within seconds at body temperature, but the colour can be reconstituted, if necessary for re-treatment, within seconds.
Patented & exclusive X-RO fibers provide unparalleled Flexural Strength
Patented Illusion colour-change technology eases size identification, removal
Macro-retentive undercut features on apical and coronal sections for maximum retention
Superior Fatigue Resistance and Mechanical Properties
OVAL coronal section to prevent rotation of core offers maximum diameter for strength, surface area for adhesion
Can be a-traumatically removed in minutes.
Posts and drills are provided in hygienic "blister" packaging
"For the most commonly shaped canal; an ovoid post! What a concept! Without changing armamentarium for preparing the canal, RTD now has a post that evolves into an ovoid shape coronally to more adequately fit the natural anatomic shape of the canal. Less tooth destruction to adapt the tooth to the post and less resultant cement creates a stronger tooth and more resistance to dislodgement and fracture. When room allows the addition of Fibercones adds anti-rotational stability as well as further composite reduction. This is currently the state of the art in fiber post technology and tooth restoration."
Dr. Leendert (Len) Boksman
"This is truly one of the best ideas I've seen in dentistry in a long while. These new posts address a real clinical indication from the structural, geometric, functional and esthetic perspectives all at once. High strength, macro-retention, and excellent radiopacity combine in this unique shape to replace cement with high-performance fiber-reinforced composite. During our pre-market evaluation, the posts were so successful that I made the rare decision to implement immediate use in our clinical regimen - they are incredible."
Dr. Brian Gray
Macro-Lock OVAL Universal Kit (Item Number: 591320) includes: