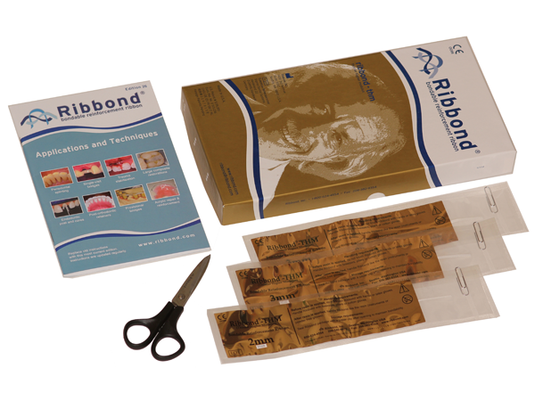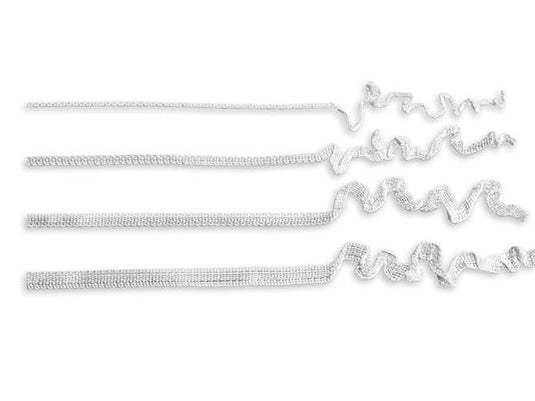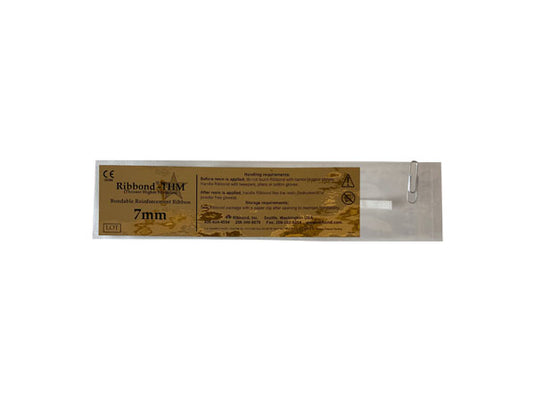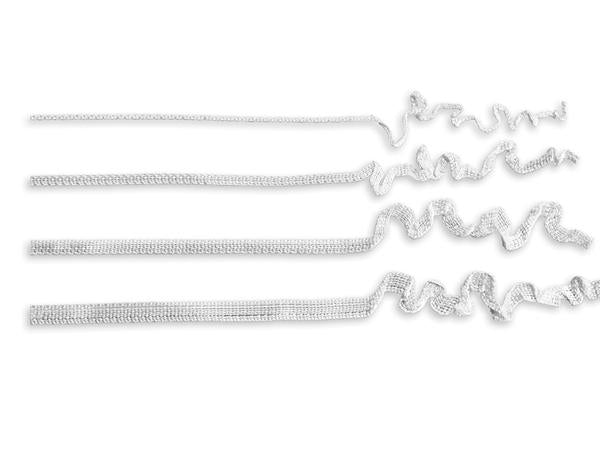 Product Details

Clinical Technique

Video

Configurations

Resources

Accessories
Ribbond®-THM is an ultra-thin, ultra-strong bondable reinforcement ribbon that prevents fracture failures in dental composites and acrylics. Ribbond's strength and fracture toughness are unsurpassed by other fibre reinforcements thanks to a unique combination of ultra-high strength fibres, enhanced bondability and patented cross-link lock-stitch leno weave.
With its thinner profile, Ribbond -THM requires no additional tooth preparation. Once it is embedded in the resin of your choice, Ribbond-THM will stay in place and will adapt more closely to the teeth, guaranteeing a smoother surface. Once resin-treated, Ribbond-THM disappears in the restoration and becomes almost transparent.
Other features and benefits include:
Prevents costly fracture failures
Made from the same super tough fibres used to make bulletproof vests
Integrates chemically with dental resin
Blends esthetically with all shades of composite
Biocompatible
Excellent tooth adaptation with unsurpassed manageability, guaranteeing a smoother surface
0.18 mm thick, available in widths of 2mm, 3mm, 4mm, 7mm and 1mm (for fixed orthodontic retainers)
For more information, case studies and technique videos please visit Ribbond's official website.
For more Ribbond clinical applications and accompanying instructions, please see Resources tab.
Ribbond Single Visit Bridge Technique
If clearance permits, a bridge can be made without preparation of the abutments. If there is not adequate space, shallow preparations might be necessary. The following shows the construction of a long-term bridge framework. For provisional bridges, one layer of Ribbond can be used.
Prepare teeth for bonding and place a thin layer of composite on the teeth

Wet the Ribbond with bonding resin and place it spanning from one abutment to the other. Place the Ribbond so that it will be under the incisal edge of the pontic. Remove excess composite and cure.

Place a thin layer of composite lingual to the first piece of Ribbond in the pontic section of the Ribbond framework.

Wet a second piece of Ribbond and place it against the composite in the pontic section of the framework. Cure.

The second Ribbond layer attaches over the first composite layer only to the proximal lingual angles of the teeth adjacent to the pontic.

Cover Ribbond on abutments with composite. Cure.

Natural Tooth: Cut off the root of the extracted tooth and fill pulp chamber with composite. Build Ribbond framework. Prepare an undercut lingual groove on the extracted tooth. Bond natural tooth pontic to Ribbond framework with composite.

Denture Tooth: Choose and shape denture tooth to fit in the edentulous area. Build Ribbond framework. Prepare an undercut lingual groove in denture tooth to fit the Ribbond framework. Use a small round burr to drill small holes in the pontic for extra mechanical retention. Sandblast groove for better mechanical retention. Bond denture tooth to pontic with composite.

Composite Buildup: Build Ribbond framework. Build composite pontic onto Ribbond framework using standard composite technique.

Finished bridge.
This video shows the technique for making a single visit anterior bridge using Ribbond reinforcement fibres.
Technique for periodontal splinting with Ribbond reinforcement fibre.
Ribbond mitigates the harmful effect of C-factor. Shrinkage of the composite against the tooth is dramatically reduced preventing gap formation, leakage, and sensitivity. Ribbond also bridges cracks and reinforces structurally compromised teeth.
This video offers a general introduction to Ribbond, explains how fibre reinforcements prevent fracture failures, compares Ribbond to other reinforcements, and ends with frequently asked questions.
Directly constructed anterior dental bridge with Ribbond fibre reinforcement. Part 1 of 2.
Directly constructed anterior dental bridge with Ribbond fibre reinforcement. Part 2 of 2.
Periodontal splinting technique with Ribbond-THM and scientific background.
Ribbond-THM Assorted Starter Kit (Item Number: 583900):
Ribbond-THM ribbons 22cm each of 2, 3, and 4 mm/0.18mm thick
1 x Ribbond scissors (most scissors will not cut Ribbond)
Dead-soft tinfoil for pre-measuring in the mouth
Instruction booklet and technique guide
Ribbond-THM 2mm Starter Kit (583902):
68cm of 2mm wide Ribbond-THM
1 x Ribbond scissors (most scissors will not cut Ribbond)
Dead-soft tinfoil for pre-measuring in the mouth
Instruction booklet and technique guide
Ribbond-THM 3mm Starter Kit (583903):
68cm of 3mm wide Ribbond-THM
1 x Ribbond scissors (most scissors will not cut Ribbond)
Dead-soft tinfoil for pre-measuring in the mouth
Instruction booklet and technique guide
Ribbond-THM 4mm Starter Kit (583904):
68cm of 4mm wide Ribbond-THM
1 x Ribbond scissors (most scissors will not cut Ribbond)
Dead-soft tinfoil for pre-measuring in the mouth
Instruction booklet and technique guide
Ribbond-THM Orthodontic Starter Kit (583901):
68cm of 1mm wide Ortho Ribbond-THM
1 x Ribbond scissors (most scissors will not cut Ribbond)
Dead-soft tinfoil for pre-measuring in the mouth
Instruction booklet and technique guide
Ribbond-THM Refill Packs:
Assorted (583500): 22cm each of 2, 3, and 4 mm/0.18mm thick, dead-soft tinfoil for pre-measuring in the mouth & IFU
2mm (583502): 68cm of 2mm wide Ribbond-THM, dead-soft tinfoil for pre-measuring in the mouth & IFU
3mm (583503): 68cm of 3mm wide Ribbond-THM, dead-soft tinfoil for pre-measuring in the mouth & IFU
4mm (583504): 68cm of 4mm wide Ribbond-THM, dead-soft tinfoil for pre-measuring in the mouth & IFU
7mm (583505): 68cm of 7mm wide Ribbond-THM, dead-soft tinfoil for pre-measuring in the mouth & IFU
Orthodontic (583501): 68cm of 1mm Ortho Ribbond-THM, dead-soft tinfoil for pre-measuring in the mouth & IFU
Product Information
Articles and Case Studies
Technical Documents