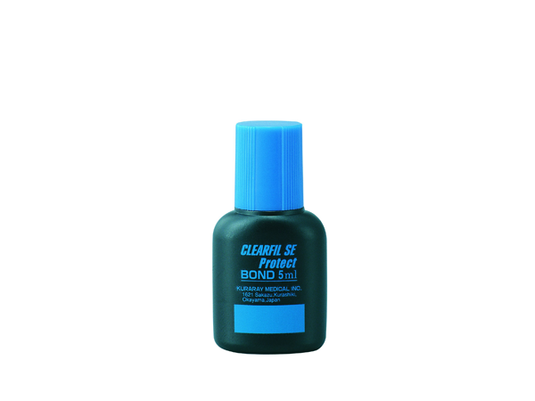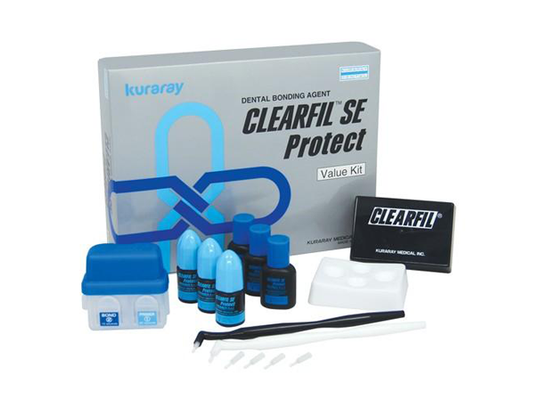 Product Details

Technical Details

Video

Configurations

Resources
The new two-step self-etch adhesive Clearfil™ SE Protect lets you virtually bond all restorations. Making this pioneering anti-bacterial adhesive future proof. You just apply the self-etch primer and the bond to create long lasting restorations.
With the all-new Clearfil DC Activator, a self-cure activator, you can use Clearfil SE Protect for bonded cementation and core build-up as well. Clearfil SE Protect has two extra technologies in comparison with Clearfil SE Bond. Long-term fluoride release and the MDPB monomer, which has an antibacterial cavity cleansing effect. Clearfil SE Protect destroys bacteria after contact with the MDPB monomer. The antimicrobial effect of Clearfil SE Protect is biologically safe because the monomer MDPB is fixed in the adhesive layer. More than 20 years ago adhesive dentistry was changed forever with Clearfil Liner Bond II as the world's first self-etch adhesive. Followed by the world's first antibacterial self-etch adhesive Clearfil Protect Bond in 2004. Clearfil SE Protect is built upon this unique heritage. Other features and benefits include:
First and still the only self-etching, antibacterial adhesive in the world
The primer contains 5% antibacterial monomer (MDPB), which shows high antibacterial property
Tried and proven 2-step self-etching bonding system
Prevents post-operative sensitivities
Fast and simple use
High bond strength to enamel and dentin
Indications for Use
Direct restorations using light-cured composite resin or compomer
Cavity sealing as a pre-treatment for indirect restorations
Treatment of hypersensitive and/or exposed root surfaces
Intraoral repairs of fractured crowns/bridges made of porcelain, hybrid ceramics or composite resin using light-cured composite resin
Surface treatment of prosthetic appliances made of porcelain, hybrid ceramics and cured composite resin
Core build-ups using light- or dual-curing composite resin
Cavity sealing under amalgam restorations
Antibacterial Cavity Cleansing Effect from MDPB
Studies show that the risk of bacteria remaining in a cavity tends to increase with the smaller, "minimal intervention" cavities. Many doctors are using cavity cleansers, such as Consepsis (Ultradent) (LINK) to address this tendency. Clearfil SE Protect contains a new functional monomer MDPB, which exhibits an "Antibacterial Cavity Cleansing Effect." The antimicrobial effect with Clearfil SE Protect is greater than with current cavity cleansers, and is biologically safe because MDPB is fixed and will not leak after curing. The bactericidal mechanism of MDPB is presumed to be similar to the well-known antibacterial agent CPC (Cetyl pyridinium chloride), which is in many toothpastes and mouth rinses.
Flouride-Releasing Effect
Clearfil SE Protect contains a patented, specially-treated sodium fluoride (NaF); the NaF in Cleafil SE Protect is coated with a unique polymer capsule that allows release of NaF while the bonding layer physical properties, including strength, are maintained. Clearfil SE Protect makes an "acid-base resistant zone" (called Super Dentin) interface between the bond and dentin behind the hybrid layer as a result of the fluoride release. This zone is 1.2 μm, which is thicker than the hybrid layer and very important for resisting the acid generated by bacteria if microleakage does occur.
Kuraray Clearfil Protect SE Testimonial (Dr. Matthew Nejad).
Kuraray Bonding Agents Self-Etch Demonstration.
Clearfil SE Protect Intro Kit (Item Number: 608900):
1 x Bond 5 mL bottle
1 x Primer 6 mL bottle
2 x Brush holders
1 x Mixing dish
1 x Light-blocking plate
1 x Outer Case
2 x Disposable brush tips (50-pack)
Clearfil SE Protect Value Kit (608901):
3 x Bond 5 mL bottle
3 x Primer 6 mL bottle
Clearfil SE Protect Bond (608501)
Clearfil SE Protect Primer (608502)