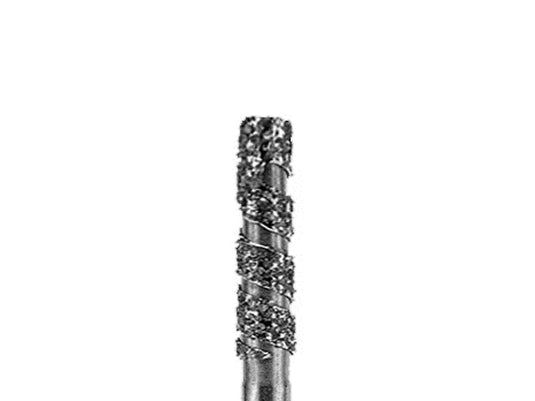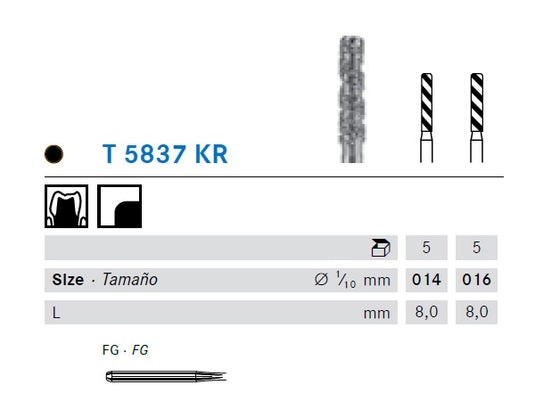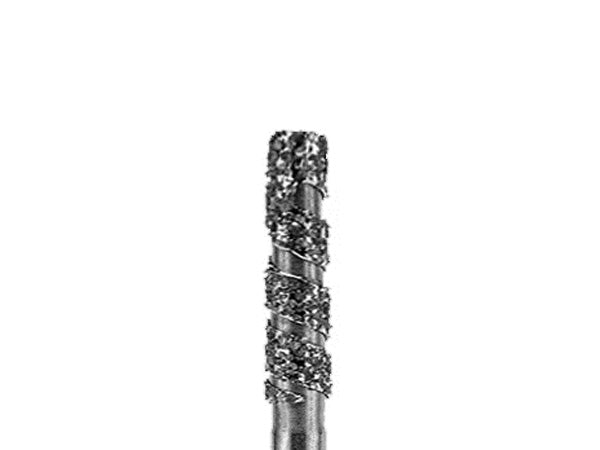 Product Details

Technical Details

Configurations

Resources
T5837KR is a turbo diamond bur. The turbo tools feature a spiral cooling channel, primarily enhancing the grinding power when removing a significant amount of tooth material. This design facilitates improved delivery of cooling water to the diamond bur's working surface and enhances the efficient removal of tooth substance from the grinding area. As a result, the working part of the bur is less prone to fouling. Turbo diamond burs have an excellent grinding performance and shorten the overall duration of the operation. Features modified parallel shoulder. Matches H158 carbide finisher series.

Indications for Use:
Crown and cavity preparation.
Looking for a way to easily switch to Komet burs? Download and then print a Komet Bur Conversion Card here:
Shank Type
Diamond Grit Size Legend
Maximum Permissible Speed Legend
Friction Grip Shank:
T5837KR.FG.014. Size Ø: 014 1/10 mm. L1 in mm: 8.0 mm: 5-Pack (Item Number: 1901954)
T5837KR.FG.016. Size Ø: 016 1/10 mm. L1 in mm: 8.0 mm: 5-Pack (1901955)
8T5837KR.FG.018. Size Ø: 018 1/10 mm. L1 in mm: 8.0 mm: 5-Pack (1901956)