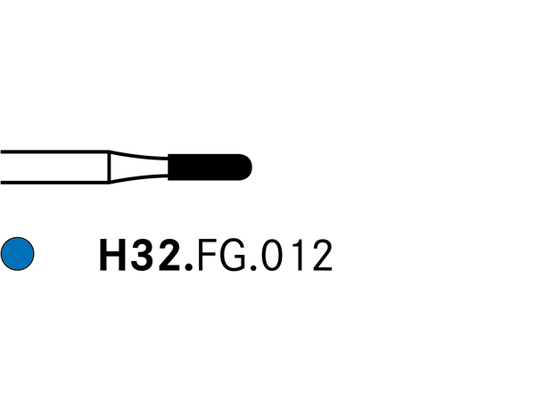 Product Details

Clinical Technique

Technical Details

Configurations

Resources
For a remarkably quick removal of amalgam fillings without adverse health effects. The removal of old amalgam fillings has always been a topic of discussion in the dental practice. Besides the aspects of health protection, special emphasis has been placed above all on keeping the treatment time as short as possible. The H32 has been developed as a specialised instrument for this very purpose.
Special emphasis is placed on the toothing with a pyramid-shaped cutting tip. While the even arrangement of the special blades facilitates the efficient cutting of amalgam, the clearly defined chip spaces allow proper removal of the debris. Compared to frequently used diamond abrasives, the H32 will not clog, thus preventing the otherwise unavoidable generation of excessive heat. Another positive feature is the high resistance to fracture due to the stable bur head and the strong joint at the shank. In addition, the vibration-reduced, almost milling-like operation ensures a much more comfortable treatment. Other features and benefits include:
Amalgam remover with innovative toothing and blade configuration
Superior performance due to shorter treatment times
Indications for Use
Removal of old fillings
Looking for a way to easily switch to Komet burs? Download and then print a Komet Bur Conversion Card here:
The H32 is used by drilling into the filling in axial direction or from an inclined position (1).
Then several longitudinal and transversal separation grooves are cut (2), depending on the size of the filling. By dividing the filling into the segments, fragments of the filling might come apart which can then be removed from the cavity. Filling residues are removed with suitable hand instruments or with H32.
In order to achieve an optimal balance between heat development, generation of mercury vapour and material reduction, it is recommended to use the H32 in the red contra-angle, at an optimal speed of 160,000 rpm. The H32 can also be used in the turbine.
To reduce friction heat, apply low contact pressure only (<2N) and use plenty of water cooling (at least 50 mL/min).
Shank Types
Maximum Permissible Speed Legend
H32.FG.012: 5-Pack (Item Number: 338051)