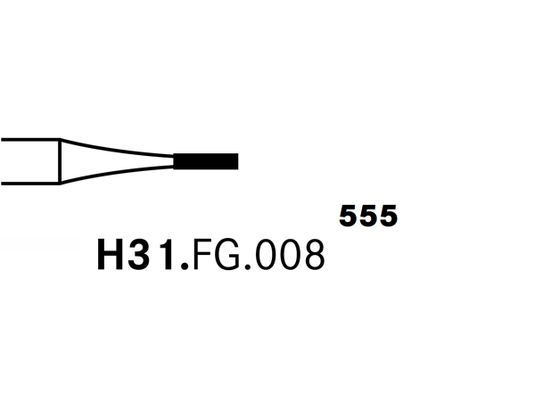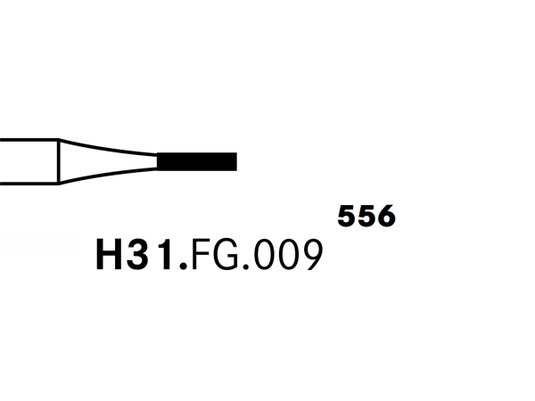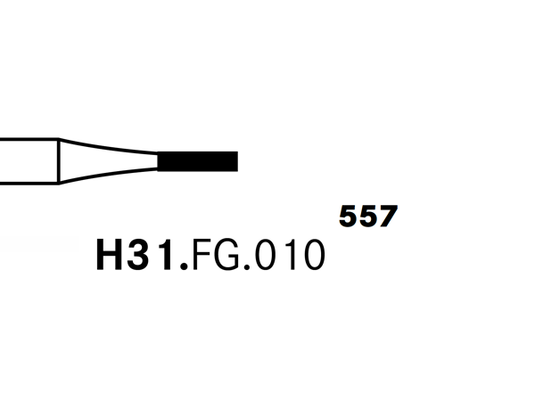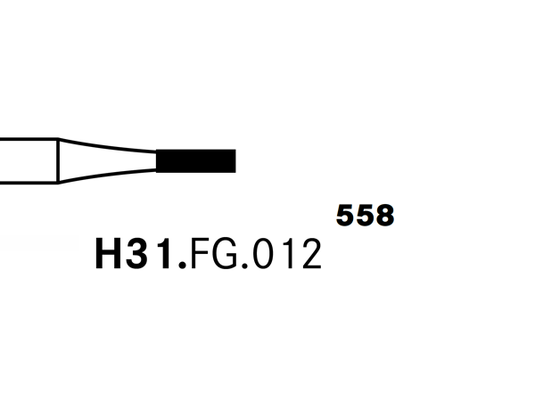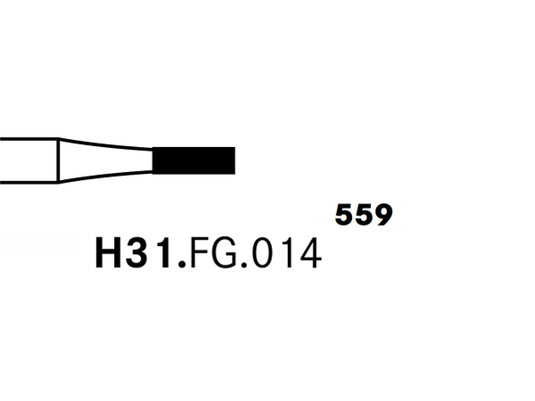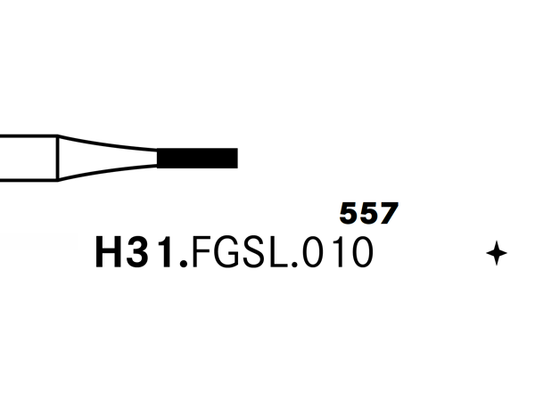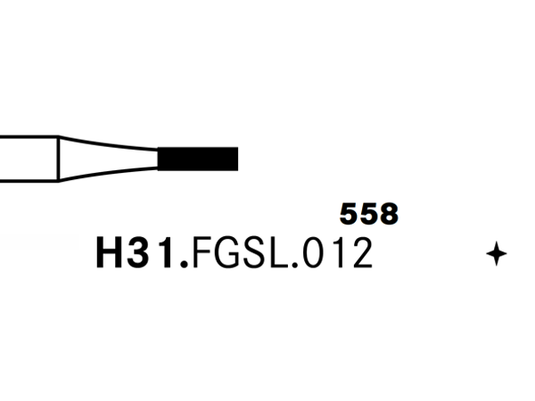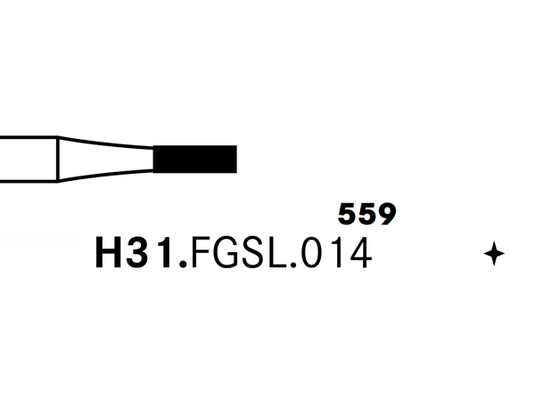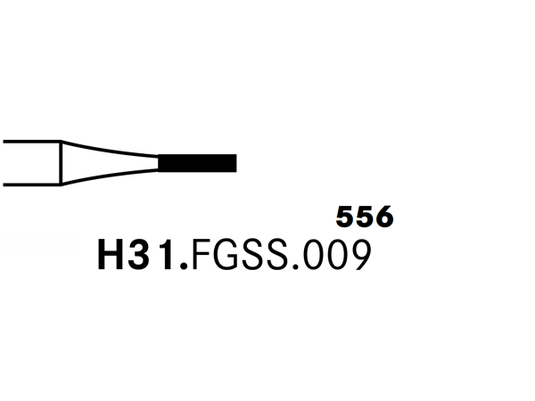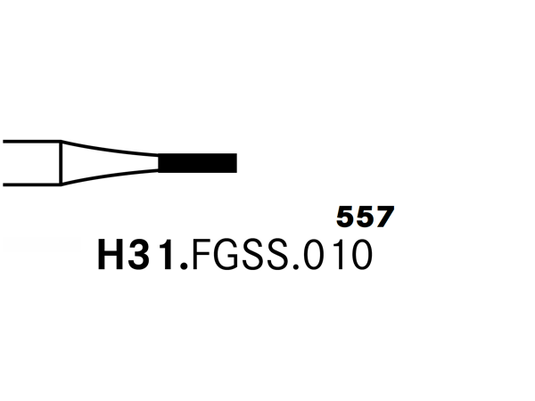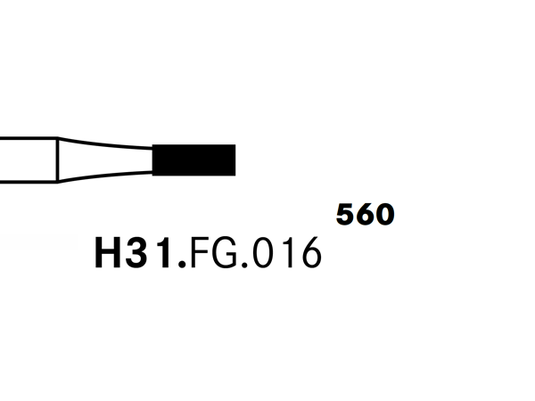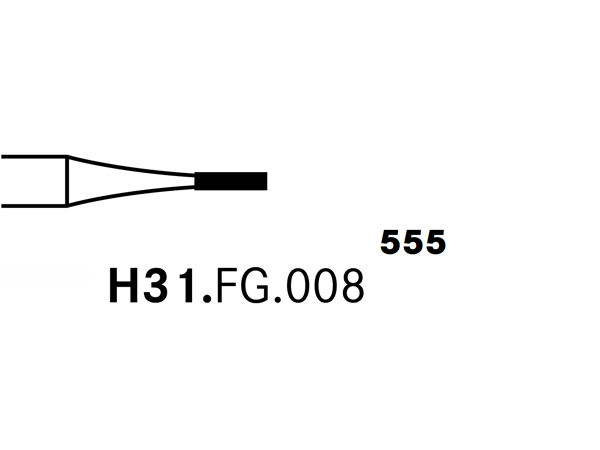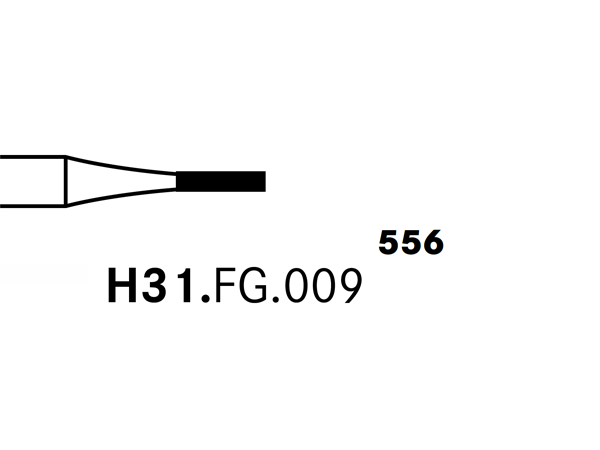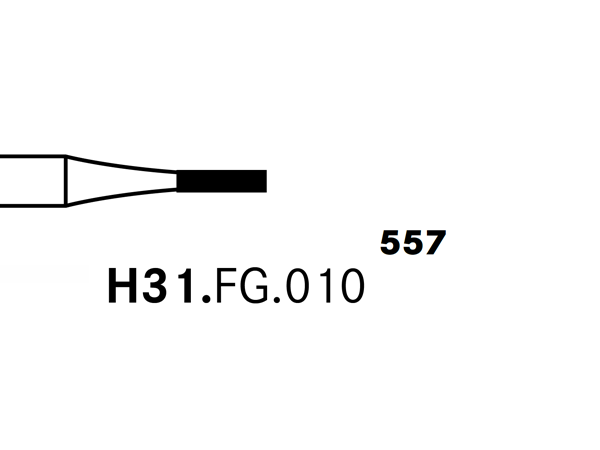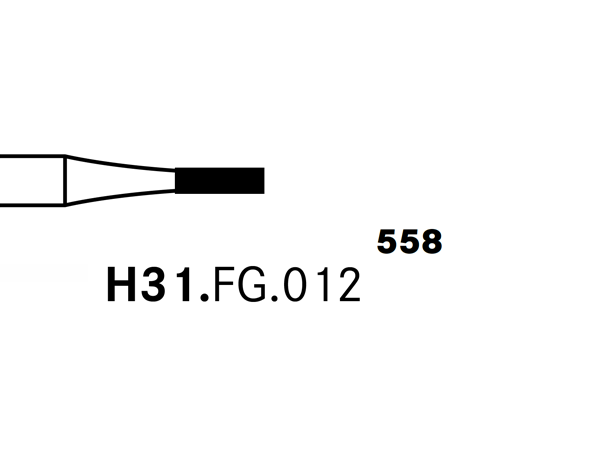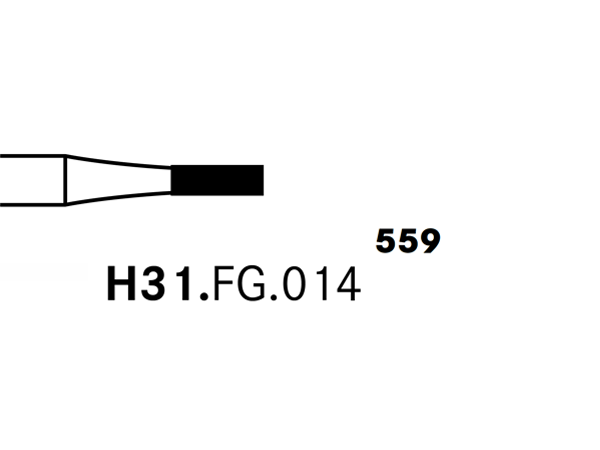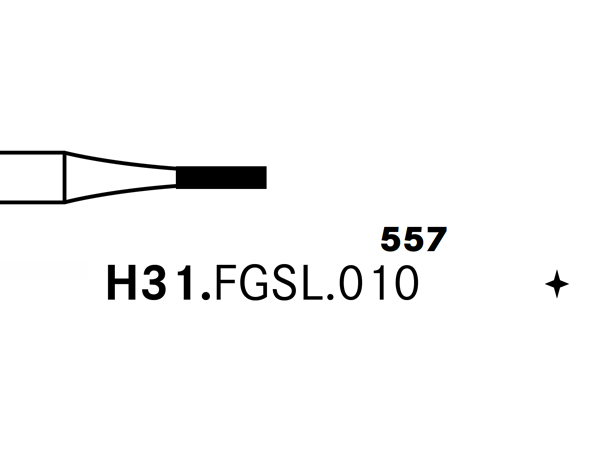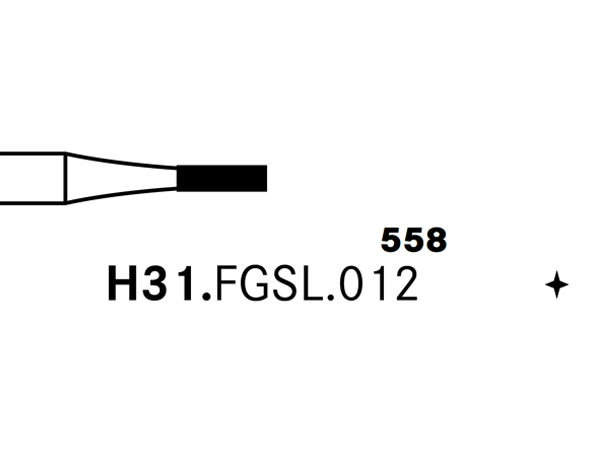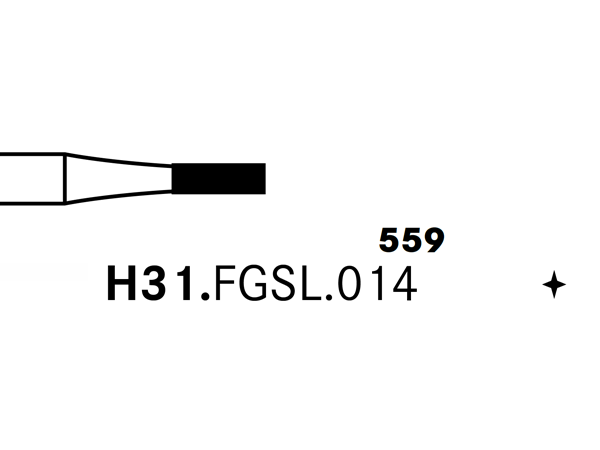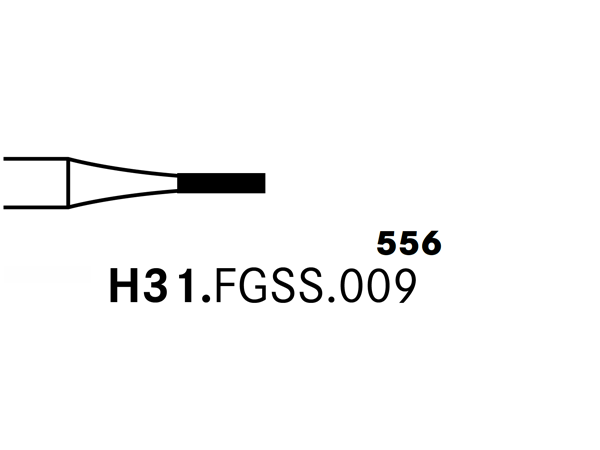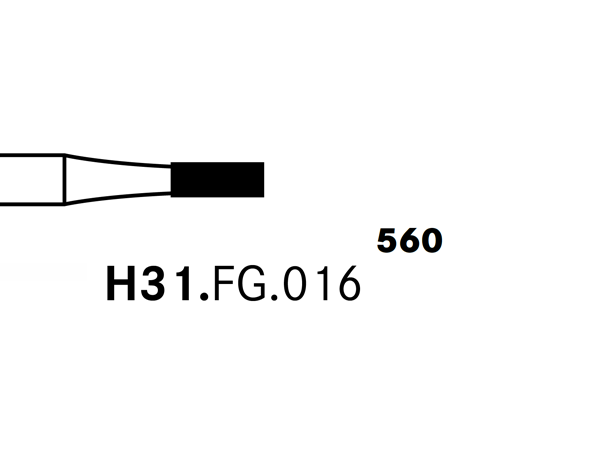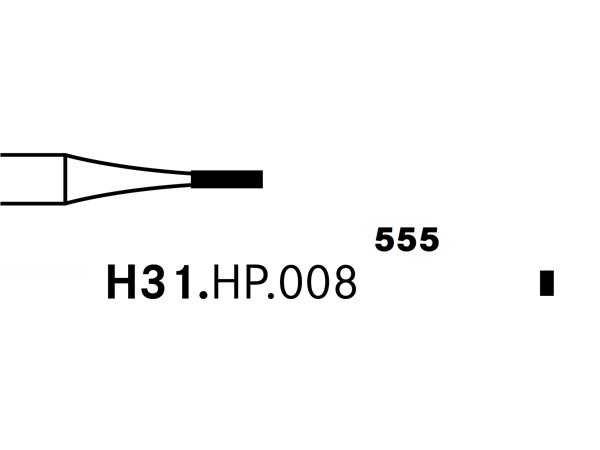 Product Details

Clinical Technique

Technical Details

Configurations

Resources
Komet H31 is a cylinder carbide featuring cross-cut fissures and used for cavity preparation and for bone cutting in oral surgeries.
H31 is available with a friction grip (FG), friction grip short shank (FGSS), and friction grip surgical length shank (FGSL). For laboratory use, an H31 with a handpiece shank (HP) is also available.
Bur numbers and corresponding Komet numbers:
#555: H31.008
#556: H31.009
#557: H31.010 - one of the most popular operative carbides
#558: H31.012
#559: H31.014
#560: H31.016
Indications for Use
Crown and bridge technique, cavity preparation.
Looking for a way to easily switch to Komet burs? Download and then print a Komet Bur Conversion Card here:
557 bur
Shank Types
Maximum Permissible Speed Legend
Friction Grip
H31.FG.008 (#555): 5-Pack (Item Number: 337333)
[MOST POPULAR] H31.FG.009 (#556): 5-Pack (337059) or 100-Pack (337334)
[MOST POPULAR] H31.FG.010 (#557): 5-Pack (337060) or 100-Pack (337061)
H31.FG.012 (#558): 5-Pack (337062) or 100-Pack (337335)
H31.FG.014 (#559): 5-Pack (337336)
H31.FG.016 (#560): 5-Pack (337337)
Friction Grip - Surgical Length
H31.FGSL.010 (#557): 5-Pack (337063) or 100-Pack (337338)
H31.FGSL.012 (#558): 5-Pack (337064)
H31.FGSL.014 (#559): 5-Pack (337065)
H31.FGSL.016 (#560): 5-Pack (337339)
Friction Grip - Short Shank
H31.FGSS.009 (#556): 5-Pack (337340) or 100-Pack (337341)
H31.FGSS.010 (#557): 5-Pack (337066) or 100-Pack (337342)