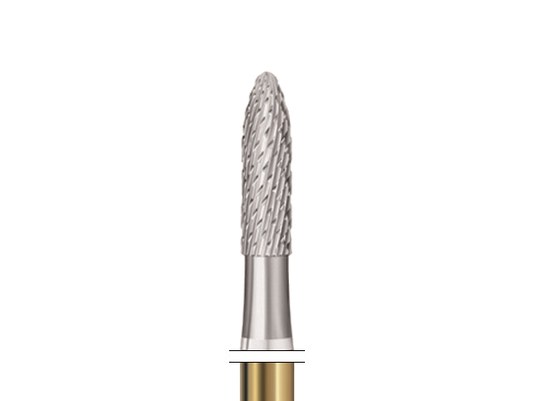 Product Details

Clinical Technique

Technical Details

Configurations
Carbide milling cutter lower
For processing veneering plastics and composites. Sold individually.
The lower toothing is suitable for processing ceramics (before glaze firing) as well as for plastic veneering materials and for transitions from the veneer to the metal framework. Due to a new double tooth grinding, the workpiece surfaces produced with the UK milling tools meet the highest demands. Sharp and notch-free cutting edges as well as a long service life thanks to the use of a fine-grained and highly compressed carbide material. With the white colour ring, the gold-plated shaft and the marking of the toothing type UK lasered into the shaft. Other features and benefits include:
Size Ø: 023 1/10 mm
L1 in mm: 8.0 mm
Maximum Speed: 100,000
Indications for Use
Crown and bridge technique.
HP/Handpiece Shank:
H139UK.HP.023: Sold Individually (Item Number: 336404)