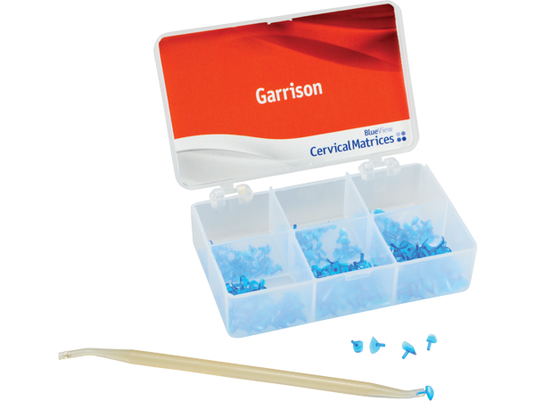 Product Details

Clinical Technique

Technical Details

Video

Configurations

Resources

Accessories
Class V's are hassle-free when you use BlueView™ Transparent Cervical Matrices. Anatomical and flexible, BlueView cervical matrices eliminate the air-inhibited layer and reduce your finishing time while protecting the restoration from contamination. Other features and benefits include:
Adapt to individual anatomy for improved contours
Use it to directly compact the composite into the restoration
Thin edges allow excess composite to flow out for improved anatomy
Blue tint provides contrast between matrix and tooth structure, does not compromise composite polymerization
Protects restoration from contamination, eliminates air-inhibited layer
Eliminates time spent hand sculpting and reduces finishing time
Indications for Use
Class V procedure.
BlueView Cervical Matrix System Clinical Tip
After you have used your preferred bonding procedure, place the restorative material into the preparation in advance of using the cervical matrix

Place the cervical edge of the matrix against the tooth first.

While pressing the matrix firmly against the tooth, roll the matrix onto the tooth. Excess material will be expressed from the occlusal edge of the matrix rather than subgingivally, greatly simplifying clean up.

Cure directly through the matrix
Blue View Cervical Matrices from Garrison Dental Solutions make Class V restorations faster and easier. Eliminate hand-scupting and reduce tedious finishing and polishing.
Blue View Matrix Techniques for Class II, III, IV, V and Diastema Closure.
Blue View Cervical Matrices Kit (Item Number: 202819) includes:
35 x KCMA10
35 x KCMA20
35 x KCMA30
35 x KCMA40
50 x KCMA60
50 x KCMA70
1 x Garrison Blue View Cervical Matrices Placement Instrument
Blue View Cervical Matrices 150-Pack refills available in:
*KCMA10 (202811)
*KCMA20 (202812)
KCMA30 (202813)
*KCMA40 (202814)
KCMA60 (202816)
KCMA70 (202817)
*SPECIAL ORDER PRODUCT: Product is not stocked in our warehouse and is only requested when an order is placed for said product. This product is ineligible to be returned.