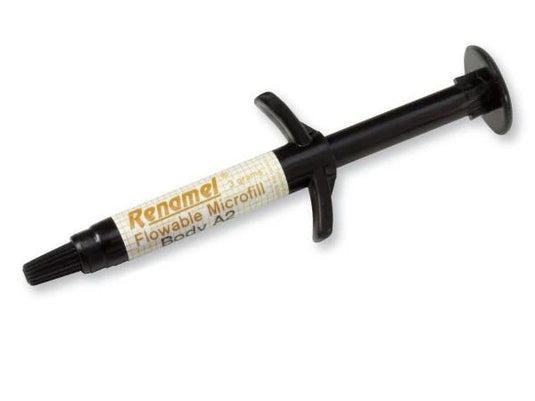 Purchase 5 for the price of 4
Product Details

Video

Configurations

Resources

Accessories
Renamel® Flowable Microfill exhibits great fluorescence, excellent handling, and low porosity. It is perfectly matched to the classic VITA shade guide and the rest of the Renamel Restorative System to make composite repairs and sealing margins fast and easy. Other features and benefits include:
Low porosity (.3) helps to eliminate voids
Extensive selection of translucent incisal shades
Fluoresces like tooth structure
Polishes to a high shine
Wide shade range to match any tooth surface
Indications for Use
Use Renamel Flowable Microfill for composite repairs and sealing margins in small restorations.
Dr. Buddy Mopper demonstrates how to get a perfect Class V restoration using Cosmedent's Renamel Flowable Microfill, Renamel Body Microfill, and Top Finisher systems.
Renamel Flowable Microfill 3 g Syringes are available individually in 17 shades:
A1 (Item Number: 470501)
A1.5 (470502)
A2 (470503)
A3 (470505)
A3.5 (470506)
A4 (470507)
B1 (470510)
B2 (470511)
C1 (470514)
C2 (470515)
C3 (470516)
C4 (470517)
D2 (470519)
D3 (470520)
Incisal Light (470523)
Incisal Medium (470524)
White (470526)