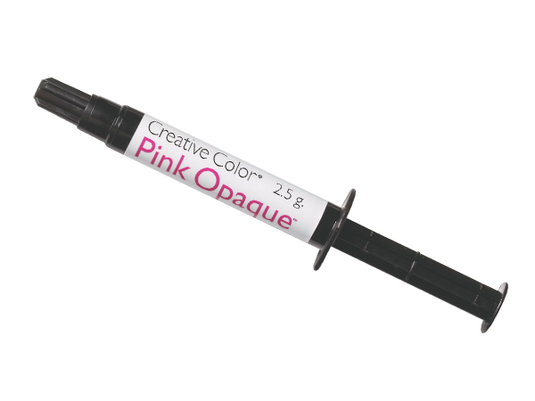 Product Details

Clinical Technique

Video

Testimonials

Configurations

Resources
Creative Color® Pink Opaque™ allows you to neutralize dark, discoloured teeth, transforming them into bright, natural-looking teeth. Whether you're cosmetically treating non-vital teeth, tetracycline-stained teeth, or teeth with metal posts and cores, Pink Opaque will diminish unsightly grey and brown without over-opaquing. Features and benefits include:
Quickly neutralize dark stains and unsightly dentition
Mask non-vital, tetracycline-stained teeth and teeth with metal posts and cores
Easy-to-use and apply to restorations

Gives you natural restorative results that are not overly-opaque
Can be used under dental composite and porcelain
Indications for Use
Use Pink Opaque to mask extremely dark grey or dark brown discolourations due to tetracycline staining, the unsightly non-vital tooth, and non-precious metal shine-through.
Masking Discoloured Teeth
Dentistry and photography courtesy of Dr. Bud Mopper
Prepared teeth

Application of Pink Opaque

Finished restoration
For establishing colour, see how Dr. Bud Mopper's clinical technique can help you block unwanted undercolour while providing the perfect canvas for you to create the final esthetic result.
"Laboratories have known for years that Pink will neutralize grey and dark stains and create a more lifelike effect. Pink Opaque was developed with this idea in mind."
Bud Mopper DDS, MS, Developer of Pink Opaque
"A magical product. If there is one product everyone should have it is Cosmedent's Pink Opaque."
Corky Willhite, D.D.S.
"If there is one product that will make you a better esthetic dentist, it is Pink Opaque."
Larry Rosenthal, DDS
Pink Opaque (Item Number: 451529): 2.5 g syringe