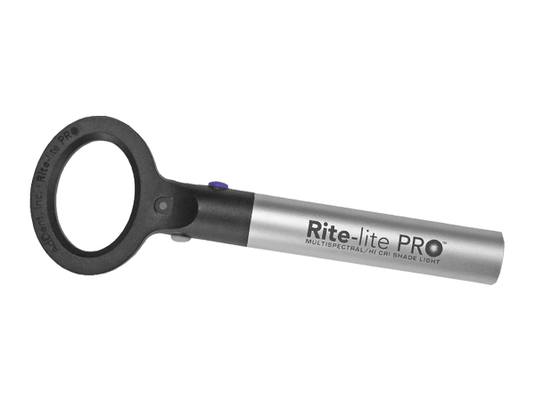 Product Details

Technical Details

Video

Testimonials

Configurations

Resources
Shades taken at the dental office or lab are frequently done using north white light (5500˚K). However, a problem arises when the patient goes home and looks in their mirror under incandescent or ambient lighting conditions and the shade may look slightly off. The Rite-Lite PRO™ has three colour temperatures plus a black light spectrum. The operator takes the shade with 5500˚K and then verifies the shade match under incandescent (3900˚K), ambient (3200˚K) and black light. The chosen shade should match in all four wavelengths. Based on the principle of Metamerism an accurate shade match is thereby confirmed.
The Rite-Lite PRO is powered by 24 L.E.D.'s (including blacklight LED's), rechargeable battery and has a voltage regulator. A pad of 25 neutral colour tabs is included and are used to standardize the background while shade taking. A light comes on when the batteries get low as a reminder to replace them. Other features and benefits of the Rite-Lite PRO include:
Three modes of visible light for shade taking to simulate varying lighting conditions found in indoor and outdoor environments. Shade matching under multiple lighting conditions ensures a better shade match.
Visible light spectra produced with HI CRI LEDs to recreate the visual spectrum produced by natural sunlight.
Three selectable intensity levels for visible spectra modes to improve visualization and control of glare.
Black Light mode for examining restoration fluorescence to match restoration with natural tooth fluorescence.
Accessory polarizing filter attachment to permit observation of tooth characterization without surface reflection. This reduces glare and reflective highlights to visualize natural anatomic defects.
Regulated Output: Rite-Lite PRO features a voltage regulator that ensures consistent light output over the useful battery life.
Rechargeable Li-Ion battery that lasts for approximately five years with normal use.
The five-minute auto-shutoff feature conserves battery power and prolongs battery life.
USB power supply for charging unit which reduces operational costs.
LED Battery charge and battery status indicator to indicate when to recharge the unit.
Indications for Use
Choose shade at 5500˚K. Verify the selected shade using 3200˚K (incandescence) and 3900˚K (ambient). Shade should match in all colour temperatures.
Restoration Viewed with Fluoresce Mode
Research shows that natural teeth fluoresce at wavelengths below 400 nm, i.e.- black light. Wavelengths below 400 nm are part of the spectrum of various indoor and outdoor lighting environments. Therefore, if we are to get a perfect shade match for porcelain or composite materials, they should fluoresce in the same manner as natural teeth. The cell phone photos show the effect of this mismatch when viewed with the Rite-Lite PRO.
High Colour Rendition Index (CRI) for Colour Accuracy
The Rite-Lite 2 High CRI LED's recreate the visual spectrum produced by natural sunlight. CRI is a measure of how accurately an LED light source or any artificial light source reveals an object's true colours. The higher the CRI, the better the artificial light source is at rendering colours accurately.
Polarizing Filter
Without Polarizing Filter
With Polarizing Filter
The Polarizing Filter eliminates reflection, provides enhanced visualization of tooth for colour, depth and transparencies, and enhances the visualization of internal details and individual characterization.
Dr. Enrique Kogan introducing the new Rite Lite Pro from AdDent.
"Great product. I have used it to verify my own shade selections. Every single shade selection I chose was verified correct by Rite-Lite 2. This would be an indispensable tool for anyone who doesn't have a great eye for color."
Steven Balloch, DDS, Glastonbury, CT
Rite-Lite PRO Shade Matching Unit (Item Number: 438106):
1 x Rite-Lite PRO
1 x Neutral Colour Pad with 25 sheets
1 x Power Supply