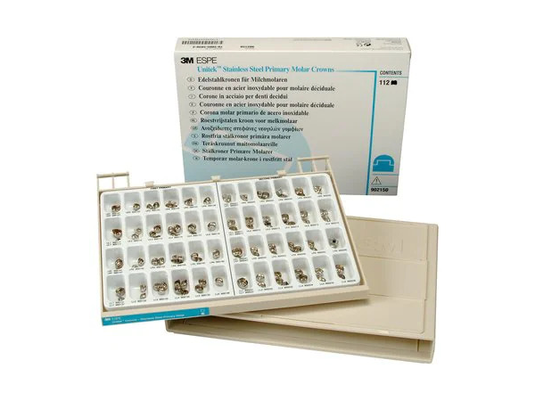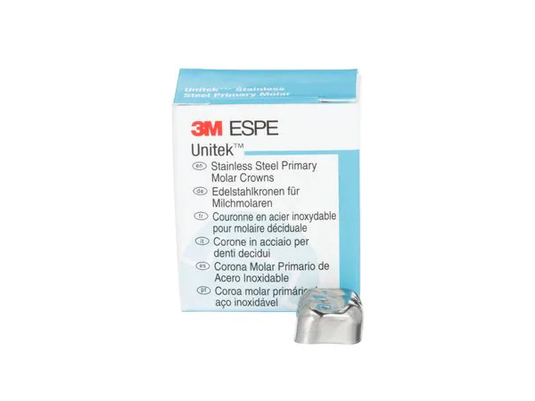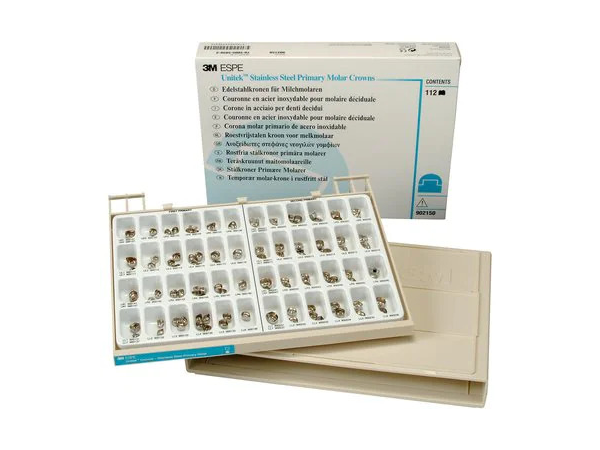 Product Details

Clinical Technique

Configurations

Resources
Unitek™ Stainless Steel Second Primary Molar Crowns offer proven successful clinical use for short- or long-term pediatric anterior and posterior use. Other features and benefits include:
Easy to customize with parallel walls to allow for clinician fit control
Pre-trimmed to optimum length and contour to save placement time
Shallow occlusal anatomy means less tooth reduction
Thick occlusal surface to prevent bite-through
Crown set is packaged in a unique, stackable tray that provides convenient, easy storage of 3M prefabricated crowns
A wide array of shapes and sizes
High-quality stainless steel
Indications for Use
Where an amalgam is likely to fail in a primary molar, such as a Class II cavity where the proximal box is extended beyond the anatomic line angles.
Extensive caries damage involving multiple surfaces of the tooth.
Extensive decalcification around an already restored tooth where there is a high risk of recurrent caries.
For space maintenance.
After pulp therapy or endodontic procedures on a primary molar.
Developmental defects such as amelogenesis imperfecta, dentinogenesis imperfecta, or hypocalcified teeth.
3M Unitek Stainless Steel Primary Molar Crowns Set (Item Number: 3-110269) includes:
112 x Primary Molar Crowns (2 of each size below)
3M Unitek Stainless Steel Primary Molar Crowns Upper Left come in 5-packs and are available in the following sizes:
1 (3-110129)
2 (3-110130)
3 (3-110131)
4 (3-110132)
5 (3-110133)
6 (3-110134)
7 (3-110135)
3M Unitek Stainless Steel Primary Molar Crowns Upper Right come in 5-packs and are available in the following sizes:
1 (3-110136)
2 (3-110137)
3 (3-110138)
4 (3-110139)
5 (3-110140)
6 (3-110141)
7 (3-110142)
3M Unitek Stainless Steel Primary Molar Crowns Lower Left come in 5-packs and are available in the following sizes:
1 (3-110143)
2 (3-110144)
3 (3-110145)
4 (3-110146)
5 (3-110147)
6 (3-110148)
7 (3-110149)
3M Unitek Stainless Steel Primary Molar Crowns Lower Right come in 5-packs and are available in the following sizes:
1 (3-110150)
2 (3-110151)
3 (3-110152)
4 (3-110153)
5 (3-110154)
6 (3-110155)
7 (3-110156)
3M Unitek Stainless Steel Second Primary Molar Crowns Upper Left come in 5-packs and are available in the following sizes:
1 (3-110157)
2 (3-110158)
3 (3-110159)
4 (3-110160)
5 (3-110161)
6 (3-110162)
7 (3-110163)
3M Unitek Stainless Steel Second Primary Molar Crowns Upper Right come in 5-packs and are available in the following sizes:
1 (3-110164)
2 (3-110165)
3 (3-110166)
4 (3-110167)
5 (3-110168)
6 (3-110169)
7 (3-110170)
3M Unitek Stainless Steel Second Primary Molar Crowns Lower Left come in 5-packs and are available in the following sizes:
1 (3-110171)
2 (3-110172)
3 (3-110173)
4 (3-110174)
5 (3-110175)
6 (3-110176)
7 (3-110177)
3M Unitek Stainless Steel Second Primary Molar Crowns Lower Right come in 5-packs and are available in the following sizes:
1 (3-110178)
2 (3-110179)
3 (3-110180)
4 (3-110181)
5 (3-110182)
6 (3-110183)
7 (3-110184)