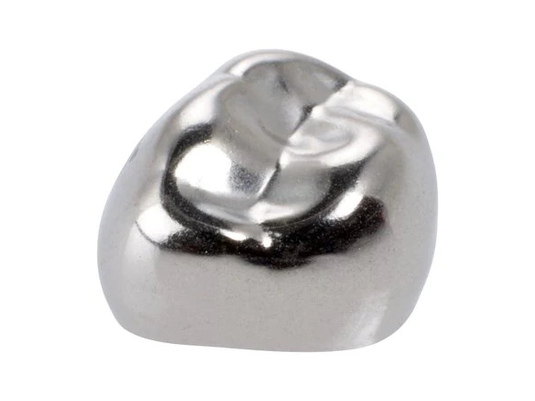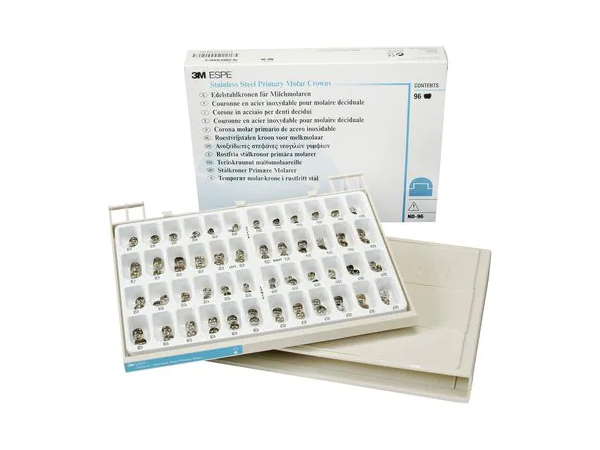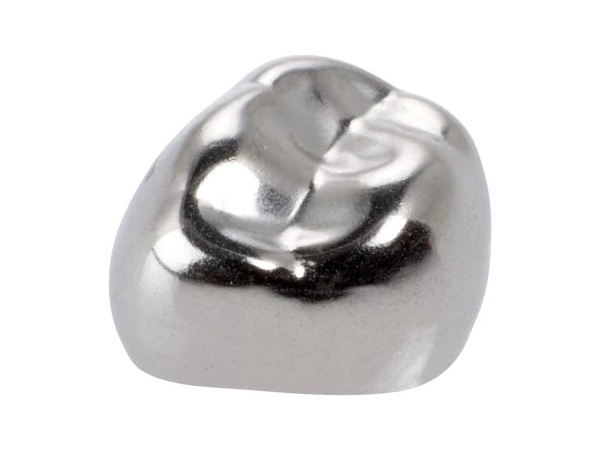 Purchase 75 for the price of 50
Product Details

Clinical Technique

Configurations

Resources
3M™ Stainless Steel Second Primary Molar Replacement Crowns offer proven successful clinical use for short- or long-term pediatric anterior and posterior use. Prefabricated stainless steel crowns are manufactured with life-like height, contour and occlusal surface. They are pre-crimped at the cervical margin for fast and easy placement. Refills are available in boxes of five. Other features and benefits include:
Pre-trimmed, belled and crimped for fast and easy placement
Superior longevity compared to multi-surface amalgam fillings
Accurately duplicates anatomy for better fit and performance
Crown set is packaged in a unique, stackable tray that provides convenient, easy storage of 3M prefabricated crowns
A wide array of shapes and sizes
High-quality stainless steel
Indications for Use
Primary molar crown applications.
3M Stainless Steel Primary Molar Crown Set (Item Number: 3-110516) includes:
96 x Assorted Primary Molar Crowns (2 of each size below)
3M Stainless Steel Primary First Molar Upper Left Molar Crowns come in 5-packs and are available in the following sizes:
DLL2 (3-110427)
DLL3 (3-110428)
DLL4 (3-110429)
DLL5 (3-110430)
DLL6 (3-110431)
DLL7 (3-110432)
DUL2 (3-110439)
DUL3 (3-110440)
DUL4 (3-110441)
DUL5 (3-110442)
DUL6 (3-110443)
DUL7 (3-110444)
3M Stainless Steel Primary First Molar Upper Right Molar Crowns come in 5-packs and are available in the following sizes:
DUR2 (3-110445)
DUR3 (3-110446)
DUR4 (3-110447)
DUR5 (3-110448)
DUR6 (3-110449)
DUR7 (3-110450)
DLR2 (3-110433)
DLR3 (3-110434)
DLR4 (3-110435)
DLR5 (3-110436)
DLR6 (3-110437)
DLR7 (3-110438)
3M Stainless Steel Second Molar Upper Left Molar Crowns come in 5-packs and are available in the following sizes:
ELL2 (3-110451)
ELL3 (3-110452)
ELL4 (3-110453)
ELL5 (3-110454)
ELL6 (3-110455)
ELL7 (3-110456)
EUL2 (3-110463)
EUL3 (3-110464)
EUL4 (3-110465)
EUL5 (3-110466)
EUL6 (3-110467)
EUL7 (3-110468)
3M Stainless Steel Second Molar Upper Right Molar Crowns come in 5-packs and are available in the following sizes:
ELR2 (3-110458)
ELR3 (3-110461)
ELR4 (3-110472)
ELR5 (3-110459)
ELR6 (3-110470)
ELR7 (3-110471)
EUR2 (3-110469)
EUR3 (3-110470)
EUR4 (3-110471)
EUR5 (3-110472)
EUR6 (3-110473)
EUR7 (3-110474)