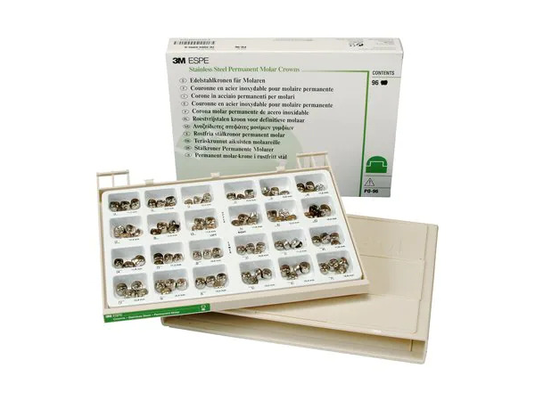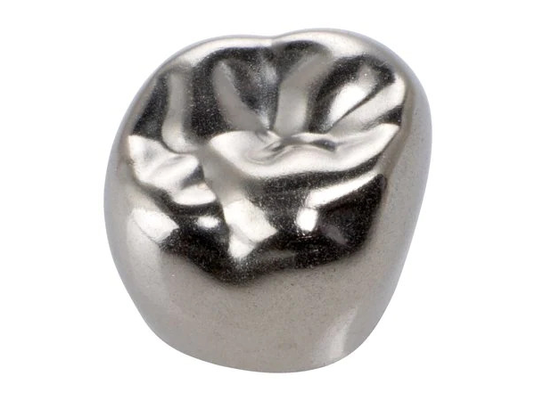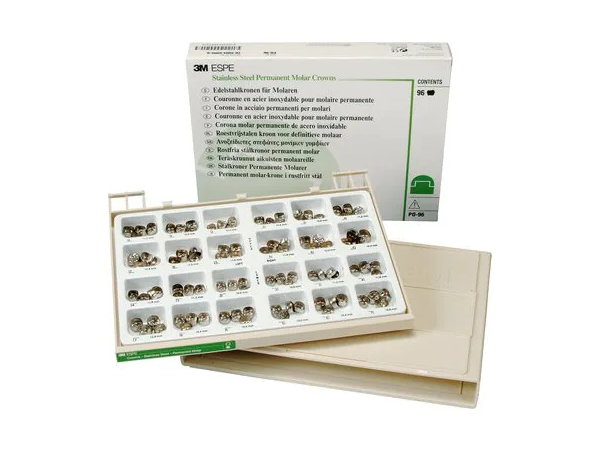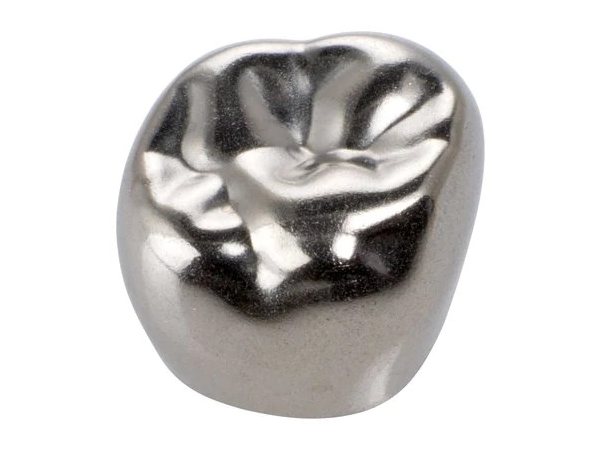 Product Details

Clinical Technique

Configurations

Resources
Prefabricated stainless steel crowns manufactured with life-like height, contour and occlusal surface. They are pre-crimped at the cervical margin for fast, easy placement and offer proven successful clinical use for short- or long-term adult anterior and posterior use. Refills of individual primary molar crowns are available in boxes of five. Other features and benefits include:
Pre-trimmed, belled and crimped for fast and easy placement
Accurately duplicates anatomy for better fit and performance
Superior longevity compared to multi-surface amalgam fillings
Permanent molar selection can be used for long-term cases with economic considerations
A wide array of shapes and sizes
High-quality stainless steel
Crown set (kit) is packaged in a unique, stackable tray that provides convenient, easy storage of 3M prefabricated crowns
Indications for Use
Permanent molar crown applications.
3M Stainless Steel Permanent Molar Crowns Set Kit (Item Number: 3-110577) includes:
96 x Assorted Permanent Molar Crowns (4 of each size below)
3M Stainless Steel Upper Left Permanent Molar Crown Refills come in 5-packs and are available in the following sizes:
6UL2 (3-110413)
6UL3 (3-110414)
6UL4 (3-110415)
6UL5 (3-110416)
6UL6 (3-110417)
6UL7 (3-110418)
3M Stainless Steel Upper Right Permanent Molar Crown Refills come in 5-packs and are available in the following sizes:
6UR2 (3-110419)
6UR3 (3-110420)
6UR4 (3-110421)
6UR5 (3-110422)
6UR6 (3-110423)
6UR7 (3-110424)
3M Stainless Steel Lower Left Permanent Molar Crown Refills come in 5-packs and are available in the following sizes:
6LL2 (3-110401)
6LL3 (3-110402)
6LL4 (3-110403)
6LL5 (3-110404)
6LL6 (3-110405)
6LL7 (3-110406)
3M Stainless Steel Lower Right Permanent Molar Crown Refills come in 5-packs and are available in the following sizes:
6LR2 (3-110407)
6LR3 (3-110408)
6LR4 (3-110409)
6LR5 (3-110410)
6LR6 (3-110411)
6LR7 (3-110412)