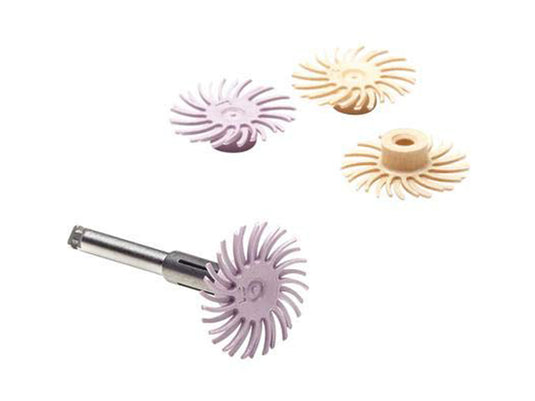 Product Details

Configurations
Achieve a diamond paste-like gloss with just two steps. The flexible nature of the spirals adapts to all tooth surfaces—anterior and posterior, convex and concave—and can be used from any angle. It can also be sterilized and reused.
The Sof-Lex Pre-Polishing Spiral is the first step in creating a beautiful smile—this tool smooths and removes scratches in restorations that develop during contouring, preparing the surface for high-gloss polishing.
The 3M Sof-Lex Diamond Polishing Spiral is the final step in creating a beautiful smile, consisting of diamond particles to help create a smooth, high gloss polish.
Imparts paste-like gloss in the convenience of a rubberized system
Unique, flexible shape adapts to all tooth surfaces
Multi-use, can be sterilized and reused
High, long-lasting gloss when used with 3M Filtek Supreme Ultra Universal Restorative
Diameter: 1/2"
Suggested Applications:
Composites (Direct and Indirect)
Resin-modified glass ionomers
Bisacrylic temporary materials
3M Lava Ultimate CAD/CAM Restorative
Precious and semi-precious metal
3M Sof-Lex Diamond Polishing System Intro Kit 5092 (Item Number: 3-104107):

5 x Sof-Lex Pre-Polishing Spirals (Beige)
5 x Sof-Lex Diamond Polishing Spirals (Pink)
1 x Sof-Lex RA Mandrel
Instructions for Use
Technique Card

Pre-Polishing Spiral 5090. 15-Pack (3-104105)
Diamond Polishing Spiral 5091. 15-Pack (3-104106)