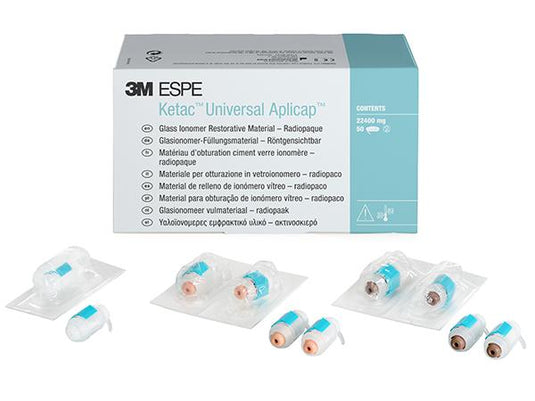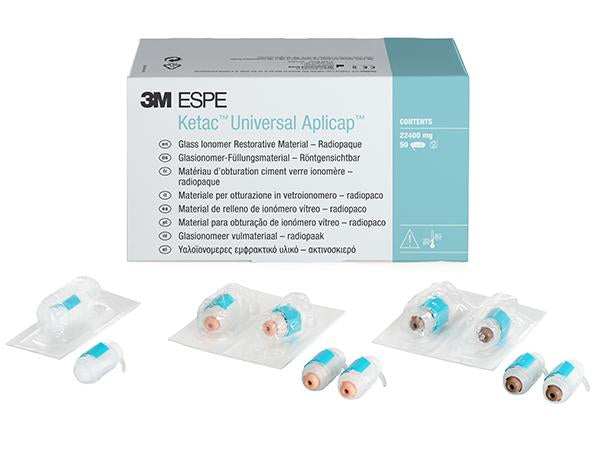 Product Details

Technical Details

Video

Configurations

Resources
Ketac™ Universal Aplicap™ Glass Ionomer Restorative is a radiopaque, fluoride-releasing glass ionomer restorative in capsules. Self-adhesive and self-curing, it eliminates the need for conditioning, coating or light-curing steps. It can be used for restricted stress-bearing Class I and II restorations and can also be placed in bulk, with no need for layering. The 3M Aplicap delivery system gives dentists better access to deep cavities. Other features and benefits include:
Enables fast, one-step, stress-bearing restorative solutions
Extended indications for use compared to other glass ionomer materials
Low stickiness allows easy placement
No need for conditioner or coating
Bulk fill—no need for layering
Continuously releases fluoride for 24 months
Self-adhesive and self-cure
Radiopaque
Available in 6 shades
Indications for Use
Linings for single- and multi-surface composite fillings
Core buildup prior to crown placement
Primary tooth fillings
Restricted stress-bearing Class I and Class II restorations
Cervical fillings
Single- and multi-surface temporary fillings
Fissure sealing
Speed
Strength
Handling
1. Source: 3M Ketac Universal Aplicap Glass Ionomer Restorative Technical Data Sheet.
A demonstration showing how to use 3M Ketac Universal glass ionomer restorative.
3M Ketac Universal Aplicap has 9 fewer steps as compared to GC Fuji IX GP®.
Ketac Universal Aplicap Glass Ionomer Restorative is available in 50 capsule quantities in the following shades:
Assorted: White, A2 and A3 (3-105129)
White (3-105130)
A1 (3-105131)
A2 (3-105132)
A3 (3-105133)
A3.5 (3-105135)
A4 (3-105136)