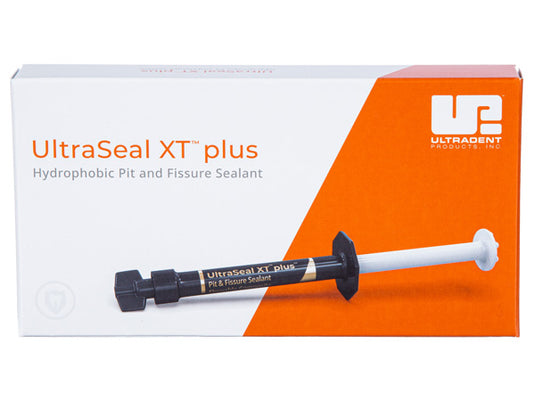 Product Details

Clinical Technique

Technical Details

Testimonials

Configurations

Resources

Accessories
UltraSeal XT™ plus is a light-cured, radiopaque, fluoride-releasing composite sealant that penetrates deepest pits and fissures for exceptional cavity protection.
A 58%-filled resin, UltraSeal XT plus from Ultradent Products Inc. features superior strength and wear resistance with low polymerization shrinkage. UltraSeal XT plus offers ideal viscosity that flows easily into the smallest pits and fissures, but doesn't run after placement. The unique Inspiral brush tip allows precise, efficient placement of the material by thinning the thixotropic resin and reducing its viscosity as it is placed. Once shear thinning ceases and placement is complete UltraSeal XT plus firms, which prevents it from running before it can be light cured.
High retention rate
Direct delivery into difficult-to-access areas
Bubble-free, drip-free placement
Effective at preventing microleakage
Penetrates deepest pits and fissures
Available in 4 shades (Opaque White, Clear, A1 and A2
BPA free
Indications for Use
Use UltraSeal XT plus for prophylactic sealing of pits and fissures. It may also be used for microrestorative or as an "initial layer" of composite restorations.
Apply etch for 15 seconds on cut enamel or 30 seconds on uncut enamel. Rinse when finished.

Remove visible moisture.

Apply PrimaDry Drying Agent for five seconds using Black Micro FX tip, then air dry.

Place UltraSeal XT plus sealant using Inspiral™ brush tip.

Using your VALO™ curing light, cure for three seconds on Xtra Power Mode or ten seconds on Standard Power mode.
Before and After
Before placement of UltraSeal XT plus
After placement of UltraSeal XT plus
"​I love the UltraSeal XT plus sealant. I have used many different sealant products in my office as well as in the dental school in which I am faculty. Actually, all the pediatric dental instructors had tried eight different sealants to compare, and UltraSeal XT plus was unanimously the sealant of choice. The viscosity, multiple shades, partially filled consistency, and the fact it is fluoride releasing make UltraSeal XT plus the most reliable and superior sealant that I choose to use on my patients."
Dr. Angela M. Stout – Erdenheim, PA
UltraSeal XT Plus Kit available in Opaque White (Item Number: 801725), Clear (801563), A1 *(801286) or A2 (801733) shades:
UltraSeal XT Hydro Refills:
4 x 1.2 mL UltraSeal XT Plus Syringe Opaque White (801726) shade
4 x 1.2 mL UltraSeal XT Plus Syringe Clear (801565) shade
4 x 1.2 mL UltraSeal XT Plus Syringe A1 (801289) shade
4 x 1.2 mL UltraSeal XT Plus Syringe A2 (801734) shade
20 x 1.2 mL UltraSeal XT Plus Syringe Opaque White (801727) shade
*SPECIAL ORDER PRODUCT: Product is not stocked in our warehouse and is only requested when an order is placed for said product. This product is ineligible to be returned.