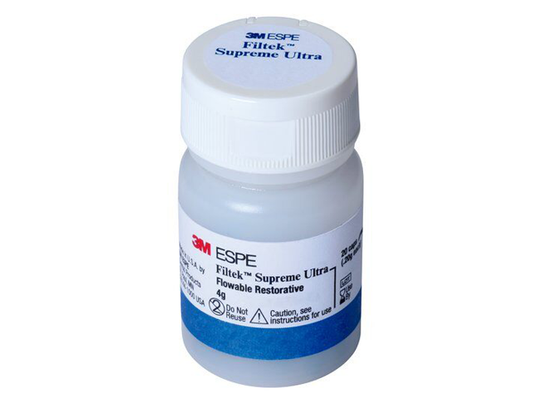 Product Details

Clinical Technique

Technical Details

Video

Configurations

Resources

Accessories
3M™ Filtek™ Supreme Flowable Restorative is a dependable companion; the versatile formula is ideal for multiple indications, with flow-on demand handling dentists prefer. It is now available in a new ergonomic syringe designed for improved comfort and injection moulding. This revolutionized design virtually eliminates bubbles and material 'run-on', while its formula can be warmed up to 70ºC (158ºF) for one hour (up to 25 times) for injection moulding. Make dispensing easier with 3M Filtek Supreme Flowable Restorative. Other features and benefits include:
Versatile for a wide range of indications and techniques
Excellent adaptation, polish-retention, and wear-resistance
New, redesigned syringes virtually eliminate bubbles and material 'run-on' while ergonomic design is easy to hold and inject
Single-use tips allow for easy dispensing and features an easy-to-bend cannula for improved access
Available in capsule or syringe delivery and in 12 shades: A1, A2, A3, A3.5, A4, B1, B2, C2, D2, White, Extra White, and Opaque A3
Indications for Use
Base under Class I and II direct restorations
Class III and V restorations
As a core build-up where at least half the coronal tooth structure is remaining to provide structural support for the crown
Liner under direct restorative materials
Pit and fissure sealant
Restoration of minimally invasive cavity preparations (including small, non stress-bearing occlusal restorations)
Undercut blockout
Repair of small enamel defects
Repair of small defects in aesthetic indirect restorations
Repair of resin and acrylic temporary materials
21st-century Class III restoration using a Bioclear Matrix with injection molding
Click here to view a 3M 21st-century Class III restoration using a Bioclear Matrix with injection molding case by Dr. Young.
Trusted 3M dental technologies deliver exceptional esthetics.
Polish retention
Excellent strength
Wear resistance
Same material. New syringe. Virtually no bubbles.
3M Filtek Supreme Flowable Restorative comes in an improved ergonomic syringe design for easier injection.
Virtually no bubbles
Easy to use
Indicated for composite warming
*3M internal data on file.
See how to use a flowable dental comosite as a liner base in this step-by-step case study. Dr. Reich used Filtek Supreme Ultra Flowable Restorative as a liner base for a Filtek Supreme Ultra Universal Restorative in a Class II dental restoration.
Learn how to use the Push-Pull Instrument with the Spot Weld Technique, the Go/No-Go Instrument, and the two-step Rockstar Polish.
The Clark Push-Pull instrument is the "light saber" of tools. From teaching to actually using, the Push-Pull instrument is a must have.
Filtek Supreme Ultra Flowable Restorative 2 x 2g Syringe Refills with 20 dispensing tips are available in the following shades:
A1 (Item Number: 3-103197)
A2 (3-103198)
A3 (3-103199)
A3.5 (3-103200)
A4 (3-103293)
B1 (3-103201)
B2 (3-103202)
C2 (3-103203)
D2 (3-103204)
Opaque A3 (3-103205)
White (3-103206)
Extra White (3-103207)
Filtek Supreme Ultra Flowable Restorative Capsule (0.2g each) 20-Packs are available in the following shades:
A1 (Item Number: 3-103208)
A2 (3-103209)
A3 (3-103210)
A3.5 (3-103211)
A4 (3-103212)
B1 (3-103213)
B2 (3-103214)
B3 (3-103215)
D2 (3-103216)
Opaque A3 (3-103217)
White (3-103218)
Extra White (3-103219)